Written by Ian Thomas Malone, Posted in Blog, Celebrity Apprentice, Pop Culture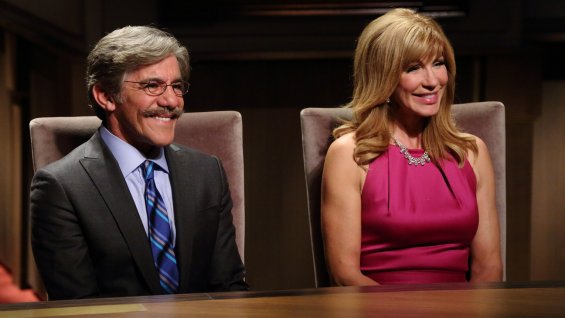 Last night I picked Geraldo Rivera to become the next Celebrity Apprentice.
I was wrong.
I haven't spent much time fretting over my inaccurate prediction. My recaps have spelled out many of my thoughts on Leeza's chances. I never thought she couldn't win, just that there wasn't a clear logical reason to pick her over Geraldo. It's one thing to want her to win over Geraldo (who doesn't), but to say she was a better player is a bit of a stretch.
Before I go into that, I want to point something out. For the past few weeks I've talked about Trump's love of playing kingmaker. I'd cite this as the only real reason Arsenio Hall beat out Clay Aiken. The trouble was that Geraldo is rooted at Fox News and Leeza didn't appear to want to make a comeback.
Trump snuck in a potential Today Show's opportunity for Leeza. While I won't say that played a "deciding factor," I will say that if he had ever said that before, I would've picked Leeza easily. The Today Show's ratings are bad enough that this seems like a possible option.
Leeza had one thing going for her over Geraldo. She possessed a far better record. How much does this matter?
Less than you'd think.
If record mattered, Trump wouldn't have canned all of Infinity in the last task before the finale. It was kind of ironic to see Johnny Damon bring up Leeza's record repeatedly considering he was also part of the team that won five in a row. Trump was never going to have a finale that included the semi-articulate Damon or a Real Housewife.
Let's explore the five-task win streak. If you looked at the pieces, you don't really see this powerhouse that should curb stomp the likes of Geraldo and Lorenzo. That's not to downplay the legitimacy of their wins. They had the better concept more often that not, especially with the Nordstrom task.
How much was Geraldo to blame for those losses? Nordstrom, not at all. Chock full O'Nuts, meh. They lost that one to a bizarre video featuring fake fighting between Brandi and Kenya. I won't pin that on anyone, even Leeza as project manager, who mostly deferred to Ian.
Then there's the booze cruise. This is really the task where Leeza's prowess proved better than Geraldo, though Hooter's was more of a downfall than his "screw the terrorists" comment. We'll give credit where credit is due here.
The Trump National Doral was a disjointed mess as a task. Could have gone either way, at least from what we saw on TV. I wouldn't say either Leeza or Geraldo factored into the decision.
Which brings us to Babies Luv Buns. Another task where Leeza and Gerlado could have sat out the task completely and made no impact on the outcome. You didn't need a helicopter to beat Babies Luv Buns.
What's the point of this? Leeza might have had a better track record than Geraldo, but in that five loss streak, she only truly bested him once and that wasn't the task she was PM on. Was Leeza a better candidate to become Celebrity Apprentice?
No. Don't believe me? Find a point in the show where Leeza won it for her team. Difficult, right?
The final task worked in her favor as well, even though it was basically an afterthought. She raised more money in the last task, but the emphasis on collective earnings throughout the show during the finale seemed to indicate that wasn't much of a deciding factor. Tony Orlando seemed to be better than Olivia Newton John (apparently the Josh Grobin mention in the previous episode was a complete afterthought). Who knows?
So why did she win? Despite my analysis, which picks apart her legitimacy as a candidate, she really wasn't bad either. The 3-0 record as PM matters. It stands up well against Geraldo, who had a 2-0 record prior to the finale. She played safe. Safe won.
The fact that Geraldo won both Lorenzo and Ian over makes his loss all the more puzzling. He raised more money and wasn't completely hated like Annie Duke. So why did he lose?
As far as finalists go, Geraldo looked like Piers Morgan and Leeza resembled Arsenio Hall. One was dominant. One was not. I don't think anyone is going to shed a tear that Leeza won. I'm not, but it was the wrong call. Unless Leeza ends up working for the Today Show. I did probably overestimate how much of a factor Trump's love of Fox News would play, but the man does love his nepotism.
That's it for Celebrity Apprentice recaps. Thanks for reading them. I'm going to take a break from recaps until Game of Thrones. My new book, A Trip Down Reality Lane, comes out in a week. I encourage you to check it out (what's a little shameless self promotion).