Written by Ian Thomas Malone, Posted in Blog, Celebrity Apprentice, Game of Thrones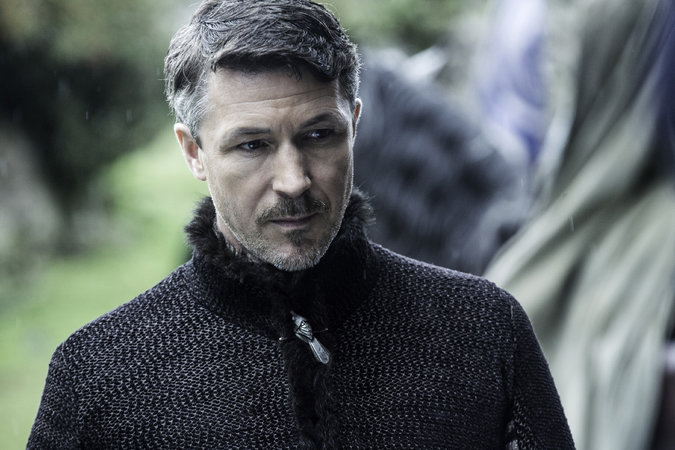 This recap features analysis from a devoted book fan. As the show has largely deviated from the books I'm not sure how much this matters, but if you hate spoilers you should probably not read these articles. I encourage you to subscribe so you never miss a recap. Thank you for reading. 
I think it's safe to say that this episode was the best of the season and perhaps the best since season 4's "The Watchers on the Wall."
The reunion of Jon and Sansa is significant for a number of reasons. None of the major Stark children (excluding Rickon) have seen each other since season one and most have no idea which of the others are even still alive. Jon and Sansa don't really have much of a relationship in the books, something that was sort of hinted at in the episode. Given that Sansa isn't in the North in the books, this plotline will be especially interesting to follow.
Brienne's hypocrisy is borderline intolerable. I sort of forgot about the weird Brienne/Davos/Melisandre dynamic since the Red Woman is the only one at the Wall in the books, but it was about as awkward as could be expected. Brienne, who "executed" Stannis on the "authority" of a dead pretender king, shows next to no animosity toward Melisandre, the woman who conjured up the shadow demon that killed Renly.
It is by no means a stretch to suggest that Melisandre played a much, much bigger role in Renly's death than Stannis, being both the person who executed the plan and presumably also the one who came up with it. Couple Brienne's carefree attitude toward her with Davos' casual mention of Shireen's death, in episode 4 mind you, and we have ourselves a prime example of the show's laziness in closing up plotlines it doesn't like. Like Dorne, Stannis' arc was quickly wrapped up with little logic. I know most regular readers of these recaps are hoping for the day when I stop mentioning Stannis, but that was important to acknowledge.
The pacing of Sansa's arrival to the Wall was superb, but the fact that Jon continues to hang around Castle Black is kind of weird. I liked how he mentioned his death releasing him from his vows, but if that's all true, he sort of needs to move on. The divorce between Jon and the Watch looks quite messier than it should. At least he showed remorse for killing Olly.
Why does Tormund only have 2,000 warriors? What happened to the 100,000 that attacked the Wall two seasons ago? They couldn't have all died at Hardhome.
It was hard to be excited about Littlefinger's return since he's one of the most inconsistently portrayed characters on the show, but his scene was excellent. His seemingly indefensible decision to marry Sansa to Ramsey was handled quite well by casting doubt on Lord Royce. The only thing that kind of bugs me is that Littlefinger does show genuine affection toward Sansa in the books. I wouldn't be surprised if that turns out to be the case later on in the show, but it's not really believable. Who wasn't thrilled to see Sweetrobin again?!?!
The Meereen plotline got a much needed infusion of life into it, despite having two of the most boring characters on the whole show. Grey Worm and Missandei's deficiencies only further show what a mistake it was to kill Ser Barristan last year. Tyrion was on point as usual, but he needs a stronger character to spar with.
Jorah and his magical durable shirt are back! Which means I have to make an obligatory "why does Jorah have greyscale?" mention. Doesn't look like I'll be saying that much longer. More on Dany at the end of the recap.
King's Landing also perked up. I've been mentioning the Tyrell's powerful army for about a year now. It's about time someone brought up using it. Giving the key KL players something to do was long overdue. It'll be interesting to see if both Margaery and Loras make it out alive. I'm guessing no, but I'm willing to sacrifice both if it means we don't have to endure another High Sparrow lecture. Jonathan Pryce is great and all. I just don't care about listening to him ramble anymore.
How did Theon get a boat? Seriously. Anyone?
The Yara/Theon interaction was another highlight in a very strong episode. Yara is the obvious candidate to rule the Iron Islands, though A Feast for Crows had a different idea. Euron stands as a better challenger than Reek, but this will make the Kingsmoot dynamic all the more interesting. It's hard to speculate as to what Theon's role will be beyond a mere endorser of his sister.
Osha falls victim to the "let's get rid of all the characters we don't want anymore" cleanse. I'm kind of okay with it. She's a fun character, but the show was right to acknowledge the fact that Ramsey would definitely know about her involvement in their escape. Another scene where she gets to speak would have been nice, but this episode had a lot going on.
Finally we go to Vaes Dothrak. I was rolling my eyes at the idea that Daario and Jorah would help by somehow retrieving Drogon, Dany's scene with the Khals was excellent. As with the Sansa plotline, I was surprised with its fast pacing, but that's a good thing. Meereen is bound to be a complete wash with everyone inevitably setting their eyes on Westeros in the not so distant future.
The parallels to the end of Dany's season one arc were to be expected, though probably not in episode four. I assumed there would be some kind of trial, but am pretty happy that there wasn't. Dany now commands the largest force of anyone besides the White Walkers. It'll be interesting to see what kind of opposition the show puts against her, given the mess in KL.
It is worth noting that GRRM has said that Dany is not immune to fire in the books. This is obviously different in the show, which is a good thing. That was a great way to end the episode.
Side note: Aggo, one of the Dothraki mentioned, is one of Dany's bloodriders in the books. I've often been critical of how the Dothraki just disappeared after the Unsullied were introduced, but it was nice to see a tiny throwback.
That's it for this week. No Arya, Bran, Dorne (yay), or Sam & Gilly, but this was a very strong episode. See you next week!