Written by Ian Thomas Malone, Posted in Blog, Game of Thrones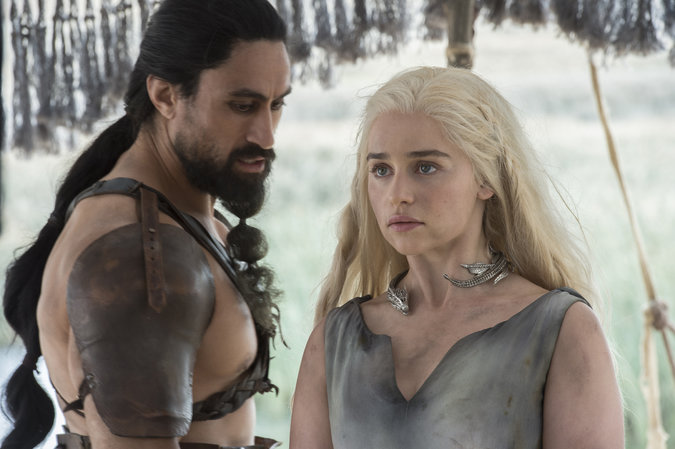 This recap features analysis from a devoted book fan. As the show has largely deviated from the books I'm not sure how much this matters, but if you hate spoilers you should probably not read these articles. I encourage you to subscribe so you never miss a recap. Thank you for reading. 
I found myself constantly wondering about the timeline as the season opener progressed. At the beginning of A Storm of Swords, George R.R. Martin clarifies that the chapters aren't necessarily linear and the show hasn't always been either. The fact that several of the episode's plotlines, mainly The Wall and Sansa/Reek appeared to happen immediately after last episode while others, mainly Dorne/King's Landing/Meereen, clearly happened a little while later created a bit of uncertainty for me at least.
Pacing a ten episode season with a massive ensemble cast is very difficult. With that in mind, it seems hard to praise Davos' bravery at the Wall with him still locked in that room by the end of the episode. I'm inclined to give this a pass, especially since I'm trying to purge the image of old naked Melisandre from my mind and am okay if that involves forgetting the rest of the plotline at Castle Black.
It is also important to note that there will likely only be thirteen episodes of the rest of the series after this season, which makes me think that a Sansa/revived Jon Snow/Stark reunion could happen sooner rather than later, depending on how quickly the inevitable Wildling/Alliser Throne conflict lasts. I say this mostly because Sansa's story lacks any other logical direction and I don't see how the merry band of Brienne, Poderick, Sansa, and Reek can wander around in the cold indefinitely.
Though it made sense for Brienne to finally stop wandering around Westeros in search of spare Starks, I have a bit of trouble accepting the fact that this woman obsessed with "duty" killed Stannis in cold blood. Longtime readers know my feelings regarding a certain One True King quite well, but this isn't so much about what you think about Stannis, but rather whether or not Brienne's actions were just.
Now you can make the case that Game of Thrones isn't a show that's concerned with having its characters have a black and white sense of moral justice, except that's far truer in the books. We saw this on display in Ramsey's first scene, where he displays a shocking amount of remorse for Miranda's death. I was completely taken aback by how sympathetic the character was portrayed as, especially considering how controversial his rape of Sansa was last season. The show made up for this almost immediately with a rather out of place comment by Ramsey to merely feed her body to the dogs. Of course, Ramsey is a psychopath, but we didn't need that scene to remind us of that. It seems puzzling as to what that scene tried to accomplish besides simply screen time for the character.
I have a hard time buying into the Lannister threat to the Boltons. In theory, this makes sense, but the Lannisters have never looked weaker. Who really thinks they're in any position to move on Winterfell?
Cersei and Jaime aren't really up to much at all. The whole prophecy bit made sense and all, but neither sibling seemed particularly troubled by Myrcella's death and Tommen wasn't even mention at all. For a show that constantly brings out the question, "who will win the game of thrones," it doesn't seem too concerned with who's actually sitting on it.
The fact that Trystane Martell wasn't even under arrest says it all about what the writers are trying to do with Dorne. I spent much of last season wondering where all of that was going and the answer is clear. Now that the show is freed from most of its obligations to the books, it doesn't want people like Doran Martell and Stannis around.
I'm kind of okay with that. Book fanatics have been trying to figure out Doran's plan for years. The show basically went and admitted that he doesn't have one at all, but this shouldn't alarm book fans. The show simply doesn't have time to integrate a character like that into its end goal in any substantial way.
So why include them at all? I have no idea. The Sand Snakes don't seem to have much appeal to anyone, especially after they committed needless treason. Is the viewer supposed to feel sympathetic to their desires for vengeance, which involved killing two innocent teenagers? Like much of their dialogue, this plot is laughable.
The Dothraki dialogue was also painful to read. I still can't believe the writers won an Emmy last year. Pathetic.
Margaery in jail could have been handled better. It took me a while to remember why she was even there (for lying about Loras' homosexuality). Jonathan Pryce is always a treat to watch, but it's hard to care about what they're doing.
I like the direction of Dany's story. She likely needed Dothraki help even before the Sons of the Harpy burned her Meereen fleet. As a character, Dany works best as the underdog and it'll be interesting to see how the Vaes Dothrak storyline plays out.
Obligatory Jorah still has greyscale for no reason mention (yes we're still doing that and we always will). It looks worse. The scene where he and Daario discuss his weird love for Dany was creepy. Not as creepy as old naked Melisandre, but then again few things are.
The Tyrion/Varys exchange was a pleasant throwback to season two, but that also highlighted a major problem with Tyrion's plotlines since. Tyrion hasn't really done much big picture stuff since he commanded the troops at the Battle of the Blackwater. He spent season three recovering, four in prison, and five on the road/hanging out with Jorah. Now he has power, but he's really far away from the main action. Peter Dinklage is one of the show's biggest assets and while keeping him in Meereen makes sense given the timeline of the books, it doesn't seem like the best place for him now that the show has gone completely off book.
Which is something that needs to be considered as the show moves forward if the rumors about there only being thirteen episodes left are to be believed. The show doesn't have a ton of time to waste having Tyrion rule a city that's relatively inconsequential to the bigger picture. I don't want to come down too harshly on the whole plot based on five minutes of screen time, but the last season didn't inspire a ton of confidence in that realm.
Arya is actually still relatively on book. Her blindness only lasts a single chapter in the books though. I don't think blind Arya is particularly interesting so hopefully the show follows a similar path.
No Littlefinger, Samwell, Ironborne (if they're actually coming), or Bran this episode. I hope there's some direction for LF's incomprehensible Northern plans. I sure don't see any logic there.
All in all, this was a pretty good premiere. I don't think it completely fixed the wrongs of season five, but there does seem to be some direction for most of the major players. After last year's mess, I'll settle for some entertaining set-up that promises better things to come.
Just a slight programming note. After each episode airs, I'll do a live video on my Facebook page summarizing my thoughts. Written recaps will be posted on Mondays. Thank you for reading.