Written by Ian Thomas Malone, Posted in Blog, Movie Reviews, Pop Culture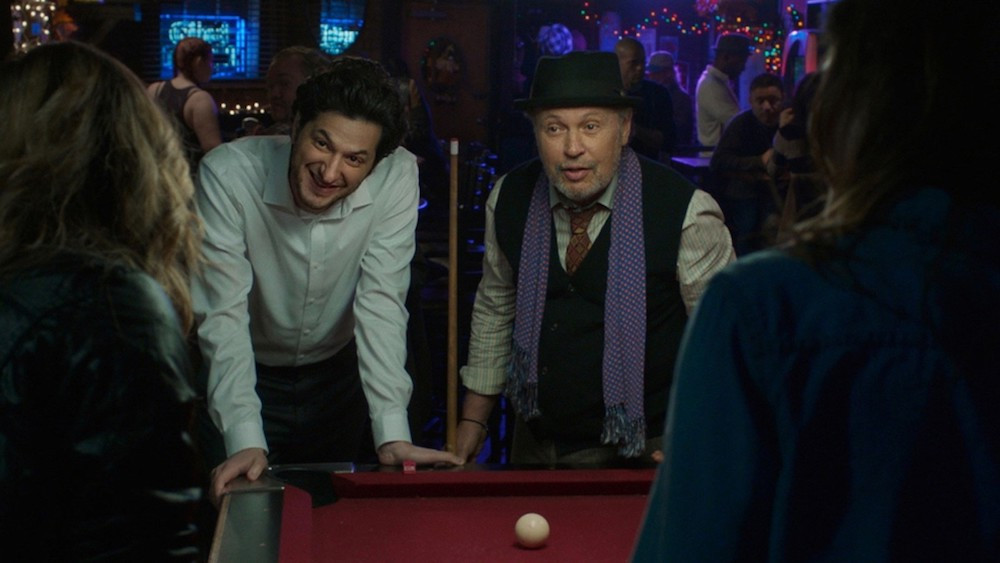 Show business is a terrible industry to try to make a living in. Many people fly to Los Angeles with dreams of grandeur, only to return home with empty bank accounts and a missing sense of purpose. Life rarely goes according to plan.
Standing Up, Falling Down is mostly a film about the period of time after the death of the dream. For Scott (Ben Schwartz), LA was supposed to be the beginning of something. Instead, he finds himself back in his childhood bedroom in Long Island, lost in the middle of his 30s. He finds companionship in his dermatologist Marty (Billy Crystal), an eccentric upbeat drunk who helps him find solace in his failures.
Schwartz puts forth the best performance of his career. Scott is a bit of a departure from the types of roles he's known for on shows like Parks & Recreation or House of Lies, but the quieter tempo works well for him. It's not a particularly challenging character to play, but Schwartz does a good job drawing sympathy for his fairly pathetic protagonist.
The film is carried off the strength of Schwartz and Crystal's chemistry, two actors who are clearly having fun with the material. That kind of enthusiasm can be make or break for a film like Standing Up, Falling Down, which hardly reinvents the wheel. There are countless films about sad young people in America with failed careers in entertainment. The two strong performances from Crystal and Schwartz make it easy to forget that this is a story that's been told many times before.
Standing Up, Falling Down also does a good job not biting at the low-hanging fruit that many indie films pursue. Scott has a pretty good family life and a sister Megan (Grace Gummer) who's fairly supportive even though she's also in a fairly dead-end job. Scott's predicament is a life setback, not the end of the world. Director Matt Ratner is great at keeping the narrative grounded in its circumstances.
There are a few pacing issues in the third act that hinder the film a bit. The narrative is a fairly slow burn, until the time comes where it needs to start presenting something resembling a climax. The last half hour includes a couple plotlines that probably should've been introduced a bit earlier. For a film where the quiet moments speak the loudest volume, there comes a point where Ratner makes a bit more noise than he needs to.
Standing Up, Falling Down isn't the most groundbreaking film in the world, but it's a very enjoyable narrative. The ninety-minute runtime doesn't waste a second, utilizing its best assets to sustain the film. Billy Crystal is almost always a treat to watch, evening if he's doing something mundane like making pancakes. Ben Schwartz proves he's capable of being more than an obnoxious loud mouth, a moving film that hits all the right notes, even if you can see them coming from a mile away. Sometimes for a movie, that's more than enough.