Written by Ian Thomas Malone, Posted in Blog, Movie Reviews, Pop Culture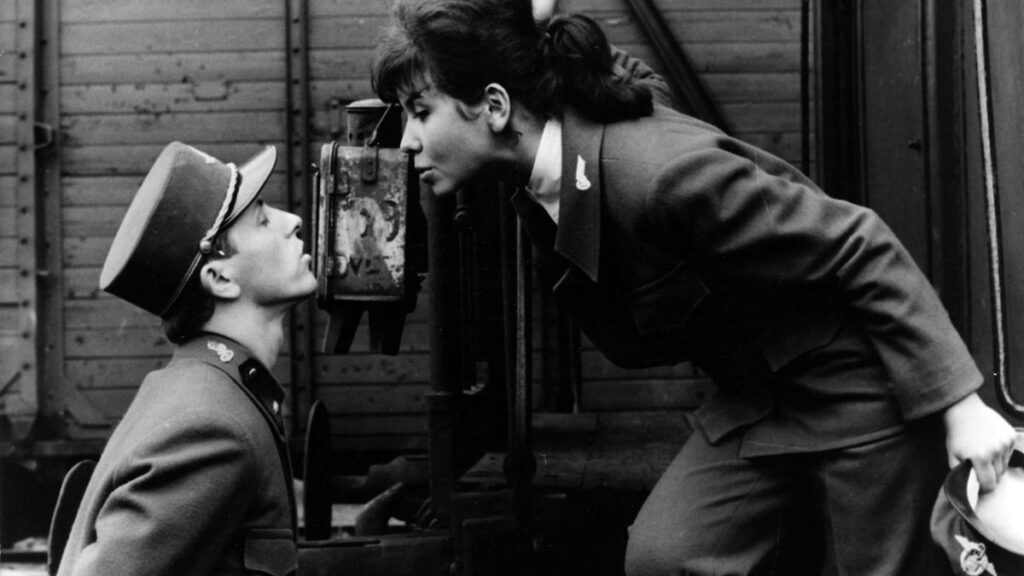 Capitalism sticks its fangs in the worker by convincing them that they are part of a bigger machine. The worker is supposed to take pride in their work, functioning not as an induvial but as part of a collective. The fantasy exists to keep one's attention on their assigned tasks, wandering minds serving little purpose toward the means of production.
The 1966 film Closely Watched Trains (original Czech title Ostre sledované vlaky) follows a young man Miloš Hrma (Václav Neckár) as he begins a new job as a train dispatcher in German-occupied Czechoslovakia toward the end of World War II. Miloš comes from a family of oddballs, taking great pride in his father's ability to avoid labor-intensive employment. There's not much to Miloš' job besides opening and shutting a gate, plus the occasional salute to passing trains.
The bulk of the narrative centers around Miloš' efforts to lose his virginity. He quickly strikes up a relationship with train conductor Máša (Jitka Bendová), forward in her intentions for sexual intimacy. A sleepover at Máša's house is complicated by a tragic case of premature ejaculation. Aided by his supervisor/mentor Hubička (Josef Somr), Miloš embraces his sexual odyssey as his singular life's passion.
Based on the 1965 novel of the same name, director Jirí Menzel marches to the beat of his own deadpan drum. Set primarily at the station, the cinematography frequently relies on wide shots, giving the effect of a fairly sterile environment only livened by the passing trains. Initially presented as a misfit, Miloš' sardonic demeanor is a perfect fit for his profession, full of outlandish characters aware of their good fortunes.
The great triumph of Closely Watched Trains is the film's subtle damnation of capitalism's desecration of the individual for the sake of productivity. The dispatchers are free to pursue their own passions, as their countrymen toil away in factories and coal mines, the fruit of their labors being guzzled up by a hostile foreign nation. The station staff retain agency over their bodies, liberated to pursue their own sexual passions instead of exerting themselves for someone else's gain.
The act of losing one's virginity is seen as a coming of age moment where a boy becomes a man. Menzel flips the script a bit, unconcerned with refining Miloš juvenile demeanor even as he experiences great leaps in his own sense of self. Miloš is less a man than he is an individual, a far more powerful achievement in a world that tried so hard to mold him into a commodity.
At only 92 minutes, Closely Watched Trains breezes through its narrative while giving its characters plenty of moments to shine. Neckár is absolutely delightful in the lead role. Menzel's work keeps you laughing throughout its runtime, but the film carries its strongest impact when the credits start to roll, giving the audience a chance to unpack its ample findings. Satire provides an important lens to see the true absurdities in reality.