Written by Ian Thomas Malone, Posted in Blog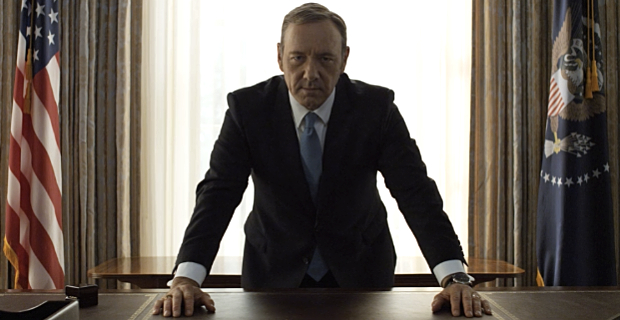 If House of Cards was airing on television, it'd be about a fourth of the way through its season. It can be hard to believe it's only been a month since the entire third season premiered on Netflix. There's a good explanation for this.
It wasn't very good.
This article isn't intended to be a review, but I'd just like to highlight a couple reasons why I hated this season. It wasn't fun at all. Frank's manipulations weren't clever and the infrequency of his inner monologues damaged his relationship with the viewers. Everything about Doug was terrible and the same is true for most of what Claire was up to (including the bizarre hair color changes).
Of course opinions are subjective, but what isn't up for debate is the fact that no one is really talking about House of Cards anymore besides a few blog sites that have staggered the reviews. To a certain extent, this shouldn't be a complete surprise. There aren't any new episodes. All of them came out on the same day. Problem is that previous seasons of HOC as well as Orange is the New Black did get plenty of buzz weeks after they came out.
The reasoning for this is simple. Word got out that this season was crap quickly. Shows tend not to get as much buzz when the reviews aren't so hot.
Netflix spends tens of millions on shows like House of Cards for one reason. Buzz. Original content garners attention and gets subscribers. That's why Netflix doesn't just fill its library with Cheers and Magnum P.I., which come at a fraction of the cost of original programming.
It stands to reason that Netflix's number one objective should be to protect its buzz in order to maximize its return for an expensive show like HOC. Debuting all the episodes at once caters to the binge-watching crowd and creates a day which in the television world can belong solely to House of Cards.
That's it.
Think about the buzz breakdown of a typical cable show. Unless it's a blockbuster like Game of Thrones or The Walking Dead, you get buzz for the first few weeks and then it naturally tapers off when other shows either start or finish their seasons. The buzz returns when the finale rolls around even if it's been a lackluster season.
House of Cards got some buzz. Now it's mostly gone. It's hardly ridiculous to suggest that this wouldn't have been the case if Netflix had aired the episodes one at a time rather than all at once.
This would have also protected the show from criticism for much longer. It would've been unfair to call the entire season lackluster based off the first few episodes. Because of Netflix' model, we can write off the season days after it comes out. That's not particularly great for Netflix.
Is it a problem? Maybe. Netflix doesn't release views for its shows and even then, comparing it to the rest of television would be difficult.
When House of Cards first premiered, its model was praised as the wave of the future for TV. Three years later, I think it's safe to say that while it certainly has a place in the grand scheme of television, it's far from perfect.
While presenting viewers with the option to binge watch straight from the get-go is unique, it doesn't really need to change anyone's viewing habits. People can still watch an episode a week and if Netflix released them one at a time, you could still wait until all of them were out before starting. This really isn't that revolutionary.
Netflix wants to maintain viewers yearlong. Last month, they had two powerhouse shows in HOC and OITNB. Now they have one. It stands to reason that HOC could reclaim this status next year and that season 4 will be inherently talked about, but it still doesn't change the fact that Netflix is really only front-page news for two days out the year. HBO can top that number by a wide margin with Game of Thrones alone.
Binge-watching might be greater for many viewers, but it's hard to say it's really great for the networks themselves. When seasons are great, buzz can be maintained. As we've seen with season 3 of HOC, buzz can fizzle out pretty fast. I wouldn't call that a great business model at all.