Written by Ian Thomas Malone, Posted in Blog, Star Wars, TV Reviews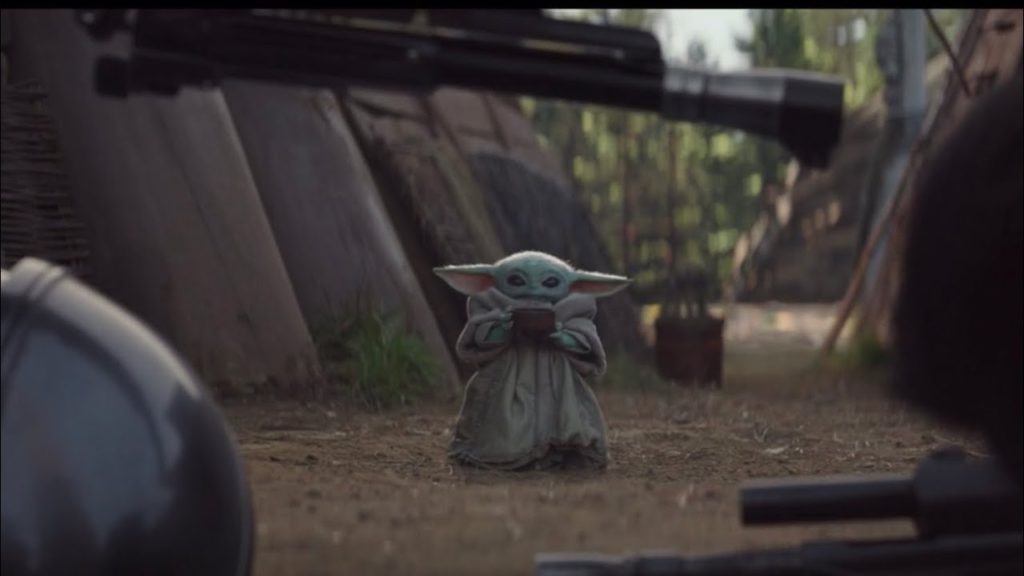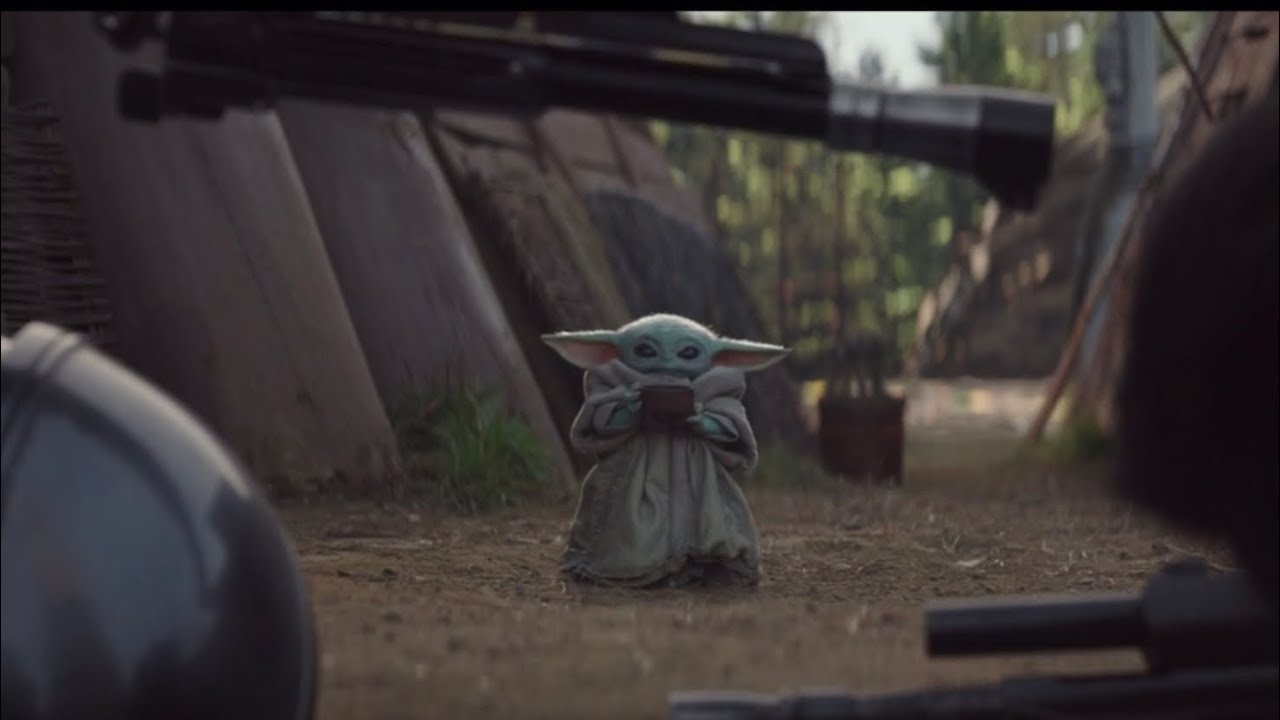 Note: This review contains spoilers
For a show with very little established narrative, it makes perfect sense that The Mandalorian would look to an established Western trope for its first episode on a new planet. The plotline of "gunslinger comes to rescue peaceful town from rogue bandits" has been played out time and time again, but there's a good reason for that. It's a very easy story to get behind.
Baby Yoda did a lot of walking this episode. It's also clear from the use of "he" pronouns that the adorable creature is a male, or masculine identifying, character. It's a little absurd that he walked around so much considering he'd been confined to his basinet for the other episodes, but that's okay. The sight of Baby Yoda casually drinking soup while watching a brawl demonstrates the show's keen understanding of its best asset.
Baby Yoda is the heart and soul of the show. He can provide great comedy as well as heart stopping moments, like when he was briefly in a bounty hunter's cross hairs. Few television character can demonstrate such powerful emotion with only a few expressions.
As I've said in past reviews, part of this dynamic reflects the fact that the Mandalorian is a difficult protagonist to connect with. We don't see his face and he doesn't have a ton of conversations in the first three episodes. Chapter 4 explained a lot more about his backstory, mainly that he was adopted by the Mandalorians.
Mandalorian code forbids the removal of helmets. While that's canon from a historical Star Wars perspective, it's limiting from a character perspective. I imagine we'll eventually see Pedro Pascal's face, since there's only so many times people can ask the character about this strange situation.
Cara Dune is a very fun character. Gina Carano did great work endearing herself to the audience in such a short amount of time, possessing a natural chemistry with the Mandalorian. Hopefully we get to see more of the shock trooper turned Rebellion fighter turned mercenary in the future.
Are we supposed be scared of a AT-ST? The bigger AT-AT walkers can certainly maintain their menacing nature since Empire Strikes Back, but the smaller AT-ST's were pummeled by the Ewoks in Return of the Jedi. Why would the Mandalorian be afraid of something that can be destroyed with a sinkhole or a bunch of logs?
The whole training of the village was quite clichéd. The scenes didn't really take away from anything else, though. At 41 minutes, the episode was the longest of the four. A couple more conversations with Cara and The Mandalorian probably would've been a smart move, since he's had so few meaningful interactions with characters who can talk.
It's unclear why the Mandalorian landed on Sorgan, which apparently has plenty of bad stuff going on. Not the greatest spot to lay low with Baby Yoda. He spent time wondering if Cara Dune was tracking him, but that shouldn't necessarily matter. The fact that he ran into a mercenary buddy at a small forest café alone should be a good sign that it's time to move on.
This episode presented compelling drama for the Mandalorian's conflicted nature toward parenting Baby Yoda. Yes, the child would probably be better off safe somewhere in a village. No, the show is probably not going to take that route. It'd be pretty easy for the Mandalorian to ask someone like Cara about a safe family within the New Republic, even if he isn't a fan of them in general. That would take Baby Yoda out the equation though, something that would cause the Internet to riot.
Chapter Four – Sanctuary was a very enjoyable episode. We're still not 100% sure where the show is going in terms of a larger episode, but this installment delivered plenty of action and character development. As Baby Yoda has proved, a few key expressions can carry a whole episode, but the show isn't simply riding off his cuteness.
We're halfway through the season now. It doesn't seem likely that we'll see some bigger narrative start to unfold until closer to the end, if ever. The Mandalorian has done a great job keeping the focus fairly episodic. The show doesn't necessarily need a broader arc, but it'll be interesting to see how Werner Herzog's Client comes back into the picture. Until that happens, the weekly adventures of a single parent and his child are pretty fun.