Written by Ian Thomas Malone, Posted in Blog, Celebrity Apprentice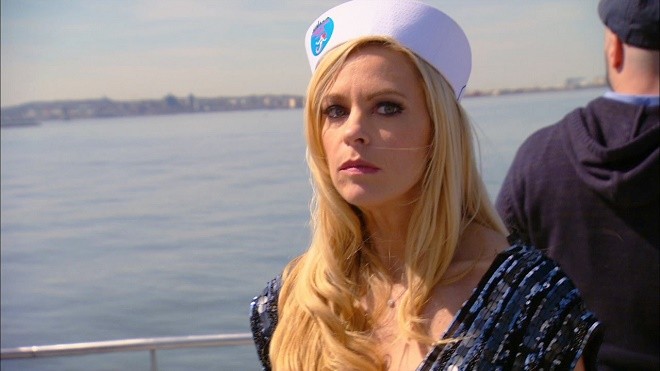 Trump has done something unusual for two weeks now. He's used the phrase "a lot of money" to refer to the amount that the winning Project Manager gets for his or her charity. He's never done this before, leading one to think he's hiding the dollar amount because it's less impressive than previous years. The fact that NBC has basically cut this season in half seems to back this notion. $20,000 is typically the standard amount for a non-fundraising task plus occasionally the sponsor throws in more money.
The problem is that if he's hiding the money amount because it's lower, then the $25,000 gift to Sig Hansen doesn't make much sense, as it would be higher than the winning amount. I've seen reports that Brandi got $50,000, but have been unable to verify them. Trump withheld the money again with the task that he personally sponsored, making this all the more confusing.
Despite Trump's insistence that a boat task would cater to Sig Hansen, I'd argue that his team was at a disadvantage from the start. This wasn't a "boat task." It was a "party task." Team Infinity had a certain player that plenty of people want to party with.
Johnny Damon.
Who wouldn't want to dance on a boat with a World Series champion New York Yankee (putting aside my Red Sox fan bias for a second)? Sig knows boats. He doesn't know parties.
Geraldo supplied the line of the night with "screw the terrorists." It's hard to argue with that notion. But it was supposed to be a party and having a Fox News reporter deliver a "fair and balanced" tour isn't exactly as fun as dancing with Johnny Damon. At the very least, they could've incorporated taking shots into the "screw terrorism" theme. Apparently having Hooters was enough.
So they lost even though the other team didn't really have a theme. Which was still better than Mardi Gras. They didn't need a theme. All they needed was music and Johnny Damon and for Kenya not to screw things up with that horrid song.
Sig loses. Sig goes home. Another downside of the compacted episodes is that we don't really get to know everyone. Sig is usually the least interesting person in the room, unless Eric Trump is there. His team missed him. Geraldo gave him money. Despite his temper tantrum, he seems like a nice guy. Right from the start, he had about a 0% chance of winning. Fishermen don't win Celebrity Apprentice.
The second task was just okay. I'm not a big fan of the Trump centric tasks, even though I would win them all if I were on the show. Winning them is easy. Suck up to Trump and make it classy. Kate Gosselin failed with the latter.
The class element might have been harder than you'd think. This task pitted the star of a TLC reality show about her excessively large family against the star of Sharknado. Yet Ian pulled it off. Again.
The Kenya/Vivica fight was a little much. Shopping takes awhile. This had always been the case. Kenya wasn't Project Manager. Her not being at home base when she was on a team with only four people should not have been treated like a snub. But it was.
Kenya did establish herself as a dominant boardroom player, even though it was pretty clear that Kate was a goner. Trump hinted this in the last task when he singled Kate out in his firing of Sig. Kenya makes better television. She fought in the boardroom. Trump rewards people who make his show interesting.
Only three weeks left. Feels odd and a little sad. After waiting a year and half, we've been rewarded with condensed episodes so NBC can air boring knockoffs of other network's hits. What a shame.
I'm going to stick with my final four predictions from last week. Kenya is emerging as an interesting player, but I don't think she's a legitimate contender. She's too hated. Being called the next Omarosa is nice and all, but she was never a legitimate contender either.
The one question that's surfaced since last night is, can Geraldo win it all after losing so many tasks? He's three for nine overall. The answer to this is simple.
Yes.
Trace Adkins made it to the finals in season one with an 0-2 record as Project Manager. Winners Bret Michaels and Arsenio Hall had far less impressive track records in their respective seasons than he has. At 2-0, he can survive without even needing to tap into his boardroom abilities.
This was a big win for Ian. He's 1-1, but his loss came with $300,000 raised for his charity. Brandi, Kenya, Johnny, and Leeza are all 1-0. Whoever wins next week will practically guarantee themselves a spot in the final four.
I feel comfortable calling Geraldo-Ian in the finals. There's history between the two. Trump isn't going to put Brandi, Kenya, or Johnny in the finals. They're not strong enough. Vivica could make it with another win, but it seems unlikely she'll get that chance. She also suffered her fair share of unfavorable boardrooms.
Leeza could be a sleeper candidate. She needs another win as PM to get there though. If she doesn't step up, Trump won't reward her.
Ian and Geraldo hate each other. That above all else is what matters. Unless one of the two screw up, this is the likeliest outcome.