Written by Ian Thomas Malone, Posted in Movie Reviews, Pop Culture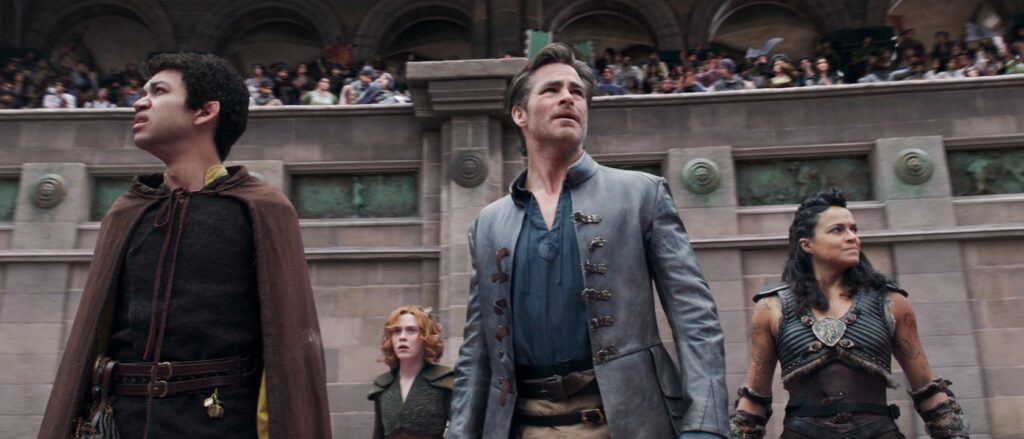 There's a certain irony in modern blockbuster filmmaking. Movie runtimes are longer than ever, but so many films spend so much time planning for future installments that they often fail to live in the present. Studios rob you of having fun today off the promise of maybe having some more fun with the franchise tomorrow. Dungeons & Dragons: Honor Among Thieves has plenty of obvious franchise potential, but thankfully the film's primary concern lies with actually being an entertaining movie.
Based on the iconic role-playing game of the same name, Dungeons & Dragons has a fairly straightforward premise. Edgin David (Chris Pine) is a lute-playing thief who is trying to acquire a resurrection tablet to bring back his dead wife. Edgin's team successfully retrieves the tablet, though he and his best friend Holga (Michelle Rodriguez) are captured in the process at the hands of Sofina (Daisy Head), a Red Wizard of They, leaving his friend Forge (Hugh Grant) to raise his daughter Kira (Chloe Coleman). Upon escaping prison, Edgin and Holga try to resume their mission, aided by their sorcerer friend Simon (Justice Smith), and newcomer Doric (Sophia Lillis), a shapeshifting druid.
The plot is very easy to follow regardless of whether you have played D&D before or can't even remember anyone's name. Directors Jonathan Goldstein and John Francis Daley offer longtime fans plenty of lore to chew on while making sure newcomers aren't lost in the weeds. The worldbuilding is brisk and simple, a refreshing dynamic for the fantasy genre.
Honor Among Thieves has some of the best practical sets in recent memory, a delightful playground for the eager cast to work their magic. Pine and company are clearly having a blast. The heist crew's easy chemistry makes the entire cinematic experience worthwhile, even at times when the pacing lags and the plotting feels a little too predictable. There's plenty of variety in the cinematography, which blends CGI with shots filmed in actual locations, a literal breath of fresh air for those of us who are beyond sick of endless green screens.
The script has a firm grasp on the role of humor in the narrative. The action heist comedy rarely takes itself too seriously, often poking fun at the role of magic within the broader worldbuilding, but it also doesn't let the jokes detract from the stakes at hand. There are a few moments of genuine sincerity that remind you of a time when blockbusting filmmaking tried to convey actual emotion.
The narrative does run into some small issues in the third act that was a little too unfocused, a 134-minute runtime that overstays its welcome. Edgin has too many core relationship dynamics at play that come at the cost of the supporting cast, particularly Smith and Lillis. Regé-Jean Page comes close to stealing the show as the hyper-literal paladin Xenk, but the film doesn't really have a ton of space for his character, likely setting up future appearances. Pine is fantastic with the entire cast, but the film lives a bit too much on the table with the underutilized Grant.
Like the franchise's twenty-sided dice, it's easy to see dozens of directions this narrative could have taken. Honor Among Thieves feels determined to capture that sense of surprise and spontaneity alongside carefully crafted storytelling. Very little feels particularly original, a further testament to competence and charm in an age where blockbuster filmmaking feels like it's flying on autopilot. You may not be blown away watching Dungeons & Dragons, but it's a great experience to enjoy on the big screen. Sometimes, fun is more than enough.