Written by Ian Thomas Malone, Posted in Blog, Game of Thrones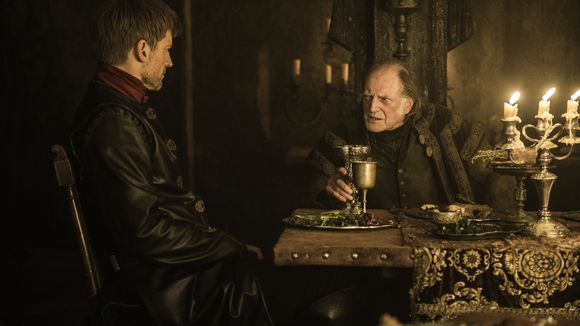 This recap features analysis from a devoted book fan. As the show has largely deviated from the books I'm not sure how much this matters, but if you hate spoilers you should probably not read these articles. I encourage you to subscribe so you never miss a recap. Thank you for reading.
This episode fit in line perfectly with two of the big themes of this season. Expendable characters died while the show set itself up for the future. If the reports that we're only getting seven episodes next season are to be believed, it makes sense that the unnecessary King's Landing players see a quick and simplistic demise.
It's hard for me to call it particularly satisfying, even with the music that played through much of the KL storyline. For weeks, I've been critical of the obvious low stakes of the entire plotline. We endured several unnecessary High Sparrow lectures with hopes of either an epic Margaery master plan or a big trial by combat fight.
Instead, everybody died. Well, almost everybody.
I'm not a fan of wrapping plotlines like that, but there's also the notion that it's good to be done with most of that nonsense. Of all the deaths, Pycelle's was handled the best. I've predicted that Varys would be the one to do him in and got it wrong, though some of the lines were taken verbatim from his execution of Kevan Lannister at the end of A Dance with Dragons. Close enough! I'll miss Pycelle probably more than any character who's died this season besides Hodor.
Lancel's death may have made sense, but the way he died reminded me of a James Bond scenario, where the villain tells Bond his plan and gives him just enough time to foil it. While Lancel didn't stop the wildfire and we kind of needed him to be there to see what would happen, that entire scene made zero sense from a narrative standpoint.
In any other scenario, I'd be more critical of Cersei being made queen. It's absurd. A Baratheon cousin/male relative would be in line for the throne, which isn't something that anyone wants to see and more important, doesn't matter since Dany is on the way. In some ways, it made sense to kill Tommen off now so Dany doesn't look bad by killing a little boy king. I just don't think Cersei's coronation was anything to praise. Looked very foolish.
I feel the same way about Jon being made King in the North. From a storyline perspective, it looks great. It may even feel great. But the houses in the North and maybe the Vale just made a Night's Watch deserting bastard their king while a trueborn heir sat beside him. I'd be willing to let that one go if the show bothered to offer a single explanation for why any character would be okay with any of that. Just one!
Sort of like how Sansa apologized for hiding Littlefinger's army without explaining why she made that boneheaded decision, especially after she complained about not being asked for her opinion during the pre Battle of the Bastard's war council. Jon's coronation also undercut the Sansa/LF weirwood scene, which was a highlight of the episode. The power dynamic between those two makes for much better TV than just about anything else going on in the show right now.
The show clearly wanted to draw parallels to Robb's coronation in season one, but it mostly fell flat aside from Lyanna Mormont's brilliant scene. Robb being made king actually made some sense. Jon? Not so much, unless you want to step outside the realm of show logic and argue using facts that no one present at Winterfell could have possibly known. More on that at the end of the recap.
I wish I cared more about the Jon/Davos/Mel scene. It's about ten episodes too late. Seriously. Are we expected to believe that Davos never received an explanation for Shireen's death until now? What did they talk about while they were traveling around the North? I'd be more forgiving of the delay if Mel had a narrative purpose beyond bringing Jon back, but she's done next to nothing since.
Does anyone care about Sam? At least he's doing his duty, even though he doesn't know that his buddy isn't Lord Commander anymore. That shot of the library looked cool and all, but was pretty absurd for medieval architecture, even in a place like Westeros. I don't really see the point in bringing Gilly/baby Sam or the Tarly ancestral sword along. Seems like she'd be much better off in Hornhill.
I like that Olenna Tyrell is still alive. Couldn't care less about the Sand Snakes, but I hope she'll have some good scenes with Dany next season. I suppose it's sort of good that Dorne reappeared, but I doubt many people cared that they were gone, myself included.
The parallels between Walder Frey and Jaime made for an interesting scene. The old man was correct to note that there are plenty of similarities. Jaime was correct to be horrified by that. I certainly would have been. Walder's thoughts on war made for one of the best scenes of the episode. I wonder if they'll do anything with that with Jaime in the future, considering he can't really "fight" in future battles, with his golden sword hand.
Loved Arya and the Frey Pies. In the books, it's widely suspected that Wyman Manderly, who made his first appearance of the show in the North, killed three Freys and baked them into meat pies to bring to Winterfell before the battle of Ice. Obviously the show couldn't have done that, but it was fun to see Arya get her revenge in a way that appeased the book fans.
Poor Daario. That scene accomplished two important tasks. Like many, I wondered if Dany was planning on straight up abandoning Meereen when she left for Westeros. Leaving the Second Sons in the city makes it look like she cares while also removing unnecessary characters from her entourage. Having Daario in Westeros really wasn't needed, especially considering how few episodes are left in the series. He got a raw deal, but he wouldn't be the first in the show.
The one thing that really bothered me was Tyrion bringing up the Mad King yet again. We get it. He was crazy. Imagine if you had a relative you loathed. Wouldn't you get a little annoyed if someone unrelated to you constantly brought them up to criticize them? Seemed very unnecessary.
How did Varys get on the boat after being in Dorne? Can he teleport? Control time like Bran? Travel by map? Even if we accept a broader timeline, it doesn't make much sense for him to personally travel back to Meereen, only to come right back to Westeros. Traveling is supposed to take forever in these kinds of stories.
Finally we end with the "big" reveal. R + L = J… sigh. What should have been a pivotal moment in the series came across as almost an afterthought considering everything else that happened. I wish that reveal had been made at the Tower of Joy. Diehard fans know already. I'm not sure how much casual fans cared that Jon is part Targaryen. Even then, without mentioning Rhaegar anywhere in the scene, it might have been a bit much to expect anyone who didn't know already to put two and two together.
That said, I'm glad that's out of the way. Bran looks like he's headed south, which should actually make him the King in the North. That power struggle will be interesting.
That's it for this week. No Brienne or the Hound. I was wrong about Lady Stoneheart…
Just as a programming note, like last year I'll be doing a full season in review article with letter grades for each character. There will also be a season in review recap video! Also for a bit of self- promotion, I have a new book out tomorrow. If you've enjoyed my recaps, please consider ordering The Princess and the Clown or any of my other books. Thank you for reading!