Written by Ian Thomas Malone, Posted in Blog, Pop Culture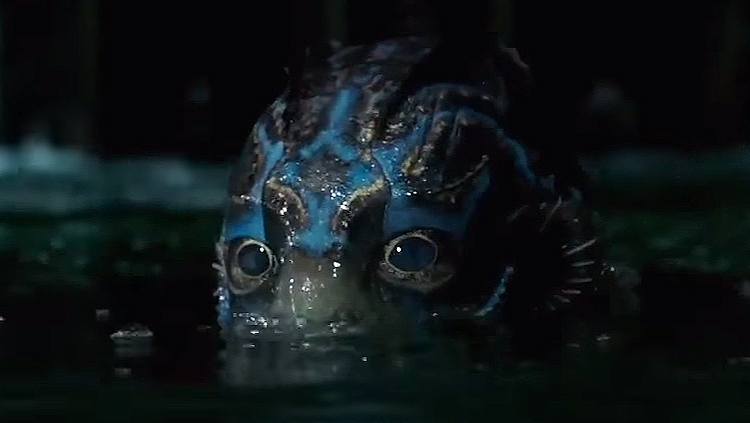 Guillermo del Toro is a singular filmmaker in the industry. His delicate approach transcends the conventional patterns for the science fiction/horror genres, giving movies like Hellboy & Pacific Rim a much stronger emotional resonance than an audience might expect from their blockbuster aspirations. Other films such as Pan's Labyrinth & Crimson Peak offer narrative complexities with all of the visual wonders you might expect out of an installment of the Transformers. The Shape of Water is a carefully crafted spectacular that should finally deliver some long overdue awards show recognition for one of the most innovative directors currently making movies.
Set against the backdrop of the Cold War and all the anxiety it brought to the nation, The Shape of Water takes place in a Baltimore research facility in the 1960s. Sally Hawkins' Elisa is a mute woman who works alongside Octavia Spencer's Zelda as a night-shift janitor, whose fairly routine life is disrupted as she begins to form a bond with a humanoid fish creature, initially known as the "Asset," who's brought to the lab after being captured by a team led by Michael Shannon's Colonel Strickland, a man who embodies the worst prejudices of his era.
The heightened anxieties of the era are largely absent from Elisa's life. She has a close bond with Zelda, along with Richard Jenkins' Giles, finding warmth in less than perfect circumstances. She takes pleasure in listening to music, dancing, or even simple conversation while many live in fear of nuclear annihilation. I'm not sure if del Toro meant that as a commentary on the present era, but there's a certain sense of optimism conveyed in the way Elisa goes about her life, smiling when many might see nothing but dread.
Despite the presence of a magic humanoid fish creature at the heart of the narrative, The Shape of Water is a deeply human film. Hawkins, Shannon, and Richard Jenkins portray fundamentally broken characters searching for the missing pieces in their lives. Hawkins expertly conveys her character Elisa's emotions through sign language, working off of Jenkins, Spencer, and the "Asset" in a way that never feels as though a barrier exists between the characters. It is through this simple act of conversation, even at times without words, that The Shape of Water truly stands out.
For all the visual wonder that we've grown to expect from del Toro's work, the performances allow the film to exist on an intimate level with its audience. This may be both a period piece and a science fiction film, but it makes its strongest investment in its characters. Jenkins' Giles is a lonely closeted artist struggling to have his work noticed. Shannon's Strickland is a scorned officer, who blindly shields his vulnerability with anger and abuse. Doug Jones' performance as the "Asset" makes him out to be both intelligent and at the same time, a wild beast. These are fully fleshed out characters. Films often struggle to juggle both their casts and their narratives, but The Shape of Water allows its immensely talented cast to shine at every moment, even when Spencer's Zelda is simply rambling about her family while she and Elisa mop the floor.
At its core, The Shape of Water is a film about being seen as a person without any asterisks. Elisa is mute, Giles is gay, Zelda is a person of color, and the "Asset" is a magical fish creature. These are details about these people, not singular traits that define their entire existence. We live in a world that often forgets to see people as people, or simply chooses not to. The film triumphs most when it flips this scenario, presenting characters who live and love without considering all the factors that set them apart.
Guillermo del Toro has always been an expert at crafting the world he wants his audience to exist in for the duration of his films. He ups the ante with The Shape of Water, a film that not only wows the viewer, but forces one to think about the way we view each other in a nation where diversity is often weaponized as a political tool. It is certainly his best English language script and may very well be his finest film. As a director who's primarily worked in the sci-fi/horror genres which are rarely acknowledged in the major awards categories, del Toro has hardly gotten his due as a master filmmaker. Hopefully, that changes this year, but regardless,  The Shape of Water is one of the year's best and well worth the price of admission.