Written by Ian Thomas Malone, Posted in Blog, Movie Reviews, Pop Culture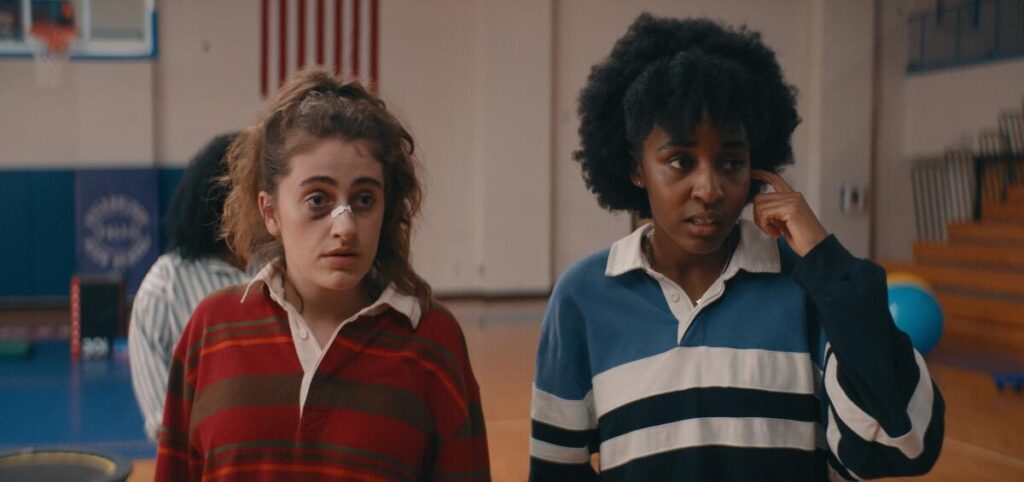 There's a beauty to the ugly chaos of high school that few are masochistic enough to appreciate. The coming of age genre often possesses a messy relationship with the high school setting, reasonable adults possessing enough sense to recognize that the rabid hormonal snake pit is not a very good place to come into one's own skin. Some of the best high school comedies are the ones that don't try for morals or learning or anything positive of the sort, except perhaps for the idea that hedonism is a virtue worth celebrating every once in a while.
Society has been slow to accept the notion that women deserve to live for pleasure too. The film Bottoms structures its narrative around a very simple premise. Two lesbians start a school fight club to impress their crushes and get laid, a timeless, beautiful tale that transcends gender and sexuality. Like most hormonal teenagers, PJ (Rachel Sennott) and Josie (Ayo Edebiri) are not capable of thinking through the ramifications of any of their batshit crazy ideas, instead letting their freak flags fly and rolling with the punches, quite often literally.
Director Emma Seligman, who co-wrote the screenplay with Sennott, quickly establishes a singular rhythm for her narrative. Rockbridge Falls High School is in many ways just like any other school. The principal is vapid and tyrannical, the teachers are aloof, and most of the students talk at each other without caring what anyone else has to say. PJ and Josie quickly draw the ire of the school football team, the latter at odds with star quarterback Jeff (Nicholas Galitzine) over the affections of Isabel (Havana Rose Liu). The natural clash between jocks and outcast lesbians is a beautiful dynamic rarely explored in film, something that Seligman and Sennott mine for comedy gold.
The script is laugh-out-loud hilarious, paired marvelously with the comedic timing of the cast. Everyone commits to the bit in this absurd, although not unrealistic, depiction of high school life. Sennott and Edebiri have a natural, often unspoken chemistry between the two. Veteran NFL star Marshawn Lynch puts in a masterful supporting effort as Mr. G, the faculty advisor for the fight club.
Perhaps the most impressive achievement of Bottoms is the narrative's full immersion in the LGBTQ experience without ever pandering to the vapid idea of "visibility" or wasting its lean 88-minute runtime on lame gay-101 explainers that have bogged down the genre. Seligman's work is the rare queer comedy that's solely focused on being funny. The hero's journey of PJ and Josie is eminently relatable to anyone who's spent more than ten minutes in high school. This film deserves a lot of credit for being able to recognize that without trying to hold its audience's hand.
Bottoms is one of the greatest high school narratives of the twenty-first century, a triumph of queer cinema. The discourse surrounding LGBTQ representation in film often paints the American public as needing to wade into the pool slowly, a promise of a more inclusive future that rarely seems concerned with ever living in the present. Seligman paints her portrait of high school as an artist who understands that we've always been there. Modern cinema desperately needs more filmmakers with her abounding sense of confidence. Bottoms is, quite simply, a masterpiece.