Classic Film: Made in Hong Kong
Written by Ian Thomas Malone, Posted in Blog, Movie Reviews, Pop Culture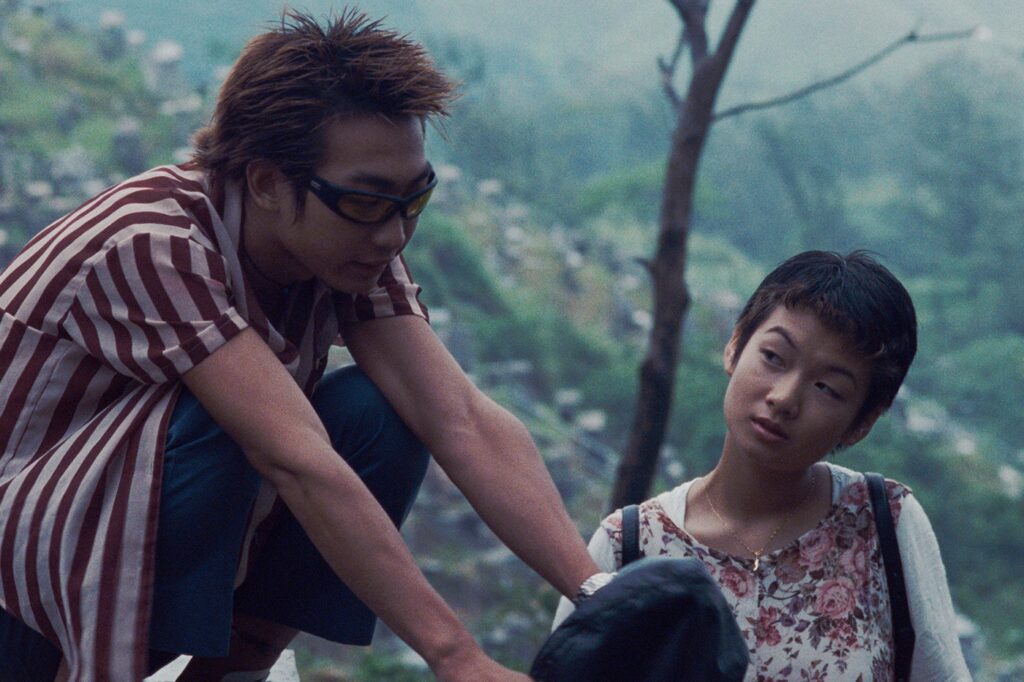 There's a certain timeless feeling to being young in a world that's been raped and pillaged to the brink of destruction by the twisted wrought of capitalism. Film often sells its audience on the idea that we can break free of that cycle through a kind of a-ha moment, as if coming of age instills upon us new superpowers to transcend the limitations of our decaying planet. The 1997 film Made in Hong Kong, the first release after the region's handover from the United Kingdom to China, explores the lives of a few teens living on the outskirts of society, barely scraping by, with no hope for the future.
Autumn Moon (Sam Lee) is a high school dropout working as a debt collector for a local gang run by Fat Chan (Chan Tat-Yee). Autumn is a feisty young kid, with spikey hair that matches his aggressive demeanor, but often displays a softer side as well. Autumn looks after Sylvester (Wenders Li), a mentally disabled kid who is frequently bullied, while being haunted by a love letter left behind by a peer Susan (Amy Tam Ka-Chuen) before she committed suicide. Autumn's father left his family for a mistress, while his mother (Doris Chow Yan-Wah) abandons him early in the narrative.
The main action of the film centers around Autumn's budding relationship with Ping (Neiky Yim Hui-Chi), who lives with her mother in a housing complex where Autumn makes his collections. Ping needs a kidney transplant she can't afford, putting Autumn at odds with his employer, who controls her family's debts. The memory of Susan ever-present in his thoughts, Autumn challenges Fat Chan's grip on their community in a mostly futile effort to beat back the unrelenting tides barely letting any of them tread water above the surface level.
Director and screenwriter Fruit Chan crafts a beautifully bleak tragedy that's bound to resonate with anyone who understands the natural primal rage that surfaces upon a realization that the cards will always be stacked against them. An ultra-low budget indie shot mostly on leftover 35 mm film, the cinematography possesses a natural feel that makes Hong Kong itself into a character within the slow-burn narrative. There's a certain claustrophobia to the housing complex that perfectly explains the older character's nihilistic outlook at their inescapable panopticon.
The film primarily uses non-professional actors, most making their feature-length debut. Lee brings such a raw chaotic energy to Autumn that you can't help but root for him, even if he's a little over the top for his own good. Chan mostly centers the 108-minute runtime on his characters, a gamble that pays great dividends in the third act. Made in Hong Kong is the kind of film whose emotional impact creeps on you, a subtly moving treatise on teen angst up against insurmountable odds.
The timing of the film's release with the 1997 handover leads to natural comparisons, but the relatability of Chan's work extends far beyond the geopolitics. Children are often told to work hard for the promise of upward mobility. The crony capitalism unleashed on the world has far different plans for the proletariat. Autumn lives his life like a kid with no future. He's not exactly wrong in that regard, but the great power of the film manifests through the innate desire to root for him anyway.