Written by Ian Thomas Malone, Posted in Blog, Social Issues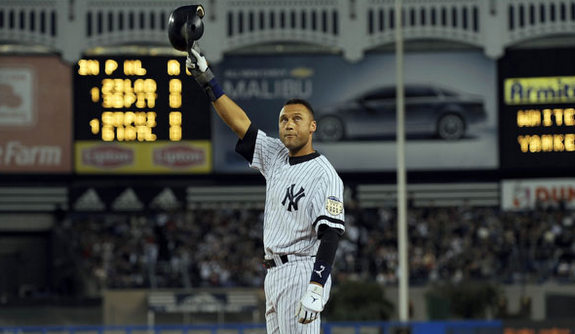 With the 2014 regular season officially over, we bid farewell to Derek Jeter. The Captain supplied his fair share of memorable moments at the All Star Game, his final game at Yankee Stadium, and his final game at Fenway. The only thing missing is an October appearance, which of course won't be happening.
The recent trend with retiring superstars is to announce one's intentions in Spring Training, which leads to the "farewell tour," a concept previously reserved for musicians like Cher and Kiss who typically don't retire. It's not surprising to see a desire throughout MLB to milk the teats of these cash cows one last time, but I fear the udders are being prodded a tad prematurely. The milk is supposed to be fresh in October but after a six-month goodbye tour, the milk seems a bit sour.
A season long affair leads to long over exaggerated pregame celebrations, where the opposing team showers the retiree with gifts before playing a game where the objective is to beat the team of the recipient of such presents. This is nice in theory and shows good sportsmanship. Teams like the Yankees and the Braves have nationwide fan bases all over the country, which gives fans who don't live in the team's city a chance to say goodbye.
But it's still kind of weird. On his final visit to Fenway Park, the Boston Red Sox "honored" Rivera with a tongue-in-cheek replay of Dave Roberts' stolen base in game four of the 2004 ALCS, one of the greatest moments in Red Sox history. While that was followed up with a standing ovation for the fierce competitor, what are the other teams really supposed to do? Are the Kansas City Royals supposed to pay homage to all the times Jeter beat the team? Awkward.
While athletes announcing their retirements a full season ahead of time is odd, it's hardly a new occurrence or one exclusive to baseball. There's plenty of money to be made off of these tours and it's somewhat concerning to see economics factor in to a decision. Jones and Rivera had excellent swan songs that showed they still had some gas in the tank. While I can respect the decision that both players made to go out on their own terms, it's somewhat saddening to see that another season didn't appear to ever be on the table. Maybe that's for the best.
The biggest problem is that it makes people forget that an actual baseball season is going on. The All Star game was more about Jeter than it was about the actual stars on baseball in the year 2014. The Nike and Gatorade commercials are nice and all, but let's not forget that there's a current generation of stars who should be honored for what they did this year and not what happened in the late 90s.
September saw a host of anti-Jeter articles questioning the Captain's declining numbers and the effect its had on the Yankees as a perennial contender. It's unfair to put the blame on Jeter for the Yankees woes in 2014, but as much as I'd like to call the criticism inappropriate, it's hard to. When you hear nothing but praise for a 40 year old shortstop who can't man his position anymore, you need a little dose of reality to remember that the only sport Jeter is going to play in October is golf.
It appears as though we'll get a reprieve from retirement tours next season as no notable stars appear ready to hang up the cleats. Big Papi's probably the next one, though he's gone on record as saying he wouldn't announce it early in the season anyway. Chase Utley is another who could bow out in the not so distant future who could have a retirement tour of his own. MLB would certainly like that.
The best professional sports retirement announcement in recent memory belongs to Ray Lewis, who announced his retirement four days before the start of the playoffs. Now, history will look fondly on that as the Ravens went all the way but that's not what's important. Lewis at 37 and having suffered a torn triceps in the middle of the year, was not the same player he was once was. He wasn't Ray Lewis anymore, but what he had to give was enough to get the job done.
What was missing was a "me, me, me" narrative that naturally follows a season long retirement tour. The Yankees were officially eliminated with only a few games left to play. All in all, this was a fairly good run for a team that was a fringe contender in the first place. But did that matter? No. Why? Because Jeter got the spotlight. Their playoff aspirations took a backseat to the Jeter festivities. Something isn't right with that.
It means something that a man like Jeter commands the respect he's earned by playing the game the right way. But is going out via a season long-fest when your numbers are abysmal and your team misses the playoffs really the right way? Jeter will be thanked and loved by the Yankees fans for the rest of his life. For now, I care about actual baseball. Jeter has left the building. Time to move on.