The Importance of Joan Rivers to The Celebrity Apprentice
Written by Ian Thomas Malone, Posted in Blog, Pop Culture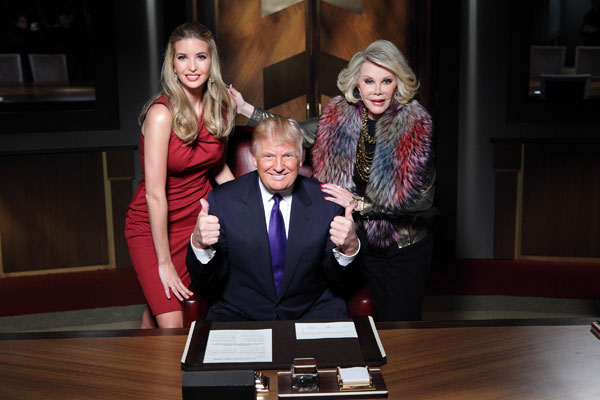 For the second time in less than a month, we've had to say farewell to a true comedy legend. Joan Rivers' impact on entertainment is both profound and well documented. As such, I decided to do a tribute based more on her impact on my television guilty pleasure, The Celebrity Apprentice.
From top to bottom, it's hard to argue that season two of Donald Trump's faux business competition was its weakest. Neither team meshed particularly well with each other. The men had the argumentative Herschel Walker and Clint Black, the boring Brain McKnight, Jesse James, and Scott Hamilton, as well as the comedic, yet short lived Tom Green and Andrew Dice Clay. Green pales in comparison to other season's joke contestants such as Gary Busey and Rod Blagojevich. Then there was Dennis Rodman, whose alcohol infused antics were funny for a little while until it became clear that the NBA Hall of Famer had a serious problem that needed to be addressed rather than laughed at.
The women weren't much better. Joan along with her daughter Melissa, provided most of the team's entertainment value. The team was compromised mostly of even less famous dead weight than the men. Claudia Jordan, Natalie Gulbis, and Tionne Watkins did absolutely nothing throughout their time of the show. Khloe Kardasian, who back in 2009 had yet to become a household name, was famously fired for taking a task off to deal with a DUI, which seems reasonable until you consider that contestants are frequently allowed to miss tasks for other engagements. Annie Duke filled the role as the season's high roller, but her semi-celebrity status and bland personality made her far less exciting than other big money players. It wouldn't be fair to say that Brande Roderick did nothing, but her status as one of the more memorable contestants goes to highlight the core problem with this season as a whole.
The Joan/Melissa Rivers dynamic is one that had never been done before on CA. Alliances have been made over the years, but we've never seen two family members participate at once. Since Trump has a fascination with the dated men vs. women mold, the two Rivers started off on the same team. This was fairly uneventful for the first part of the show, which is to be expected as the real drama needs time to develop. We saw the seed of a Joan/Annie feud planted in the second episode, but that was just a glimpse of what was to come.
While being on separate teams didn't cause the drama that Trump would've liked, it did make for some exciting boardrooms. Joan or Melissa would often interject on the other's behalf in confrontations, often to the chagrin of the boardroom advisors. Piers Morgan openly challenged the notion that Joan should defend her daughter, a question Trump was smart enough not to ask.
Joan provided the season's most memorable moment when she chastised Annie and Brande for their tactic's, which lead to Melissa's firing shown here.
The two most important things to take away from this video are that Joan is a great mother and that she knows that this show is a joke and should be treated as such. Her line "I don't want to hear this charity nonsense" seems foolish when you consider that the show's prize is $250,000 to the winner's charity plus the hundreds of thousands raised throughout the show. But that's just the surface level of what was at stake here.
Joan showed character in thwarting Brande's sympathetic stance. But she was right in assessing that the show is essentially an extended 15 minutes of fame for the bulk of the cast. She had arguably the strongest ties to her charity than any of the other contestant, having served on the board of directors for God's Love We Deliver since 1994, but she knew that the game, like anything else, should be played with class. And when class wasn't shown to her daughter, who had her fair share of tirades, she walked out with her. That's what you do.
Of course she came back to win and showcase her charity to millions of people who may not otherwise know their great work. It's not hard to imagine what that season would have been like without her. It was an uneventful season filled with boring and unlikable "celebrities." Except for Joan, who came out winning for a whole number of reasons.
Rivers made a career of calling things as she saw them, but what made her special was that she could do that with a sense of class and human decency. Her victory on Celebrity Apprentice wouldn't crack the top 100 of her career accomplishments, but that goes to show you what an extraordinary woman she was. You wouldn't be able to say the same about Piers Morgan or Arsenio Hall, who owe their post CA success to Trump's rigged nepotistic nonsense. She will be missed for many reasons, but I'll remember her most fondly for "poker players are trash darling, trash."