While music videos experienced a bit of a dry lull between their banishment from MTV and the rise of YouTube, the medium has shown it still has the capacity to be relevant in mainstream popular culture. Well-constructed videos frequently get millions of hits and can work wonders for the artists' careers. In less than a year, Sia's "Chandelier" music video has close to half a billion views. One might argue that this exposure is worth far more than MTV ever was, considering you can purchase the song with the click of a button while you're watching the video.
"Chandelier" was an accomplishment more for its risk than anything else. The video cast then eleven year old Maddie Ziegler, known for the Lifetime series Dance Moms, a reality show known more for its argumentative spinster star than the actual dancing. For close to four minutes, Ziegler carries the video with a mesmerizing performance through a decrepit building in a nude leotard, a performance that has won numerous awards.
For Sia's follow up video, it made perfect sense to bring Ziegler back into the fold. The young performer has demonstrated artistic maturity well beyond her years. It would have been a mistake to cast her alone once again. Ziegler needed a partner to differentiate the video from "Chandelier." Enter Shia LaBeouf.
The video for "Elastic Heart" is much more minimalistic than "Chandelier" and features Ziegler and LaBeouf cage fighting for close to five minutes. Ziegler once again dons the nude leotard, which looks a bit dirtier than before, while LaBeouf wears nude briefs that are effective in their goal to make the Even Stevens, a show that ended its run before Ziegler's first birthday, star appear naked. The video has drawn criticisms for its romantic elements between the 28-year-old movie star and the 12-year-old reality television star. A certain word has been thrown out there especially.
Pedophilia.
The outcry has been enough for Sia to respond publicly, via Twitter . Both the outrage and the public apology have the same unfortunate result. It undermines the brilliant performances given from two unlikely sources.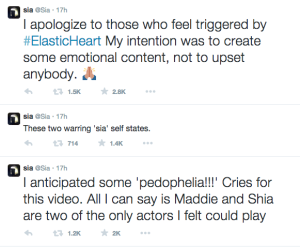 LaBeouf's struggles have been well documented. From plagiarism to arrests to paper bags, LaBeouf is clearly a troubled man. But unlike other child stars like Lindsay Lohan and Amanda Bynes, he hasn't let that affect his work. As shown in the recent film Fury, LaBeouf still lands top roles alongside other A List actors. Why? Because despite how bizarre he's become, the man is still immensely talented.
Both performers deserve ample amounts of praise for their work in "Elastic Heart." Ziegler once again shines, shedding the trashy cable reality show image to outshine a man who's shared the screen with the likes of Harrison Ford, Michael Douglas, Cate Blanchett, and Optimus Prime. LaBeouf manages to hold his own against the far superior dancer while delivering the emotional intensity that channels his own personal demons. To denounce this as pedophilia is insulting to both of these performers, whose combined efforts could very well make this the most relevant music video of all of 2015 despite its release in the first week of the new year.
Part of this falls on Sia, who should never have apologized. There's nothing explicitly sexual about the video. Yes, it's weird that LaBeouf is more than double the age of the girl who's jumping on his back while he's wearing a dirty speedo. But art is often weird and the natural inclination to apologize for that which draws discomfort should be repressed. We shouldn't undermine the work of one girl primed for stardom and a man who wants to show the world he still has something to offer. Perhaps Sia should've listened to her own lyrics and let her thick skin deflect the unfair criticisms levied against this work of brilliance.
Success stories like Maddie Ziegler are rare. Reality TV stars typically don't amount to much. But this is a girl whose talent transcends her age and we should applaud that rather than express concern that she's making hissing noises at Shia LeBeouf. Anyone who wants to find genuine cause for concern for Maddie's wellbeing should watch Dance Moms, where she experiences far more dangerous situations each episode.
Ziegler and LaBeouf should be applauded for showing the world why music videos are still worth watching. No one should apologize for the fact that two performers delivered a work of art that defied their ages and backgrounds. The only real concern is that this might be the apex of their careers. Sia should appreciate that instead of catering to the PC police.