The Mandalorian Season One Review: Chapter One
Written by Ian Thomas Malone, Posted in Blog, Pop Culture, Star Wars, TV Reviews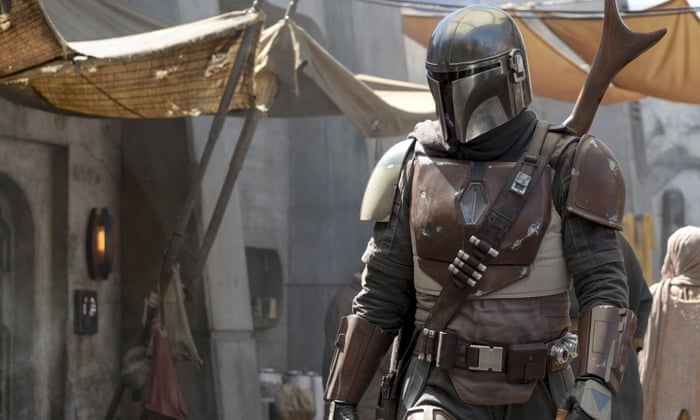 Note: This review contains spoilers
The Mandalorian carries a lot of weight that most television series don't really deserve. After more than a decade of waiting, the first live action Star Wars show is finally here, a drama that also happens to be the flagship offering of a new streaming service. The kind of hype that comes with this terrain would be enough to destroy a planet the size of Alderaan.
To its credit, episode one never feels like it's trying to juggle all this weight. Instead, it's mostly an introductory narrative, one that isn't particularly full of answers or compelling reasons to care about the characters. With regard to the latter, it doesn't exactly need to give a reason. Star Wars already has plenty of fans.
As a lead, The Mandalorian is a challenging character to get behind. The helmet doesn't help, limiting Pedro Pascal's range. As far as this episode goes, how you feel about the title character could largely boil down to how cool you find his costume.
The breakout character in episode one is perhaps unsurprisingly Werner Herzog's Client. There's some obvious joy to be had in seeing such an iconic director amidst a group of Stormtroopers, but Herzog plays the role with complexity that makes you wish he were in more scenes.
The first half of the episode relies a bit too much on Mythrol (Horatio Sanz) to carry the narrative. He's funny and the perspective is helpful as a means to introduce the show, but he's also a guest character who isn't going to be around for the long haul. At times, it felt like the episode was kicking its feet, waiting for the big action to begin.
The sight of The Mandalorian and IG-11 fending off countless foes on Arvala-7 was spectacular. The whole sequence brings out the best in Disney+, merging high quality production values with the comfort of one's own home. The sets are all lavishly designed, but it wasn't until the blaster fire picked up that everything really started to feel like Star Wars.
The end reveal of a baby from the same species as Yoda, the name of which remains a mystery to this day, felt like a bit of an unnecessary big finish, like the episode wanted to end on a note that would get everyone talking. It worked. We've never seen a baby Yoda before, unsurprising for a species that lives for hundreds of years.
While there's no established norm for runtime on a streaming service, at 39 minutes, episode one feels a bit on the short side for a show meant to be the premier offering for the whole streaming service. That's not to say that the episode should've padded itself with extra filler, but the delivery felt a bit underwhelming. Worst of all, at times, it felt a little long. Not exactly a great sign for an episode shorter than most network TV dramas.
Chapter one was a passable episode of television that never felt like it was trying to win over viewers who weren't bound to tune in already. Star Wars is a big deal. This episode felt small. That's not the worst thing in the world, especially since it accomplished some world-building, but Star Wars deserves better.