Written by Ian Thomas Malone, Posted in Celebrity Apprentice, Pop Culture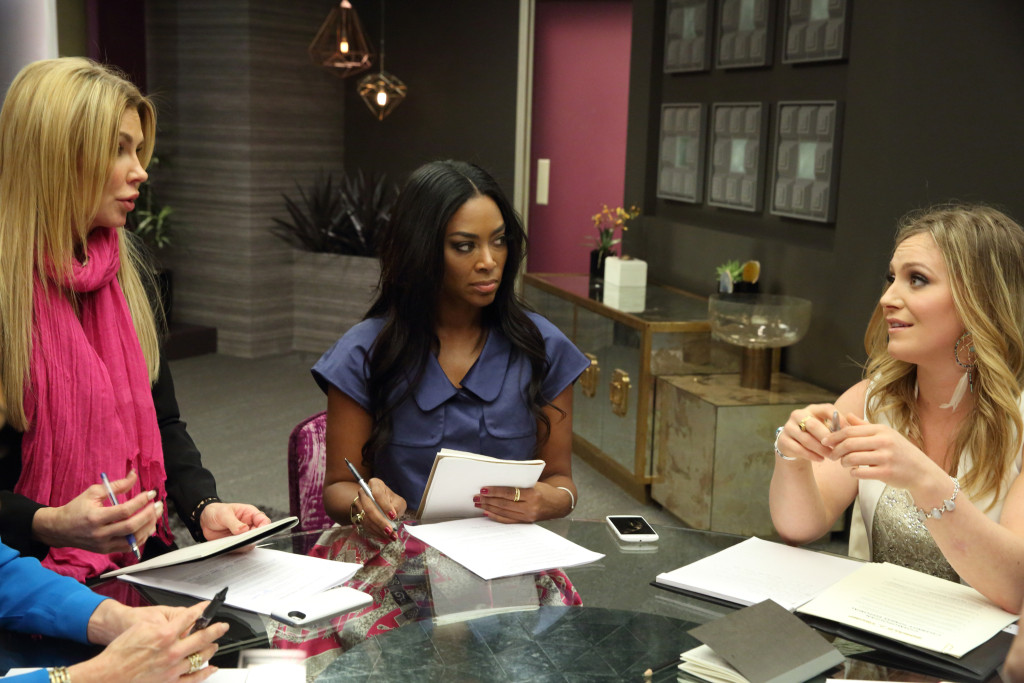 Before we tackle part one of this episode, which once again featured two tasks, I thought I would clarify that Trump was wrong in saying that allowing the Project Managers to keep their own money had "never been done before." This was also done in the fifth task of season 3, which featured John Rich against Marlee Matlin, arguably the two most impressive fundraisers in the show's history. More on that later.
I tweeted last night that Jamie Anderson might be the worst player in Celebrity Apprentice history and having slept on that, I still find that to be the case. Comic relief contestants like Gary Busey, Rod Blagojevich, and Dennis Rodman all drew the ire of their teams time and time again, but that was the singular least impressive Boardroom showing in Celeb Apprentice history, potentially of all time. You'd have to go back all the way to season one, where Omarosa knocked off a few of the women to find comparable instances.
Jamie made three horrendous mistakes. She admitted early on that she was bullied into the concept that she didn't quite believe in. More importantly, she didn't set anyone up to take the fall. This was problem one.
Problem two was that she was completely indecisive in the boardroom. Her team was chaotic in deciding who to set up for the fall. Kate, Brandi, and Kenya were all targets. Jamie could have made a case to plea for any of their firings and probably could have knocked off Kate or Brandi. Kenya would have been tough considering she's the only competent player of these four.
Had Jamie picked a target, maybe she could have survived. She could have even defended bringing Kate and Kenya back as Kenya was responsible for the loss and Kate is disliked. But then she admitted she made a mistake. Then she tried to see if Trump would bring Brandi back. It was over for her before that, but this was just embarrassing. LaToya Jackson made a similar mistake during All-Stars in not bringing back Omarosa, but at least she put up a fight.
Jamie? No, there was no fight here. After years of this show, it's clear that certain contestants come into the game knowing how it's played. Jamie wasn't one of them. She made nearly every basic mistake in the book and this was no surprise.
Let's go back to the money predicament. Geraldo and Ian collectively raised close to $600,000, a figure that Trump later raised to that exact sum. Jon Rich and Marlee Matlin back in Celeb Apprentice 3 raised over $1,600,000. Big difference, right?
It can be easy to forget that the whole "winning team gets all the money" is highly problematic when you're hitting your big donors up. Especially when you're a D list celebrity like Ian Ziering, who probably doesn't have many rich friends. His charity, The EB Medical Research Foundation, needs that money. The person who gave the $165,000 check probably had ties to that cause. It would have been pretty awkward had the money gone to Geraldo.
We saw this in Celeb Apprentice 5, where Patricia Velasquez lost her $126,962 to Paul Teutul Sr. In that season's finale, she tried to explain to Trump that a school couldn't be built because her donors spent their money only to see it go to a different charity. That was awkward for many reasons and the truth of the matter is, these are the rules.
But the way they framed the narrative with Ian's emotional plea would've made it difficult to see his money go to Geraldo. While Trump (as usual) exaggerated the significance of his decision to allow them to keep their money, it was the right call. This show is mostly about entertainment, but it's nice to see them act like human beings every once in awhile.
Fundraising tasks aren't very interesting. It's fun to watch the people who barely raise any money look awkward, unless it's Ian trying to get Terrell Owens to do something. Despite making close to $70 million in the NFL not counting endorsements, Owens is broke. It's no surprise he has no rich friends.
The show usually adds some sort of contest element to the task to get the participants to actually care about their product to raise some extra cash. That's rarely a difference maker. Ironically, it would have been the case here. I'm not really sure if there was a single element to this task besides selling, which is unusual.
It's rare that the two weakest players in the game get fired consecutively. Trump made the right calls. Athletes have rarely made for interesting contestants on this show. Damon is just as boring, though not entirely incompetent. He made for a decent PM, albeit one steamrolled by Geraldo.
If I had to pick the final four now, I'd go with Geraldo, Ian, Kenya, and Leeza, though I fully expect at least two of them to screw things up for themselves. Leeza is a dark horse, but one that Trump likes. Sig Hansen looks to have most of Paul Teutul's negative traits in that he's quiet and awkward, but also doesn't have the large Rolodex. He could be a dark horse, Jesse James type sleeper candidate, but that's also because there are far worse contestants still on the show.
Brandi's meltdowns resemble NeNe Leakes' too much for me to care. Leakes quit. I imagine Brandi might as well. This is a weird season without any overly dominant players aside from Geraldo, who's too bold for his own good. But we get to see Joan Rivers next week! I miss her.