Written by Ian Thomas Malone, Posted in Game of Thrones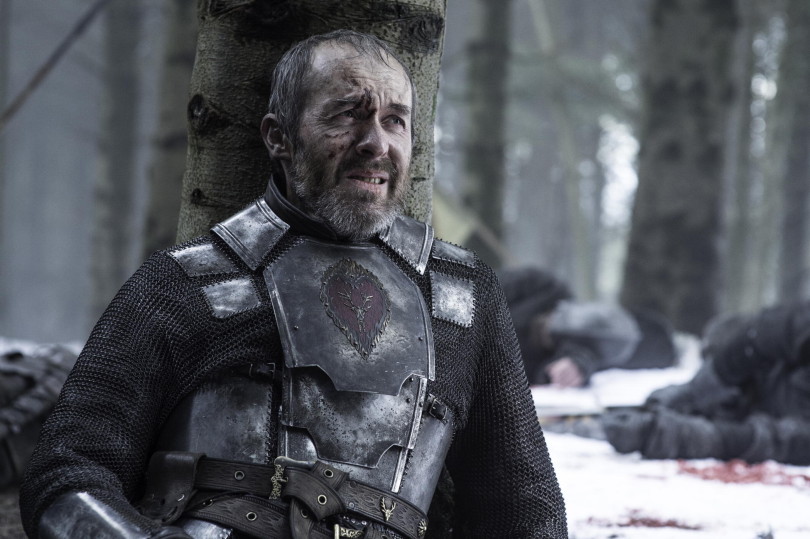 I've been searching for the perfect way to summarize my thoughts on Game of Thrones' fifth season. Those of you who have followed my recaps know that I was pretty disappointed with the way things turned out. Part of me keeps returning to the question of whether or not I was being serious when they said I'd accept that this season would be much different from the books, but I think I've been fair despite my love of Stannis. There was one omission from this season that summarizes why this season was terrible.
There was no Iron Throne this season.
How can you have a "game of thrones" with no throne? How can Entertainment Weekly release features regarding who will win if there's no prickly chair to sit on? While the Iron Throne and its occupant have rarely been at the center of the show, their absence from the narrative plays into a bigger problem.
I was surprised by how much I missed Charles Dance this season. I've known for years that Tywin would die. He's not even one of my favorite characters and the King's Landing plot was one of my favorite parts of A Feast for Crows. Jonathan Pryce did an excellent job as the High Sparrow and Lena Headley is one of this season's standout performers. So why am I mad about the missing throne? Surely cutting Ser Pounce from this season was a bigger loss?
It's hard to call season five a "transitional season" just because major characters died and others moved around. Season four had to deal with the loss of Robb and Catelyn. This season was supposed to feel different. We knew it was going to deviate from the books. Yet with all this preparation, season five felt like it had no idea what it was doing.
Case in point, Dorne. It's one thing to make a change. It's another to put filler garbage into a show that already has enough problems with screen time. That storyline was awful and has no redeeming qualities. I was happy that the show kept Bronn around, who isn't in the last two books, but that joy has been sucked away. I don't think I would have cried if he or Ser Stumpy had died and that's a bummer. Tears should be shed for such awesome characters.
Then there were the plotlines that defied all character logic. For four seasons, we've come to know Littlefinger as a master manipulator, second only to Varys, with an odd love of Sansa Stark. There wasn't a single good reason presented for why he would leave her in the care of the most sadistic house in Westeros. Sansa being back in Winterfell might have made for good television, in theory, but that starts to unravel when you consider how little sense it made.
Even though I hated this season, I do think that the show did reasonably well on the plotlines for its four major characters. Tyrion and Arya were fun to watch and their storylines were really the highpoint of the season. Successfully adapting Arya's time in Braavos was no easy task and the decision to bring back Jaqen was a smart move for viewers (though I'm a fan of the Kindly Man).
The Jon and Daenerys stories were fine all things considered. I think we can all agree that "Hardhome" was this season's best episode by a wide margin. The plotlines for these two will never get much further than the tips of the icebergs because they can't there isn't enough time to do Jon's complex relationship with Stannis or Dany's efforts to handle Meereen's vast political structure. What we were given wasn't perfect, but it was good enough.
I figured I should mention Stannis here, though I have nothing new to say. Please don't come back. The show has ruined you enough. #StandWithStannis
The time has no come for me to assign grades for each plotline. Is this the best way to do it? Probably not, but here they are.
Jon Snow/The Wall: B-
Daenerys Targaryen/Meereen: B-
Tyrion Lannister/Ser Friendzone: B+
Arya Stark/Braavos: A-
Cersei Lannister/King's Landing: B
All the Tyrells/King's Landing: F
Jaime Lannister/Bronn/Dorne: F
Sansa Stark/Reek/Winterfell: F
Grey Worm/Missandei Romance: F
Brienne of Tarth/Podrick/Whatever they were doing: F
Stannis Baratheon: F
Bran Stark: A+
Season Grade: F
Harsh? Not at all. Just look at Olenna Tyrell's role. What a waste of Diana Rigg and there was zero resolution for the Tyrells as a whole. No resolution for Littlefinger either. I guess he forget about Sansa.
This was not a show that knew what it was doing, which is funny because it purposefully chose to ignore its source material to plot this silly path. It's the kind of show that spends a season talking about how great of a battle commander Stannis is, only to have him wiped out in about two seconds. It's a show that doesn't care that its characters are three dimsensional and shouldn't change whenever the show feels like they should (poor Ser Alliser). It's a show that gives characters greyscale for no reason at all.
Even "Hardhome" is guilty of this. People like the episode because it was a much needed break from all of the other crap. It didn't matter if the White Walkers are essentially all that we should care about now.
So Jon and Stannis might be dead, maybe not. I'm okay with waiting to find out. I need time to forget how awful this season was.