Courting Mrs. McCarthy
Nathan is terrible at relationships…
Just ask his absent father, his controlling aunt and uncle…or his ex-girlfriend, Sarah. All he wants is to spend the summer before his senior year relaxing in the sun without any conflict or drama. But wh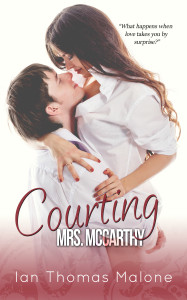 en he lays eyes on the beautiful, married mother of three at the opening of a yacht club, all bets are off.
Jacqueline McCarthy's life is nothing but a façade…
Her husband is a disgraced former athlete who prefers to have his ego stroked by other women. Jackie fills her empty days with yacht club events with other bored, wealthy housewives she can't stand, and she'd give anything to truly connect with someone.
When she meets Nathan and asks him to watch her children, she is captivated by the handsome, charismatic young man with a swimmer's body.
Jacqueline's attraction to Nathan doesn't go unnoticed and one particular vindictive gossip is determined to expose what she considers an unsavory secret.
Her campaign of rumors and innuendo—and eventually physical evidence—draws the attention of friends and strangers alike, and threatens to bring their world crashing down.
However, sometimes those who are quickest to judge
are the last ones who should be throwing stones…
Courting Mrs. McCarthy (Limitless Publishing) available June 9th from all major booksellers