A Beautiful Day in the Neighborhood Captures the Essence of Fred Rogers
Written by Ian Thomas Malone, Posted in Blog, Movie Reviews, Pop Culture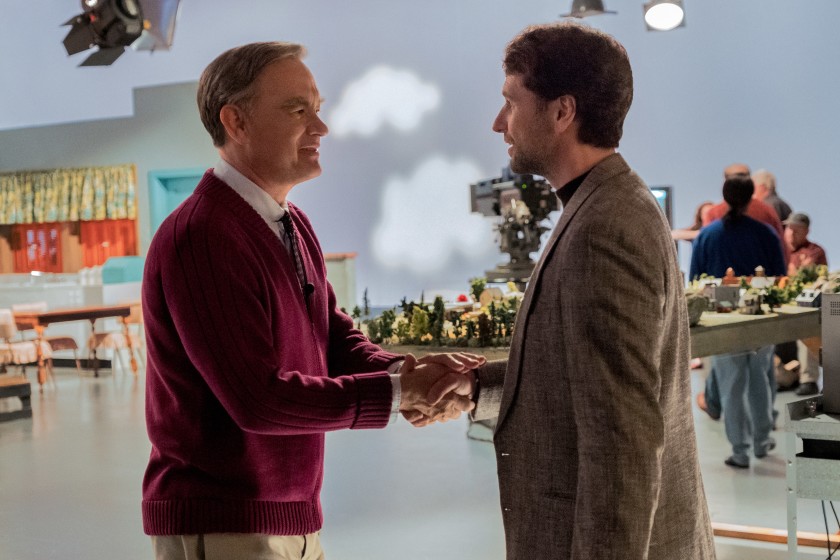 t's not very complicated to understand the continued appeal of Fred Rogers in the year 2019, close to two decades after his death. In an era defined by noise and distraction, the quiet nature of Mister Rogers' show offers a calming presence to ease one's anxiety. My partner and I have a Sunday morning tradition of watching an episode Mister Rogers' Neighborhood each week, which are still offered on the show's website, finding that the morals he preaches still resonate even in adulthood. His method of directly addressing the audience still carries the feel that he's speaking to old friends, his millions of television neighbors.
A Beautiful Day in the Neighborhood focuses more on the idea of Fred Rogers than the man himself. The narrative is centered around Esquire journalist Lloyd Vogel (Matthew Rhys) in his efforts to profile Mister Rogers. Vogel, a new parent, harbors immense resentment for his own father (Chris Cooper). Vogel is fairly disliked at work, mainly by the subjects of his pieces, and his dedication to his career is putting a strain on his marriage.
Tom Hanks is a decent Fred Rogers, capturing the essence of the man's message though falling a bit short on his intonations. He sounds less like Fred Rogers than Tom Hanks doing a Fred Rogers imitation. This dynamic is most apparent when the film tries to recreate the actual Mister Rogers' Neighborhood show.
The Neighborhood sets are beautifully reconstructed, but A Beautiful Day in the Neighborhood is a bit sloppy on the actors' delivery. Hanks speaks far too fast for Fred Rogers, who used a softer, contemplative tone when addressing his television neighbors. There's also a scene where Lady Aberlin moves right past the trolley in the Neighborhood of Make Believe without saying hello, something that never would have happened on the actual show. Of the three actors used in Neighborhood recreations, only Daniel Krell's Mr. McFeely truly nails the character.
Granted, most of the adult audience watching the film will not sit down in the theatre with Mister Rogers' Neighborhood fresh in the minds. Hanks is far more effective as Rogers when communicating with Vogel. His expressions and quiet responses to Vogel's intrusive lines of questioning give the audience the Rogers they came for, a patient man ready to make the world a little less scary.
The choice of narrative may seem a bit puzzling for people who simply want a movie full of Fred Rogers, but the film demonstrates why Mister Rogers is hardly suited for the role of film protagonist. Main characters in movies have conflict. Fred Rogers enjoys one of the most spotless reputations of any American Icon, a living saint, as the movie itself admits. No one wants to see an angry Fred Rogers.
Matthew Rhys does a great job in the lead role, unsurprisingly shining most in scenes without Hanks. Susan Kelechi Watson works well opposite Rhys as Vogel's wife Andrea, and Cooper plays a compelling yet mostly detestable father. The film presents enough conflict to carry the movie narrative while deploying Hanks in a manner bound to keep audiences satisfied.
There are moments where the narrative feels almost too neatly constructed. Though based on a true story, the very fact that original Esquire journalist Tom Junod's name was changed suggests the film takes plenty of dramatic liberties. That's mostly okay when you consider that the film doesn't really exist to provide a new perspective about Fred Rogers, but rather to present a bunch of feel-good moments.
A Beautiful Day in the Neighborhood is a movie that understands what it's supposed to do. Hanks is warm and engaging in the title role. The film gives plenty of good feelings, true to Mister Rogers' message. While many biopics dramatize the past, this film succeeds through its devotion to the essence of its subject.