House of the Dragon soars above its vacuous source material
Written by Ian Thomas Malone, Posted in Blog, Game of Thrones, Pop Culture, TV Reviews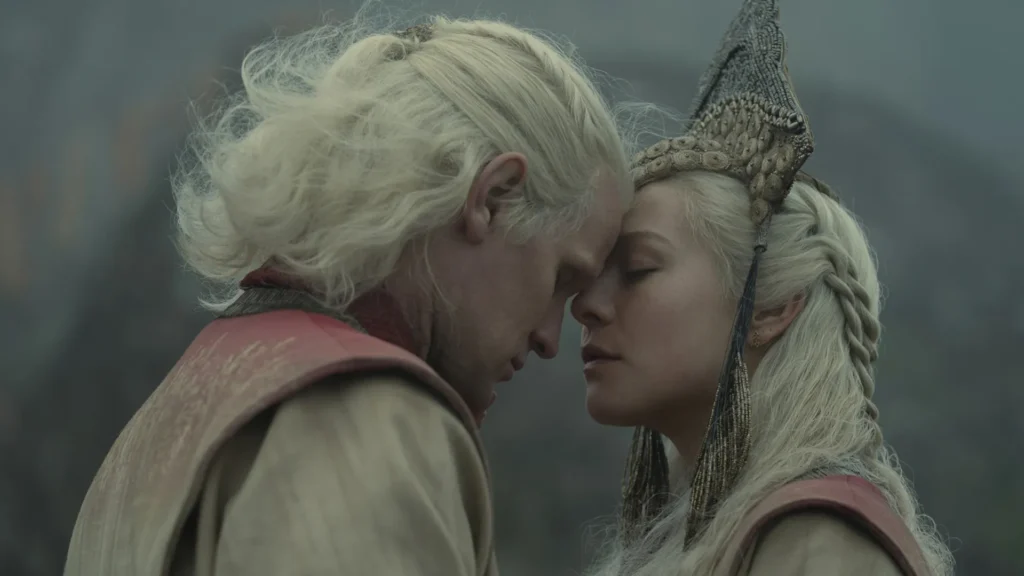 House of the Dragon may very well be the most expensive television show ever born out of a procrastination project. Largely based on the novella The Princess and the Queen and its prequel The Rogue Prince, published originally in the anthologies Dangerous Women and Rogues respectively, both edited by George R.R. Martin and his late friend Gardner Dozois, the depiction of the Dance of the Dragons was less a fully realized world than a side project by an author hellbent on doing anything other than finishing The Winds of Winter. The repackaging of said novellas along with some other material as Fire and Blood gives the whole project a sense of grandeur that covers up what's largely a shameless cash grab by Martin's publisher, understandably thirsty for some new Westeros content.
The main books in A Song of Ice and Fire presented their chapters through varying point-of-view characters, giving the readers an intimate first-hand perspective into the people we'd grown to love and hate, sometimes both. The novellas that make up House of the Dragon were presented through the lens of Archmaester Gyldayn, an elusive unreliable narrator. The execution of the text put a fair bit of distance between such legendary figures in Westerosi lore as Daemon and Aemond Targaryen, and the audience gobbling up these morsels of story. House of the Dragon has far less concrete substance to work with than its predecessor Game of Thrones.
 Part of the beauty of Thrones was the show's need to juggle seemingly countless strands of plot within its ten-episode seasons. Fans scoured the opening credits to see which characters would appear in the episodes, screen time serving as the ultimate limited commodity. House of the Dragon couldn't be more different, with a limited cast of characters predominantly set in King's Landing. Without the benefits of Thrones' frequent changes in scenery, HotD has had to double down on the gritty mechanics of television storytelling to fuel its narrative, wisely sparsely deploying its greatest asset in the realm of spectacle, the titular dragons that prompted HBO to favor this narrative over competing spin-off concepts.
House of the Dragon is less a Game of Thrones spinoff than a Westerosi adaptation of Succession, another HBO crown jewel. Like Succession, HotD features a large family wielding capitalism's most nepotistic instincts in service to selfish goals no reasonable human being should care about. Television doesn't need to care about right or wrong. It's fun to watch attractive bad people doing naughty things. HotD isn't an existential fight for survival against unthinkable evil like Game of Thrones, but a petty family squabble between people with the fantasy equivalent of nuclear weapons.
Showrunners Ryan Condal and Miguel Sapochnik pulled off an immensely impressive feat with season one. House of the Dragon lacks practically every defining attribute that made its predecessor great, but the steady narrative pacing and first-rate acting allowed the show to succeed on its own merits independent of the broader spectacle. The show managed to get its audience invested in characters even amid a clunky time jump that saw two of its leads, both its princess and its queen, recast midway through the season.
The early first-rate performances by Milly Alcock and Emily Care as Rhaenyra Targaryen and Alicent Hightower might have presented a lot of problems for Emma D'Arcy and Olivia Cooke, tagging in midway through in a confusing narrative with a cast of characters with oddly similar names. House of the Dragon is the rare kind of show where you actually feel for the characters without necessarily needing to identify them all. The legend of Daemon Targaryen manifests itself through Matt Smith's uncannily minimalistic performance, commanding all the attention in a room with a single smirk.
One doesn't need to pick a side between the "Greens" and the "Blacks" to feel for the patriarch ushering in his own family's demise. King Viserys Targaryen slowly withers away over the course of the season, but Paddy Considine delivers every line with the grief of a dying man faced with a horde of relatives who hate each other. It's surprisingly easy to relate to this collection of selfish incestuous royals and the oligarchs who feed off their scraps.
Unlike its predecessor, the audience can tune into House of the Dragon knowing how all of this is going to end, who's going to kill who, and who's going to lose an eye for implying their cousins are bastards. There is a surprising level of dramatic tension for a show without the benefit of natural suspense. HotD is a lot slower than its predecessor, but there's ample beauty to be found in the ways that the cast manages to bring its meager source material to life. Game of Thrones was a great show based on a great series of books. HotD is a great show based off Martin's various procrastination musings thoroughly content with their own mediocrity. The latter is unlikely to leave a lasting impression on popular culture, but it might end up being the more impressive piece of work when all of this is said and done.