She-Hulk: Attorney at Law confidently grows into Marvel Studio's best television series
Written by Ian Thomas Malone, Posted in Blog, Pop Culture, TV Reviews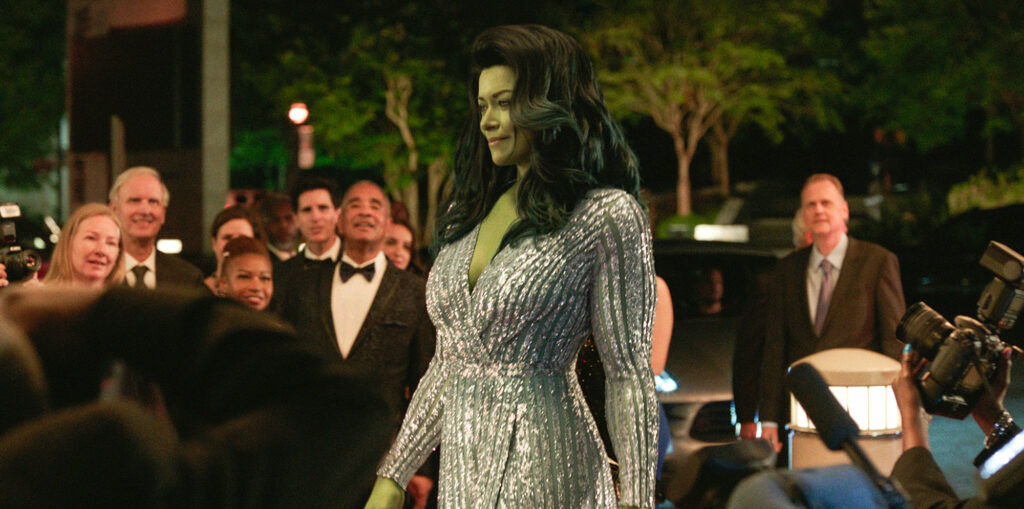 Phase Four should be the greatest time to be a fan of the Marvel Cinematic Universe. The sprawling, seemingly-interconnected franchise carries the aura of being stuck in a rut, with frontline entries falling flat from meandering scripts and an overabundance of ugly green screens. Marvel Studios still hasn't established a cohesive vision for its post-Endgame fare, sending its established television heroes on entertaining, if not inconsequential affairs (Falcon and the Winter Soldier, Loki, Hawkeye). WandaVision, its crowning TV achievement, saw its thesis completely undone by the mess that was Dr. Strange and the Multiverse of Madness. Other entries such as Shang-Chi and the Legend of the Ten Rings and Ms. Marvel succeeded largely by doing their own thing, only loosely grazing the peripheral vision of the vast broader world.
She-Hulk: Attorney at Law essentially splits the difference between the two camps of Marvel Studios TV efforts, a series focusing on a brand-new character that feels like it firmly exists in the MCU's present. Borrowing heavily from Ally McBeal, the show leans heavily on Marvel's penchant for humor while rewarding superfans who spend time in every nook and cranny of the MCU, making stuff like the eminently forgettable The Incredible Hulk feel relevant again. Comic books as a genre always try to serve two distinct audiences in diehard fans as well as those potentially picking up a series for the first time. She-Hulk feels like the first Marvel Studios series to really play for both at the same time.
Despite its abundance of MCU heroes, the series largely succeeds off the strength of Tatiana Maslany's performance in the title role. Reluctantly thrown into the deep end of the superhero world, Jen Walters is a great conduit for the viewer to experience all the chaos, sharing the space with established MCU favorites such as her cousin Bruce Banner (Mark Ruffalo), Wong (Benedict Wong), and Matt Murdock (Charlie Cox) without ever ceding agency to her own narrative. For a show firmly rooted in sitcom humor, She-Hulk displays remarkable restraint toward not overplaying the gags, especially the title character's long history of breaking the fourth wall. Thor: Love and Thunder could've learned a thing or two from She-Hulk's responsible attitude toward the role of comedy in its narrative.
Many of the Marvel Studio TV series have suffered from Disney's self-imposed mandate of six-episode seasons that every other live-action show after WandaVision has followed. She-Hulk benefits from a bit of breathing room for Walters' transition from lawyer to super-lawyer. At times, the show does feel a bit like it's being engineered for a different era, riffing off shows like Ally McBeal that benefited from then-standard twenty-two+ episode seasons. The mechanics of television production call for characters like Nikki (Ginger Gonzaga) and Pug (Josh Segarra) to occasionally be treated like actual cast members with their own B-plots, but the show doesn't have much interest in such antics beyond brief fourth-wall gags.
Nine episodes is a weird, completely arbitrary number of episodes for a formula like She-Hulk. The idea of a sitcom functioning like a prestige series makes sense for this unprecedented streaming era that doesn't need to care about things like episode length. Seasons could function that way too if the heavy hands of capitalism weren't guiding Disney's every move. The space afforded to She-Hulk allowed the series time to hit its stride, giving the audience a chance to endear itself to both the characters and the world that's been lovingly crafted over the season.
Episodes like the penultimate "Ribbit and Rip" demonstrate the flip side of this equation. The return of Matt Murdock to the Daredevil costume for the first time since his own Netflix series was unceremoniously canceled in 2018 was an epic comeback completely out of left field, a tonal change for the darker character that felt completely natural due to Maslany and Cox's instant chemistry. Daredevil's return demonstrates just how keenly the entire operation understands the pulse of its audience.
She-Hulk could have easily suffered under the weight of its many sitcom tropes and excessive cameos, but the show rests comfortably on Maslany's big green shoulders. She-Hulk is Phase Four's crowning achievement thus far. We still don't really know where the MCU is headed in its post-Infinity Stone era, besides some inevitable multiverse cameo shenanigans. She-Hulk's sense of confidence makes it easy not to care where this is all headed, a show that's never forgotten that it's not the Endgame that matters, but the journey along the way.