Game of Thrones Season 8 Recap: Episode 5
Written by Ian Thomas Malone, Posted in Blog, Game of Thrones, Pop Culture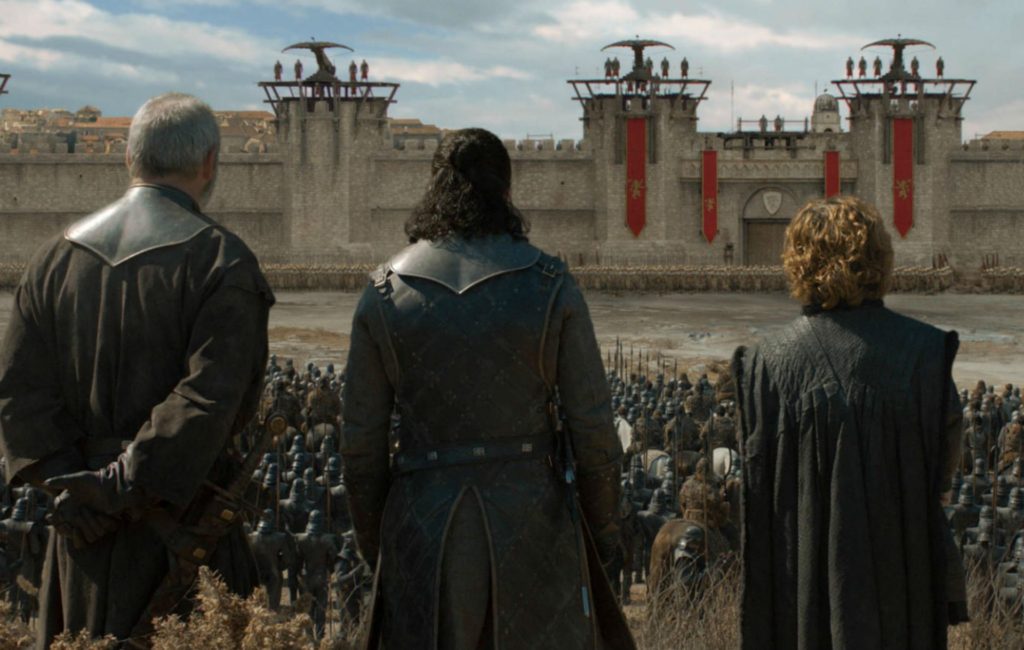 There's a scene in A Storm of Swords where Stannis remarks that "Ser Barristan once told me the rot in King Aerys court began with Varys. The eunuch should never have been pardoned." Varys has served five kings, Aerys, Robert, Joffrey, Tommen, and Daenerys. Six if you count those letters he was sending around gossiping about Jon Snow. Has he served any of them well?
Varys has always been a character who claims to care about the greater good, but that kind of manipulative altruism relies heavily on his own desires. As an advisor to Daenerys, he had the ability to use his influence to guide his Queen toward the path he best saw fit, putting aside the problematic nature of that notion. He didn't do that. Instead, he schemed.
Dany burned a lot of innocent people, looking a lot like her deranged father in the process. Dany has always had that anger inside of her, contrasted with the caring ruler she became in Meereen. In Westeros, she felt unloved, a product of the show's narrow scope this season.
Assuming Gendry possessed some sort of loyalty to the person who named him Lord of Storm's End, Dany would have, at least in theory, three major houses supporting her claim. The show doesn't feature anyone from Houses Tyrell or Martell anymore, but we shouldn't forget that Dorne and the Reach backed her, along with Yara who now controls the Iron Islands. That's a big chunk of Westeros, full of people disinclined to back either Cersei or whoever ends up ruling in the North.
No one ever pointed this out to Dany. Not Tyrion, not Varys, not Jon. She feels unloved by Westeros because the show has framed it that way, spotlighting an understandably reluctant North as her primary contrast. From that perspective, a Dany/Jon feud seems inevitable, but from a larger geopolitical point of view, she had a lot more going for her. Until she burned a bunch of civilians.
Are we supposed to care? The character development isn't great, but this is also a shorter season. The cinematography was spectacular. I loved every minute of the King's Landing scenes. Sometimes, logic should be damned, especially when it comes to television. TV should be fun. This episode was a blast.
Tyrion looked kind of weird wandering around the battle by himself. He's been pretty useless for a while now, offering bad advice and scheming to undermine Dany. Sure it was nice that he cared about the innocent people, but Dany just wanted to hear some bells before she went on a killing spree.
Grey Worm killed Harry Strickland. We didn't need Harry or the Golden Company, but some elephants would have been nice. Not much of a battle.
Euron died happy. Favorite character in season eight. Glad to see he went out with a bang, even if it didn't make a ton of narrative sense.
Jaime's scenes totally undercut his relationship with Brienne, but he's not exactly the kind of character destined for a happy ending. I would have liked to have seen his arc drawn out a little more, but this season did a good job of tying up a few loose strands, particularly with Bran.
I never personally bought into the idea that Arya or Jaime would kill Cersei. She's pregnant. Sure, the show has killed pregnant people before, namely Talisa Stark (Jeyne Westerling), but heroes tend not to do that kind of stuff. Nobody is going to be mad at a pile of rocks for killing a pregnant villain.
My favorite scenes in the episode involved the random soldiers that first tried to stop Arya and The Hound, as well as Tyrion a bit later on. As much as the show feels larger than life in so many ways, it also tends to only focus on a handful of people in this big world. It is quite easy to forget that there's all these other people in the realm, just trying to get by.
Jon felt weirdly irrelevant this episode. No one cared to listen to him. That's usually how I feel. Guessing he'll be caught in the middle of next episode's inevitable showdown between Dany and Sansa. I'm not really into his whole reluctant ruler act. Sansa should just be queen instead.
I've never been a fan of the idea of Cleganebowl. The Hound is more than just his lust for revenge. As his brother, Gregor Clegane died a long time ago. Definitely wish Sandor didn't sacrifice himself to take down a walking corpse. Arya and he could have had a great spinoff.
Stay weird Qyburn.
Arya chooses life. Hopefully she goes to Storm's End and lives happily ever after. I imagine she'll factor into next episode, but it's kind of unclear how unless she goes and assassinates Dany, which wouldn't make a ton of sense considering how this episode played out at the end with Arya choosing life over death.
Plenty of people will dislike this episode, particularly Dany's heel turn, for perfectly legitimate reasons. I really enjoyed it, mostly because it was good television. Tyrion and Jaime's goodbye was compelling regardless of the circumstances. Davos is great as always.
I had fun watching it. Sometimes that's enough. Having done these recaps for years, I know I've taken great pleasure in pointing out all the plot holes, shoddy characterizations, and ways the books have done things better. I do greatly enjoy the show though. This season has been far from perfect, but it's been entertaining. I will certainly miss it when it's over.