Game of Thrones Season 6 Recap: Episode 5
Written by Ian Thomas Malone, Posted in Game of Thrones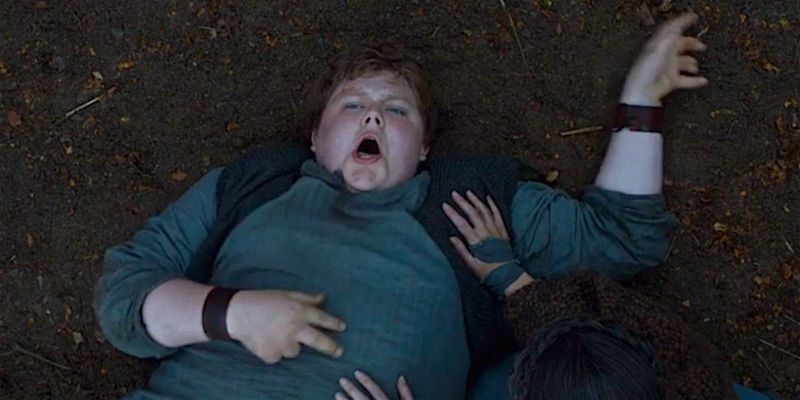 This recap features analysis from a devoted book fan. As the show has largely deviated from the books I'm not sure how much this matters, but if you hate spoilers you should probably not read these articles. I encourage you to subscribe so you never miss a recap. Thank you for reading. 
Last night's episode was the first time that it really felt like the show was spoiling the books. There's been minor stuff here and there, plus Jon's revival which everyone knew was coming, but the show has deviated so far from the books in general that's it's hard to say any particular storyline has been spoiled. The Sand Snakes probably aren't going to foolishly kill their relatives, Ser Alliser didn't participate in the mutiny and won't be hanged, and Jorah isn't going to be needlessly infected with greyscale.
The Night's King being head of the White Walkers though. That's a big one. So is the death of a certain gentle giant, whose death revealed the mystery behind perhaps the most famous word to come out of A Song of Ice and Fire.
I don't mean to suggest that this is a fault of the show. We, the book readers, knew the risks. I've never been one to let spoilers get to me anyway.
Hodor's death hit me. I think it hit just about everyone with a heart. Tragedy has always been a predominant element of ASOIAF. I don't think there was any greater example of that left for the show to give. The whole time traveling/destiny thing perhaps makes it sadder. I'll hold off on full judgment until we see how Bran comes to terms with this responsibility, but a lot of why I was so sad about Hodor dying was that it had nothing to do with his own free will.
We haven't really seen that in the series, at least with noteworthy characters. Ned died because he made poor political choices. Same goes for Robb and to a lesser extent, Catelyn. Others, like Drogo, Tywin, and Stannis were simply beat out by their opposition (keeping it simple here). We have reason behind nearly all the deaths over the course of the whole series. We sort of do with Hodor as well, but it's a crappy reason.
The other thing I couldn't really wrap my head around with the deaths of Hodor and Summer was the balance of story contrasted with the show's recent obsession with trimming down the cast. It's clear that Hodor's death will be similar in the books, with the important "hold the door" line. Summer may die in that battle too. I've mentioned in earlier recaps that it's clear Kristian Nairn, the actor who plays Hodor, can't carry Issac Hempstead Wright anymore. The show may not want to pay for the CGI required to feature Summer, which is at least partially supported by the death of Shaggydog last week. Who knows which category these deaths fall under?
I used the phrase "half-baked" to refer to nearly all the other plotlines in the episode during my video recap last night. The idea that Jon, a resurrected bastard Night's Watch deserter, can rally the North is half-baked. Brienne doing absolutely nothing about Davos/Melisandre is half-baked. Euron openly admitting he committed regicide is half-baked. Yara and Theon running away with the whole fleet while twenty Ironborn watch Euron is half-baked. Jorah and his stupid greyscale is half-baked.
Littlefinger has quietly become the show's most interesting character. Book readers won't find this surprising, but the character has been portrayed so inconsistently on screen that it's hard to really care most of the time. Does he actually love Sansa? I'm not willing to say no to that and not just because of the books. He put himself at great risk being alone with her. He may wish to do right. Maybe not.
Sansa lying is weird. I'm sure it'll serve some future plotline, but as with LF's decision to marry her off to Ramsey, it doesn't make much sense from a character perspective. Advancing the plot isn't an excuse to defy character norms and we didn't get anything that resembled an explanation.
I'm excited to see the Blackfish again. He's a favorite in the books. It is a bit weird that the Frey's have been essentially written out of the series. No troops were at Winterfell with the Boltons and they somehow lost Riverrun, an easily defendable castle for however long it would take to get reinforcements.
Arya continues to be an interesting storyline to follow. I liked how the play had errors with the storyline as people in Braavos wouldn't necessarily have specific details and likely wouldn't care either. It gave Arya a chance to question her loyalty to the House of Black & White.
I don't love the introduction of another red priestess, as the show has been fairly inconsistent with the Lord of Light. It's clear that they're starting to lay down the framework for a Jon/Dany faceoff to see who's the Prince(ss) who was Promised. I did take note of Varys' hatred of the Red God and was pleased to see it mentioned here.
Poor Jorah. Infected with a stupid disease. Not sure where he's going to go. Is he going to call Dr. House?
Boy the Kingsmoot was a bomb. I guess Yara's going to go visit Dany first. I'll say this again though because it merits repeating. How did she escape with the whole fleet?
I could talk about Bloodraven dying some more. I don't want to. He was kind of a letdown. I'm excited to see how Bran explores the Children of the Forest creating the White Walkers, but I'm almost rooting for them at this point. Hodor.
That's it for this week. Sorry for the brevity on non-Hodor plotlines. I'm happy to answer any questions you have, either here or on my Facebook page. See you next week.