Interviews of Ice and Fire: Preston Jacobs
Written by Ian Thomas Malone, Posted in Blog, Game of Thrones, IOIAF, Pop Culture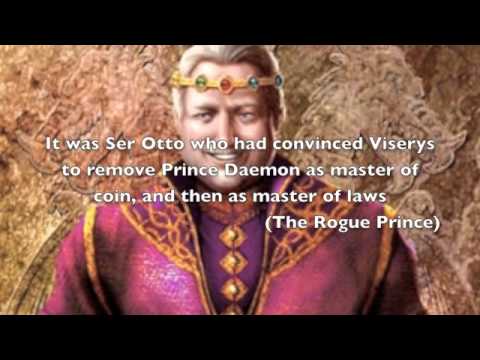 I'm very excited to welcome Preston Jacobs to the site. Since his YouTube debut last year, Preston has stirred the ASOIAF pot with his "Rereading Ice, Rethinking Fire" series of videos, amassing over 40,000 subscribers. Covering topics such as theories, book to show comparisons, and individual episode commentaries, Preston's videos have over 5,000,000 views.
I'll lead off with the question that I think everyone thinks when they watch your videos. How do you come up with them?
That's quite an existential question: where do ideas come from? What's funny is that normally people strive for original ideas. I'm instead trying to discover GRRM's ideas hidden in the text. In the end, we shall see if I'm successful in my quest to not have an original idea.
But regarding the creation of ideas, I think a fundamental aspect of their creation is identifying a gap in logic or information. After finding the gap, the mind will then naturally search for a solution.
Can you take us briefly through your research process?  
To produce a video, I usually start with a topic that has been bugging me or another fan. I then reread the chapters surrounding that topic and look for things that don't quite make sense. Finally, I try to come up with solutions that explain the inconsistencies. I find six techniques really help me: 1) I reread the series by character or by location; 2) I focus heavily on the seemingly extraneous information and characters; 3) I read the appendixes; 4) I do quite a few word searches on the electronic version of the story; 5) I constantly think about character allegiance, best interest and motivation; and 6) I often consider POV conclusions to be inaccurate.
That last technique may need a bit of clarification. What I mean by that is GRRM likes listing plans and possibilities and then going with something that isn't listed. For example, in Tyrion's first chapter of A Dance with Dragons, Tyrion thinks he might be going to Braavos, Tyrosh, Myr, Dorne, the Wall or Lys. In the end, it's Pentos. When a POV character has solved a mystery, I question it. And that's a huge reason why I don't think Euron killed Balon – because Asha is certain of it.
When it comes to your longer series, are your ideas fully fleshed out before you start making them or do you discover some new stuff along the way?
To my own detriment, I've never been a planner. And few, if any, of the ideas in my video are fleshed out when I start. When I finish "Part 1" of a series, I have only a vague notion of what "Part 2" will be. It's actually pretty perilous and, for this reason, my series do often meander a bit. For example, The Littlefinger Debt Scheme wandered so much that I had to spend half an episode centering it again. The Dornish Master Plan, on the other hand, had more of that satisfying, big picture cohesiveness. A series can actually cause me a bit of anxiety. I'm continually frightened that I won't be able to bring things together or find the answer. But, at the same time, that fear motivates me quite a bit.
Most of your older videos ended with you saying "I'm probably wrong about half of this." When you craft a theory, do you account for potential errors?
I recognize that human beings make connections that aren't always there. We form opinions, become emotional and suffer from confirmation bias. I know I must be guilty of this. And I am human and make mistakes. As it turns out, GRRM and his editors are humans as well and also make mistakes.
I also recognize that GRRM is trying very hard to deceive us. For example, we were clearly led to believe that Bran's attacker was hired by Cersei or Jaime. Then, out of nowhere, it turns out the attacker was hired by Joffrey. GRRM hid this reveal very well and even laid down false information about this event to keep the reader confused.
What is difficult, however, is divorcing my error from GRRM's error from GRRM's misdirection from a legitimate clue. For example, Summer and Shaggydog fail to smell Wex as he hides in a tree at the end of A Clash of Kings. This seems very off to me. Am I in error in not knowing the ins and outs of a wolf's nose? Is GRRM in error in forgetting that the wolves should have smelled Wex? Is GRRM screwing with us by planting inconsistent information? Or is this a clue on the nature of Wex? I certainly hope it's a clue. And it's a lot more fun to think it is.
You're possibly the most famous R+L=J skeptic on the internet. Does the story about how GRRM asked D&D who Jon Snow's mother was at their first meeting sway your opinion at all? 
Don't get me wrong, there are things that make me think that R+L might equal J, but the Game of Thrones series is not one of them. GRRM is writing his magnum opus and the mystery of Jon Snow's mother is a major piece of it. It's a mystery that GRRM has guarded for two decades. Ask yourself, if it were you, would you trust D&D with the answer? Would you trust anyone with the answer? I certainly wouldn't.
Also, if one looks at GRRM words about the meeting, he says that D&D "answered correctly." Not to split hairs, but answering correctly is different from having the correct answer. If someone has been properly deceived, they are answering correctly in a way.
You're also likely Sweetrobin's number one fan. What is it about the Lord of the Vale that captivates you? Is he destined to marry Shireen? 
Like Tyrion, I have a tender spot in my heart for cripples and bastards and broken things. But, it goes beyond that. I've always been bothered by children acting too old for their age in fiction. And admittedly, our story is very guilty of this. For example, Ned claims that Rickon, at three years old, "must learn to face his fears" and is old enough for a direwolf. It's laughable. Sweetrobin, of course, acts too young for his age, but his situation is still much more realistic and relatable than the reverse.
I am also intrigued by the mystery of Sweetrobin's abilities. How does this small, weak boy know the things he does? He recognizes an aunt he only met when a baby. He hears Marillion's posthumous singing. He knows Harry the Heir wants him dead. How?
A Sweetrobin-Shireen marriage does seem pretty likely to me. They are of an age and the alliance would be a powerful one. The only thing that makes me think it won't happen is that Maester Cressen already suggested it in A Clash of King. And, as I mentioned, GRRM doesn't like fulfilling announced plans. 
Your Tower of Joy series breaks down the timeline problems with Robert's Rebellion. Do you think GRRM would go back and make the war longer if he could?
I'm not sure if it's the length of the war that is the issue necessarily, but where GRRM placed the events. The real problem event is the Battle of the Bells and the real problem testimony is Jaime in the Harrenhall bathhouse in A Storm of Swords.
The Battle of the Bells seems like a battle that should be at the beginning of the war. After all, it leads to the Tully alliance, Ned's marriage and him marching off to war and leaving Catelyn for a year. But then Jaime describes the Battle of the Bells as happening near the end of the war. According to Jaime, the battle quickly leads to Tywin's abandonment of Aerys, the wildfire incident and Aerys' death.
No matter how you slice it, our characters are spending months upon months twiddling his thumbs somewhere. Ned either sat at the Trident for seven or eight months or spent that time in Dorne. I think GRRM's big mistake was not adding more events between the Battle of the Bells and the fall of King's Landing.
When I first read "The Hedge Knight," I wrote it off as just a fluff contribution to Legends. Your videos, particularly your "Dragonless Ambitions" series, use quotes from the novellas. Do you approach using them differently than you do with the main books in the series?  
In my opinion, the Dunk and Egg stories are the best of GRRM's writing. They are simply fantastic stories. That said, they seem to be a little more straightforward than his other work. I will say they are good for understanding the nature of Targaryens, how bastards are seen by society, the Faith of the Seven and Bloodraven.
The Rogue Prince and the Princess and the Queen are the opposite. On first read, they are quite dry, but they are also dense and filled with glorious lies. The stories remind me greatly of the Roman histories of Suetonius and Tacitus and I'm certain that's what GRRM was going for by having the story told through "Archmaester Glydayn." We have a biased author collecting the writings of other biased authors. One has to know the biases and catch the contradictions to unlock the truth.
Do you think that GRRM will need more than two books to finish the series given the amount of ground that still needs to be covered?
It's hard to imagine that he can do it two books. And it's certainly in his publisher's best interest to push the series to eight. I would say there's a very good chance there will be an eighth book. Many people simply assume that there will be a lazy slaughter of characters to close plot lines in two books.
That said, GRRM's other stories do not shy away from ending unresolved. His first novel, The Dying of Light builds up to a huge showdown and then ends before the fight. It makes me ask myself things like: if the Ironborn story ended with Theon and others returning home for a new kingsmoot, would I be satisfied? Does Theon need to win the kingsmoot or is returning home good enough for me? Because there's a good chance GRRM will end it unresolved. 
Which character do you think is best at backdoor politics/scheming?
It's a boring answer, but Varys. Somehow Varys rose up from humble beginning to be Aerys' Master of Whisperers and then, somehow, convinces Robert not to kill him. That's pretty impressive. The guy hides in walls, moonlights as a black cell guard and seems to get men that hate him (like Ned and Barristan) to do things for him. The only other person that comes close to working this hard is Littlefinger. 
Which two characters would you like to see sail together on a small fishing boat through Valyria on their way to Meereen? 
I feel Cersei and Lady Stoneheart would have some very interesting conversations. 
What are your thoughts on season five so far?
Season five, quite frankly, is a disaster. The actors have done their best and many scenes are beautifully written, but the larger story just doesn't make any sense anymore. I believe the big problem was trying to combine plots and characters. It forced characters to do illogical things. In my opinion, D&D should have just written a new story. After all, the title of the series has "Game" in it and I think a big element that people love is the logic to that game. They love hypothesizing about what characters will do next. There is such a massive leap in logic with Littlefinger handing Sansa over to Ramsay that it's hard to get over.
Generic question, but who is your favorite character in the books? Is the same true for the show?
I fluctuate, but when it really comes down to it, it's Theon. He is such a real, flawed, relatable and tragic character. And he's the one I really care about and am overwhelmingly invested in emotionally. Theon's escape from Winterfell was one of the most nail-biting reads for me. I want him to live and find happiness, if he can.
When it comes down to it, Theon is a lot like Jessie from Breaking Bad. He may lack wisdom, but he has deniable raw talent. And he may annoyingly use faux-confidence to cover his insecurities, but he is actually just looking to make friends and find acceptance. He has done some horrible things, but he is actually a good person underneath. At some point, Theon, like Jessie, has become our son.
Which character do you think has gotten the worst treatment by the show?
Jaime, hands down. Jaime's story should be an unexpected tale of redemption. In the books, he starts out the worst of villains –he murders the king, he sleeps with his sister, he tries to murder Bran and he kills Jory. Then, somehow, it all turns on its head during his journey with Brienne. Jaime becomes someone worth rooting for.
Jaime of the show has no journey. He just starts out pretty likable and never really changes. I understand why they made this change. The story is filled with characters and Nikolaj Coster-Waldau needed screen time to familiarize the audience with Jaime. That said, by endearing the audience to the character of Jaime early, they spoiled everything.
Last but certainly not least, what the hell happened at Summerhall? 
There is a paradox in the word "dream." We know that dreams are a jumble of past memories, yet we use the word to talk about our ideas of the future. And, somehow, the notion that dreams are prophecy has sprouted up.
Shakespeare's Othello deals with this subject in great depth. Iago whispers in Othello's ear, which, in turn, becomes Othello's dream. Othello then thinks his dream is prophecy – a "foregone conclusion." In the end, Othello kills his lover and himself.
So, when I hear about Valyrians, their dragon dreams and their doom, I'm not so concerned with how they killed themselves. Clearly at Summerhall, Egg or one of his kin believed some crazy idea about hatching dragons or bringing forth the Prince That Was Promised. And it resulted in a fiery mess. The real question is: who is the Iago?