Game of Thrones Season 5 Recap: Episode 8
Written by Ian Thomas Malone, Posted in Blog, Game of Thrones, Pop Culture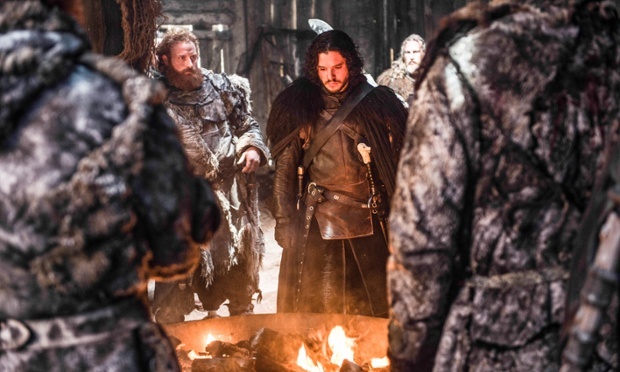 This recap features analysis from a devoted book fan. Spoilers will largely be kept to comparisons between the show and the books within the episodes themselves, but if you hate spoilers you should probably not read these articles. I encourage you to subscribe so you never miss a recap. Thank you for reading. 
The question I get asked more than an other by casual Game of Thrones fans is "who do you think will win the game of thrones," a question undoubtedly aided by the show's title as well as just about every mainstream media feature focused on the series. It's not a question I tend to answer, not because I don't know (though I don't), but because that question is of secondary importance. What really matters is the song of ice and fire.
As soon as the white walkers made their entrance, I knew that they would lead off the recap. It was a fairly intriguing battle sequence, though one with some weird inconsistencies. The white walkers infested the wildings at a fairly rapid pace, perhaps too rapid, and I'm not really sure how that wall stopped them when they appeared to be capable of some sort of flight. Then there was the emphasis on dragonglass when arrows and swords seemed to work just fine. I don't mind that the ice zombies couldn't swim, but it seemed odd that people could jump in and out of that water, which must be close 0 Kelvin, without instantly dying (even the giant).
So while I thought the zombies resembled The Walking Dead perhaps a little too much, I liked that well enough. This season hasn't had a ton of action, especially not from the Night's Watch. There's just one problem though, one that I posed on twitter right after the episode.
How are we supposed to care about anything else now that the white walkers are here?
I've been comparing the ice zombies to the smoke monster from Lost all morning. Like the smoke monster, the ice zombies have been around since the beginning of the show. They make sporadic appearances and we're always aware of them, but they never played a predominant role in the show's narrative. The smoke monster's entrance into the main narrative as John Locke signaled the beginning of the end of the show. Where does the ice zombies introduction leave us? Perhaps I wasn't wrong when I said that last week "felt like the premiere for the rest of the series."
Tyrion meeting Daenerys is an event that some book fans have been anticipating for well over a decade (the true seeds for this were planted after A Storm of Swords, though I guess you could say longer for certain people). Considering how separated all of the many characters are for most of the series, this was huge and yet it trumped by Jon Snow of all people.
There was a fair amount of needless exposition in this episode. The Samwell scene was unnecessary. Dany talking to Tyrion about their fathers was fun, but it raised plenty of questions. Dany probably should have killed Tyrion, a man who killed his father whose brother killed her father, both in direct violation of Westerosi ethics (kinslaying and oathbreaking are just about the two biggest faux-pas). We know why she didn't but the show didn't do a great job of convincing us on its own.
Let's jump back to the beginning (I actually intended for this recap to be linear, but the ice zombies screwed that up) where Tyrion introduces himself to Dany. This is easily the most authentic Tyrion scene since his speech at his trial last year (which was easily his weakest season). He approached the Jorah issue quite well and much more diplomatic than you'd expect from the show.
There was one problem with Tyrion's speech to Dany about the difficulties she'll face in rallying the great Houses to her side that bugged me. He said House Tyrell alone wouldn't be enough. False. House Tyrell has pretty much more troops than everyone else combined. Maybe this it nitpicky, but I don't understand why the show won't take them seriously.
Time for the weekly "why does Jorah have greyscale" question. I still don't know. Here's a big difference between the way the show and books handle supporting characters. In the books, Jorah exists solely for purposes related to Dany (and much later, Tyrion), whether it's plot progression or creepy filler. We aren't expected to invest in Jorah himself apart from the POV characters. Iain Glen is talented and he's been around since the beginning, so we get Jorah scenes without any of the major players. That's not a problem, though his greyscale is stupid and I hate it.
Let's briefly talk about Arya, whose plot is basically irrelevant since it doesn't involve dragons or ice zombies. This is fairly close to the books, though we're getting very close to the point where we're all caught up with her. She's learning to be a Faceless Man (woman?) and that's something that will be more fun when we know where it's going long term.
Sansa, Sansa, Sansa. I actually liked her scenes a lot, even though it seems odd that Reek would tell her that Bran and Rickon are alive. Since she can't go to Dagobah to be with Bran and she can't go to Skagos to rescue Rickon from the cannibals, what good is this information? The only thing I can think of is that it makes one of them Lord of Wnterfell and not Ramsey. Which could come in handy if Reek does help Sansa escape to Stannis' camp.
As for the Battle of Ice, it's not shaping up to be terribly epic. Ramsey will take his men and probably cause problems with the Mannis. I'm not entirely sure we'll see resolution with this plotline before the end of the season, which is okay since I had serious doubts as to whether or not Stannis would survive at the beginning of the season. I still have doubts, but they're not as bad.
Brienne? Where are you? She probably found Lady Stoneheart or she and Podrick went back to eat at Hot Pie's restaurant, probably with Gendry.
The Cersei stuff is problematic. As I said last week, the charges against her are far more severe than the books. She's being accused of regicide and yet the stakes don't seem to reflect that. Well, Sansa is also wanted for regicide and the crown seems to be okay with letting her fool around in Winterfell so maybe killing the king isn't such a big deal.
No Dorne. I'm perfectly fine with that, though we haven't gotten to see enough of Doran Martell. Don't people know that Dr. Bashir needs more screen time?
This was easily the best episode of the season, though it does feel like the beginning of the end. I don't really see them being able to carry on for more than two seasons now that the ice zombies have officially entered the fray. I guess we will see!