Varys and the Importance of Hedging Your Bets
Written by Ian Thomas Malone, Posted in Blog, Game of Thrones, Pop Culture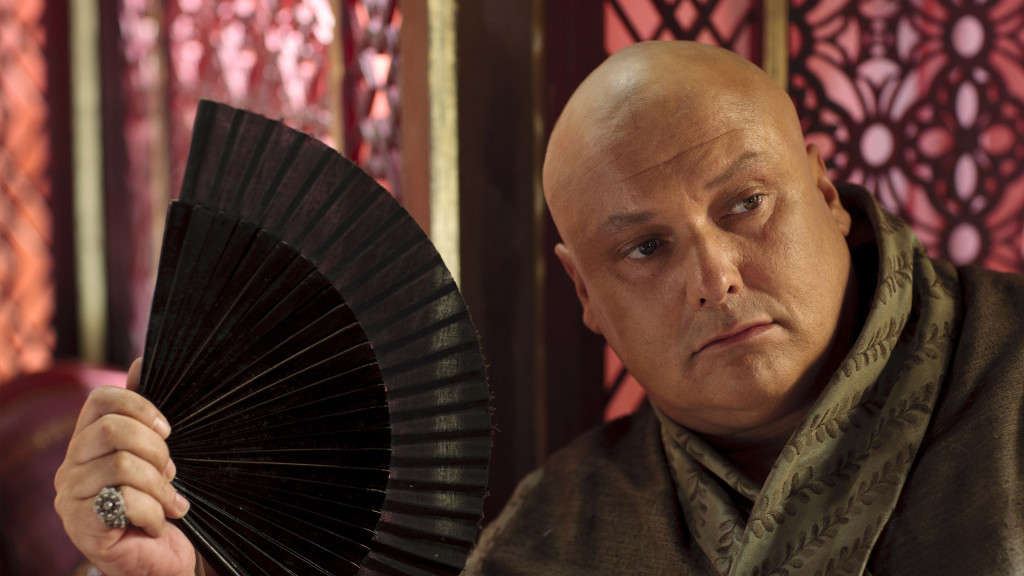 This article contains spoilers for all five books. Though the upcoming season will deviate quite a bit from the books, there are some spoilers that could impact your enjoyment of the show if you hate spoilers. Proceed with caution. Also, I'll be doing Game of Thrones recaps every Monday that focus on the relationship between the books and the shows so please subscribe if you are interested.
 While Varys is known as Game of Thrones' most notorious schemer, both to the characters and the audience (Littlefinger is more trusted by the former than the latter), he loses a bit of his mystique by the epilogue of A Dance with Dragons, where he reveals his plans to a dying Kevan Lannister. I don't mean to suggest that he's not interesting anymore, but seeing his plan out in the open puts him a bit behind other manipulators such as Littlefinger, Olenna Redwyne, Marwyn, Doran Martell, and Mance Rayder in terms of intrigue. We know Varys' plan. We don't really know any of theirs.
With the knowledge that Varys wants to put (f)Aegon on the throne along with his decision to off Kevan and Pycelle in order to prevent them for cleaning Cersei's mess, we can pretty much piece together why he disappeared after A Storm of Swords. Varys needed to create chaos in King's Landing. Having accomplished that, sticking around only served to put him at unnecessary risk. Cersei would presumably rely on him or blame him for Tywin's death/Tyrion's escape, which put him in the position of either having to help Cersei at the cost of his own agenda or risk his life for not doing so.
There is one decision that doesn't make much sense if Varys' plan is to put Aegon and not Daenerys' on the throne. Why send Ser Barristan to Dany if Aegon is the real objective? It seems to serve no purpose other than to make a potential enemy stronger.
Now the whole Barristan to Dany story isn't 100% clear, but we know that Varys' planted his dismissal in Cersei's mind and then Illyrio Mopantis, Varys' BFF, took care of getting Ser Grandfather, along with Strong Belwas, to Qarth to take Dany back to Pentos, which of course ended up not working at all. If Barristan knows that Varys has any involvement, he's kept quiet. Chances are, he doesn't know that Varys was behind all of this.
Why am I sure of that? In A Storm of Swords, Stannis tells Davos, "Ser Barristan once told me that King Aerys' rot began with Varys" (Davos IV). Pretty damning right? There's also the fact that Barristan knows that Ser Jorah is spying on Dany for Varys, adding another element of distrust. It's hard to believe that Barristan, bold as he may be, would get involved in any plan spearheaded by the eunuch. That doesn't mean that Varys doesn't see value in having Barristan in the picture.
We know that Barristan came up with the idea to go to Dany on his own. It's not really clear whether Illyrio found him in Pentos or if it was the other way around, but we do know that Barristan agreed to disguise himself as Arstan Whitebeard, a shady thing for a man of honor to do.
His logic for doing so is also kind of suspicious. Barristan claims that he adopted a pseudonym because Ser Jorah was spying on her for Varys and this sort of adds up. Though Jorah had stopped spying by A Storm of Swords, Ser Barristan wouldn't have known this and probably would have been mistrustful of double agents, whether it be Varys or Jorah. Jorah was also pretty obnoxious to him for their entire boat ride. It seems as though the real reason could be that Illyrio and Varys viewed Jorah as expendable at that point and that they were better off without him and his weird lust for Dany, though Barristan could have been acting on his own accord. 

Which explains how they got Ser Barristan there, but it doesn't really explain why. The answer to that is simple. I don't think Barristan would've believed that Aegon was really Aegon, since there would have been no way of explaining that without involving Varys, who he doesn't trust. The only way to get value out of the old knight was to help him get to a destination he was already determined to go to anyway.
The problem is that sending Barristan to Dany only strengthens her, which could become problematic for Varys when the time came to make moves with Aegon. It would be a shame for Aegon and the Golden Company to take the Iron Throne in the midst of all the chaos, only to have Dany, her dragons, and her Unsullied arrive to take it away. So why would Varys strengthen a potential enemy?
Varys, possibly more than anyone else, knows that plans go wrong all the time and there's only so much he can do about it. There's about a hundred different things that could go wrong with having two hotheaded Targaryen children running around Essos over the course of a few years. Angry Dothraki, angry stonemen, angry Qarth warlocks, slavers, and that's only people problems. There's ships sinking, pale mare, starvation, and plenty of other natural factors that Varys can't do anything about.
What he can do is hedge his bets. In a perfect world, Varys has Aegon on the throne. Maybe he's married to Dany, but one would think that a marriage to one of the great houses would a better idea, which doesn't leave room for Dany at all. But that's a perfect world and not one Varys lives in.
We've seen Varys forced to alter his plans before. He didn't want the War of the Five Kings to happen at all and he would've had to clear out of King's Landing completely if Stannis had taken the thrones. Varys has shown his prowess at gathering intelligence and long term planning, but he isn't infallible.
Dany might be a problem for him eventually or she might be his only shot if something happens to Aegon, which at this point is a pretty realistic possibility. With that in mind, having a renowned knight like Ser Barristan protecting her makes perfect sense. The game of thrones is a gamble and problems will always arise. Having two Targaryens is better than one, for now at least.