Could the Onion Knight Bring a Belated Gift to the Bastard Wedding?
Written by Ian Thomas Malone, Posted in Blog, Game of Thrones, Pop Culture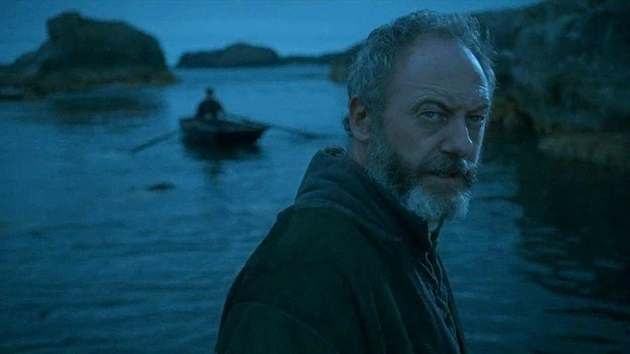 While the separation of the Stark children can lead one to forget about the importance of the North in general, excluding The Wall, much of A Dance With Dragons alludes to the depth of the Northern conflict. There's been plenty of blog and podcast speculation on the Battle of Ice and for good reason. At first glance, we tend to forget about minor houses like Ryswell, Dustin, and Cerwyn in favor of speculation surrounding the more important characters. I initially set out to write an overview of my thoughts on the outcome of the battle, but instead want to focus on a more specific x factor in all of this who could change everything.
This article will approach things more from a literary/storyline perspective. There isn't a lot of textual evidence so most of this should be treated as educated speculation. I'll include some links at the bottom for more information on the Battle of Ice.
When we left Davos Seaworth in A Dance With Dragons, he was about to embark on a dangerous mission to secure the loyalties of House Manderly for Stannis' cause. This involves traveling to the dangerous island of Skagos to retrieve Rickon Stark, who set out there with Osha and Shaggydog after A Clash With Kings. We don't really know if they're actually there, but for the sake of the storyline, I think it's fairly safe to assume they made it.
There's something odd about the placement of Davos' chapters in A Dance With Dragons. They're over well before the end of the book. Now you can argue that this doesn't have to mean much because there's a ton of characters and other major POV characters like Bran get similar shafts. But Davos' quest has immediate ramifications to the story line while characters like Bran and Arya play more into the bigger picture.
The real question is, could Davos have enough time to go to Skagos, get Rickon, and make it to Winterfell before the battle?
Let's look at a map and see.
Skagos is a bit far from White Harbor. Davos doesn't really know anything about the island. It's also kind of far from Winterfell and we don't know that Osha and Rickon even want to go with Davos. It's also winter and Davos isn't an expert in Northern geography. Things rarely go perfectly in these books and they would need to for Davos to factor into the equation. Doesn't look too promising, right?
Maybe.
Time is tricky in A Song of Ice and Fire. The events of Robert's Rebellion are supposed to take place in just a year, which leaves plenty of discrepancies that haven't really been explained. Factor in the fact that Davos is an experienced smuggler and Osha knows the area and you'll see that we have what appears to be the best makings to pull off a job like this. Davos is the man who got past the Tyrell blockade to save Storm's End after all.
The other kicker is the start of the battle itself. It hasn't started yet and doesn't appear to be completey imminent either. Stannis has his hands full with what to do with the Karstark's and the Greyjoy's. To answer the question of where or not its possible Davos to make it, the best answer is that it can happen if Martin wants it to happen.
Another thing to consider is what would happen if The Winds of Winter picks up with Davos in Skagos or even further behind in his journey. That pretty much takes this particular plotline out of the equation for the whole book, as we'd likely be treated to another traveling narrative. This plotline isn't completely needed to fuel the Northern story, but its absence would create somewhat of a holding pattern that doesn't seem too terribly likely with what's happening at the Wall and in Winterfell.
Davos isn't the only x factor in all of this. There's another character whose placement is important when considering the likelihood of the return of a Stark to Winterfell.
Wyman Manderly
What's he doing at the Bastard Wedding? Why does this obese man want to make the long trek in bad weather to attend a wedding of people he hates? Couldn't he have sent someone else with his Frey pies and added that to the list of things he does to piss Roose Bolton off?
Yes, but he didn't and that means something.
Davos' quest is all about securing Manderly's loyalties and yet Manderly seems to have a death wish at Winterfell. Bolton knows he's up to no good. Is there really a scenario where Manderly isn't a surefire goner in this battle?
It's right up Martin's alley to have Davos show up with Rickon right as Manderly bites the dust, or snow if you will. Which doesn't really mean that Manderly's army doesn't defect, but the cause would be without its biggest Northern supporter still alive save for the captured Greatjon Umber. If Manderly is a goner and Davos doesn't show up, doesn't that sort of take some of the fun out of the White Harbor chapters?
Outcomes of the Battle of Ice are tough to speculate. It could go many ways. It's hard to envision a scenario where Stannis loses, but doesn't die. What does Davos do without Stannis? It's not like he's a throwaway character. With what's happening at the Wall and with Mance fooling around, winning doesn't necessarily mean all is well in the land of the Mannis either. Having Rickon doesn't mean that all of the other houses will flock to his cause either. This whole thing is a mess, but that's a big part of why it's so entertaining.
Here's my simple speculation for the outcome of the Battle just to give you an idea where all I think all of this could go (I am not at all confident that this is how it will actually go). Stannis wins after the Umber's and Manderly's unite behind him, Roose dies, and Ramsay flees back to the Dreadfort after seeing that Rickon's presence ruins everything and they Frey's won't support him. This gives the fans an outcome without concluding anything in the North.
But I am confident that Rickon will be a factor. Why? Because now is the time where he matters. Wizard Bran, Azor Azai Jon, and Littlefinger backed Sansa aren't part of the equation just yet, but likely will be down the road. Stannis needs some sort of boost to keep him in the picture, unless the Battle of Ice is his last stand. Which it could be, but if it is then where does Rickon come in at all? The Onion Knight should deliver because that's what Davos does. He's one of the series more bankable characters and easily the best person for this particularly job besides possibly Drogon.
So here's my speculation. Is any of this hard evidence? Not when you compare it to something like R + L = J. But the depth of those theories is a big part of why ASOIAF is so special and not every single thing that happens requires a prophetic foreshadowing. This one's foreshadowing comes from surface level logic. Thanks for reading and please leave a comment with your own speculation/thoughts if you feel so inclined.
Here are some links to check out for Battle of Ice related content
https://cantuse.wordpress.com/2014/09/30/the-mannifesto/
https://www.youtube.com/watch?v=syFM7936yMs
https://bryndenbfish.wordpress.com/2013/11/15/a-complete-analysis-of-the-upcoming-siege-of-winterfell-part-1/