Written by Ian Thomas Malone, Posted in Blog, Game of Thrones, Pop Culture, Reviews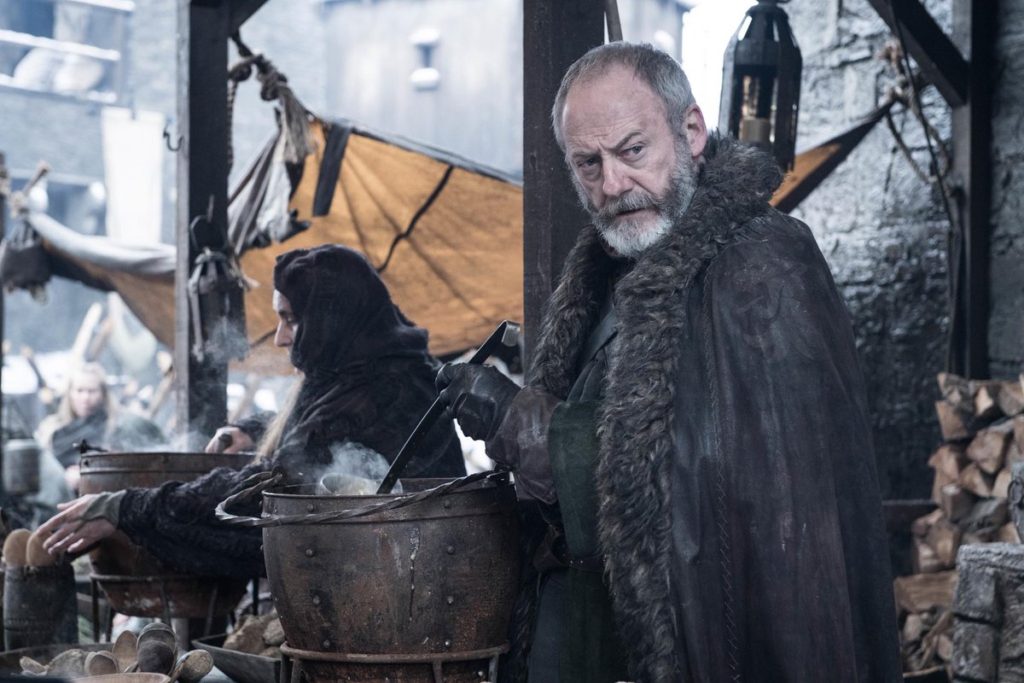 Ideally, final seasons of long-running series seek to achieve two objectives, to remind fans why they fell in love with the show in the first place and to provide a satisfactory conclusion for the narrative arcs of their characters. Game of Thrones has had its eye on fan service for a few seasons now, perhaps best illustrated through Gendry's reintroduction last year, when Ser Davos acknowledged the long-running "still rowing" meme. Episode two, appropriately titled "A Knight of the Seven Kingdoms" was an episode chock full of fan service.
Death is coming to Winterfell. Characters we've spent the last eight years with are going to die. As much as the show has emphasized the role of death with its high body count, Game of Thrones has usually done a good job emphasizing the larger narrative arcs of its key players. Season six serves as perhaps the one exception, where numerous characters were unceremoniously killed off in what looked like an effort to clear pieces off the board.
Episode two featured a lot of hanging out, waiting for the world to end. Like the premiere, reunions were in abundance. Moments that fans have wished for over the past decades finally came to fruition.
Ser Brienne has a nice ring to it. After all she's been through, it was great to see Brienne finally get the recognition she's long deserved. Women catch a lot of crap in Westeros, but it was great to see her receive the title that best suits her abilities. Gwendoline Christie handled the scene masterfully, letting the typically stoic Brienne take in her moment with plenty of emotion.
Ever since the first episode, fans have wondered what would happen to Jaime if he ever saw that boy he pushed out the window again. Turns out, not much, as was to be expected. I don't love the idea that he still didn't tell anyone about what happened, but such a revelation would've called for actions that the episode clearly didn't care about. Bran's not angry, might as well let that be that.
Bran also isn't a very helpful battle strategist. I get that the show doesn't want to fully deploy Bran ex machina, but this whole "use Bran as bait to lure the Night King" seems kind of ridiculous. We're still not 100% sure what Bran knows about everything, but the idea of having Theon protect you seems fairly half baked.
Arya and Gendry. What a pair. No more "will they, won't they." They did it. Is there anything more to say? Probably not. For a girl who's been as consumed with death as Arya has, it was great to see her have a moment like that with someone she cared about. Hopefully Bran wasn't watching.
Davos cooked soup! Is there anything this man can't do? Expert battle survivalist, master chef, all-around great guy. Hoping for the best for new Shireen.
Daenerys and Sansa are seemingly destined for conflict. Why? Because there's time to fill, of course! Not the greatest conflict, two people fighting over a monarchy when the army of the dead is right at their doorstep, but the show does need a few conflicts to carry it to the end once that's all finished.
The Dany/Tyrion conflict also seems quite born out of an interest to have something to argue about after next episode. Yes, Cersei lied to them. No, that's not surprising to anyone. Does that make Tyrion a bad Hand? Sort of, but there isn't really anyone else up for the job, a job that hasn't really seemed all that important at all. His judgment isn't really at fault here, other than the fact that he didn't stop that idiotic quest beyond the Wall last season.
Ser Jorah got a few great moments. He got told off by Lyanna, received a fancy new toy from Sam, and had Dany tell him that Tyrion took his job. Hopefully this means he'll die next episode! What else is there for him to do?
Beric Dondarrion sure looks like a goner. Great voice. What a man. He'll be with Thoros soon.
We got to see Ghost again too! Direwolves haven't been a big part of the show in recent years, likely a casualty of the CGI budget, but it's great to see him around for the big battle. Somebody should give him a dragon glass retainer to bite white walkers with.
One of either Grey Worm or Missandei appears quite destined for death next episode. My money's on Missandei, since I think Theon and Varys are also unlikely to survive the battle. Can't kill all the eunuchs is one fell swoop!
R + L = J has been the definitive fan theory to rule all fan theories for the past twenty years. In the two episodes since its reveal in the season seven finale, we've seen it treated as essentially a footnote. Jon wasn't in this episode much, but when he was, he sure wasn't talking about his new parents. At least, not until he took Dany into the crypts of Winterfell.
Was the eve of a massive battle the right time to tell her? No. Obviously not.
The show has had close to a decade to figure out how to handle its biggest secret. The method it's decided on appears to be to walk things as slowly as possible, something it's done in tandem with all of Bran's Three-eyed Raven powers. The result created this weird situation where Dany questions how Bran knows this stuff, putting aside the fact that no one appears to have told her what's going on with the middle Stark child. The show just needs to pull the R + L = J band-aid off once and for all.
No scenes in King's Landing this week, which I guess is fitting given that the next episode is going to be taken up mostly by the battle. Overall, this was a very enjoyable episode. We got to see many of our favorite characters interact for what could be the last time. Some of it was a little forced, but that's okay. After all these years, a little fan service is not a bad way to spend an episode, especially since next week looks to be pretty brutal.
That's it for this week. Tune in tomorrow to the Estradiol Illusions podcast to hear our roundtable analysis. See you next week!