Game of Thrones Season 5 Recap: Episode 9
Written by Ian Thomas Malone, Posted in Blog, Game of Thrones, Pop Culture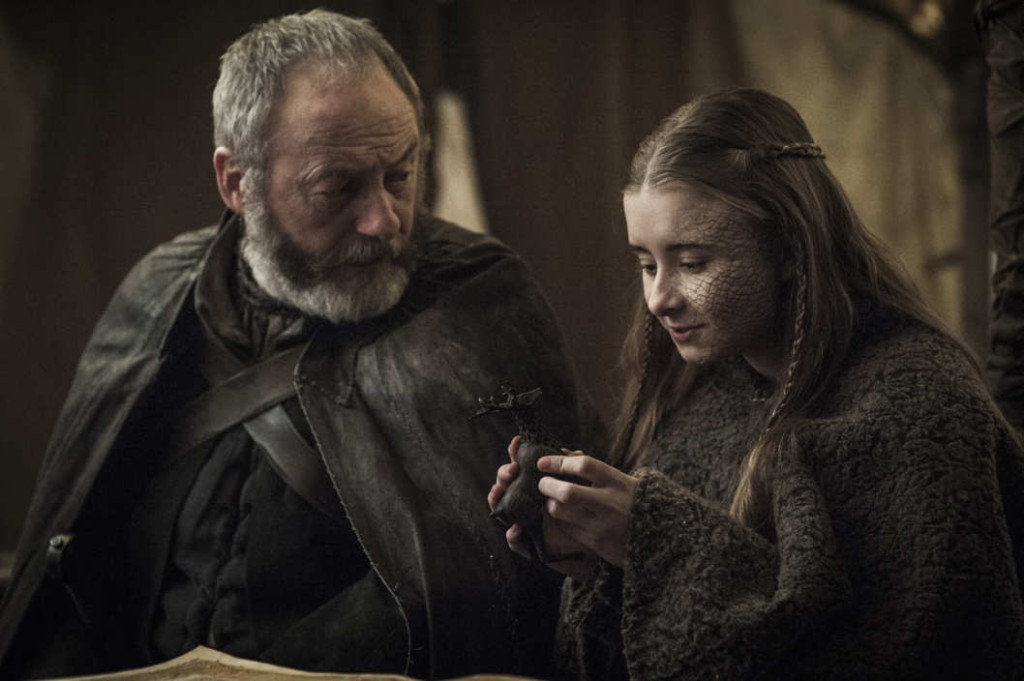 This recap features analysis from a devoted book fan. Spoilers will largely be kept to comparisons between the show and the books within the episodes themselves, but if you hate spoilers you should probably not read these articles. I encourage you to subscribe so you never miss a recap. Thank you for reading. 
Game of Thrones has two distinct uses for its seasons' penultimate episodes. One and three prominently featured executions while two and four were dedicated to big battles. While this episode featured both executions and battles, it wasn't quite the same.
"The Dance of the Dragons" said goodbye to two characters who are alive and well in the books. Shireen Baratheon and Hizdahr zo Loraq aren't exactly fan favorites (though show Shireen is quite endearing), but they're also not really characters that anyone would wish death upon either. Their deaths have much different ramifications for the books. One of them is pretty important.
As I've pointed out in earlier recaps, Melisandre, Selyse, and Shireen all stay at The Wall in the books. Davos is also off doing recruiting for Stannis at White Harbor and later goes to find Rickon. It's been long assumed by many book fans that Melisandre will sacrifice Shireen as she did in this episode. Problem with the show was that Stannis let it happen. That's a big problem.
Book Stannis and Show Stannis have rarely matched up well, less so than any other major character. We know that D&D don't particularly like him and that's a big reason why show fans often struggle to understand the cult following behind "Stannis the Mannis." I wrote an article about this last year.
Book Stannis is noble and also a master politician. BryndenBFish has an excellent piece on Stannis on his site that's a must read for fully understanding the character. Show Stannis killed his daughter. I hate this.
In the books, Melisandre goes behind Stannis' back to swap Mance Rayder out for Rattleshirt because she knows that Stannis' sense of morality would prevent him from letting Mance live, though she obviously saw some use for him. While Melisandre's allegiances certainly seem to be shifting toward Jon in the books, she can at least respect the code of law for Stannis.
Killing Shireen all but confirms that she'll die in The Winds of Winter. That's unfortunate. This might be the first real instance where the show has spoiled the books (maybe Ser Barristan, but that plot is so off course that it's hard to say). Further more, the show basically forced all its viewers to hate Stannis. After he saved the Wall and had that great scene with Shireen earlier this season, that's quite unfortunate. I'll stop here because I could go on and on about how much I hated the burning of Shireen, but I'm sure most of you don't wish to read that.
I did really like this episode's depiction of Ser Alliser, who I like much better in the show than the books. He clearly hates what Jon is doing, but he's smart enough to know that there's at least some solid reasoning behind it. I would've like a scene mentioning Aemon's death, but that's not really all that necessary.
Olly will stab Jon. No doubt about that. Moving on.
The Dorne plotline sort of got some semblance of resolution even if it was stupid. Doran Martell could've easily refused Jaime and let that be that. King's Landing is a mess right now. Why would anyone think that Myrcella is safer there than Dorne when her mother is on trial for regicide even with the Sand Snakes plotting?
It still remains to be seen whether or not there will be some sort of Dornish plan or if the Martells will just be treated as comic relief like the Tyrells. I hope there's something going on or else it seems kind of pointless to introduce them at all. I would've rather seen the Greyjoys than this pathetic version of the Sand Snakes.
I like most of the Braavos storyline. It's predictable, but that's okay. Arya has managed to stay enjoyable without much in terms of plot.
It was also nice to see Tycho Nestoris again. This is another case of the show character being better than the books. I wish I could say the same for Mace Tyrell. What an idiot.
I get that Mace is portrayed as a complete idiot in the show. He's basically an idiot in the books too, but not as outwardly pathetic. But where were the Tyrell guards? He has the largest army in Westeros and yet shows up to Braavos with Lannister men and Meryn Trant? Foolish. That is all.
While I don't love how simplified Dany's plotline has been, I actually really liked her scenes. While Hizdahr doesn't die in the books and isn't a complete fool either, I was okay with his death. The Sons of the Harpy stuff has been pretty inconsistent. They were a huge factor early on this season and then they were absent for a while.
Why does Jorah have greyscale? At least it wasn't mentioned this episode, though I'm not sure why he's not concerned about infecting Dany. Oh well.
Dany does fly off with Drogon in the books, though not in the middle of a battle, but the rest of the Meereen plotline is completely different. In the books, the city is about to be attacked by Yunkai with Ser Barristan prepping the defense. I imagine that will be swapped for Tyrion, Jorah, and Daario dealing with the Sons of the Harpy. Maybe we'll see the Dothraki again. I hope so.
Where is Grey Worm? Have we stopped caring about him? I know I have. The Unsullied were pretty unimpressive in battle.
That's it for this week. Only one more episode. There's a certain stabbing that hasn't happened yet, which requires a certain red priestess to be at a certain large wall, which probably means the end of a certain One True King. We'll see if that actually happens.
Hoping for Lady Stoneheart. Well, maybe. She's kind of weird.
Courting Mrs. McCarthy comes out tomorrow! Hooray for books!