Downton Abbey: A New Era is too stuck in the past to enjoy itself
Written by Ian Thomas Malone, Posted in Blog, Movie Reviews, Pop Culture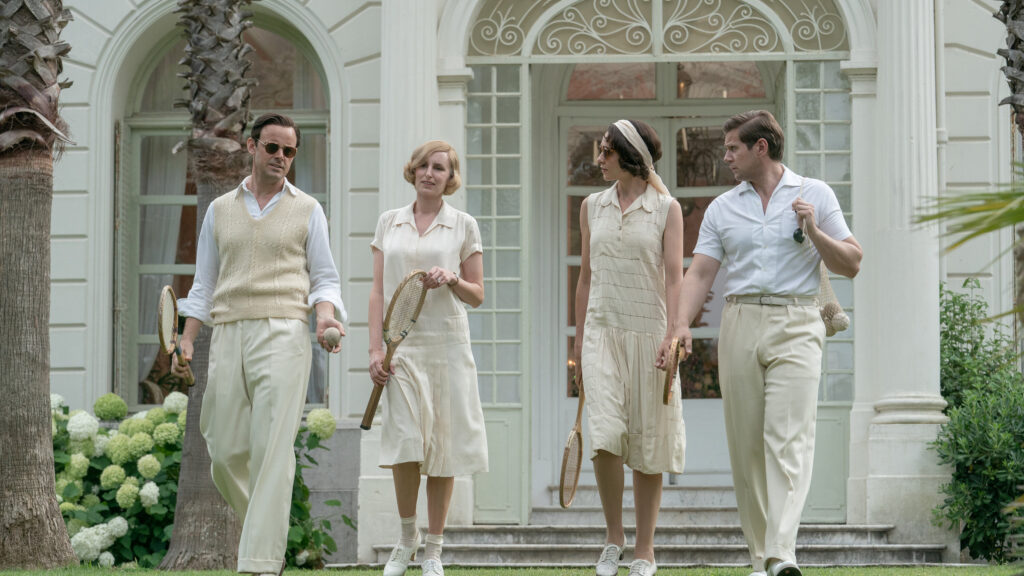 Ensemble television shows are not particularly well-suited for film as a medium. Television narratives are open-ended, with plenty of space to breathe over the course of a season. Feature-length runtimes don't have a ton of wiggle room to balance dozens of characters on top of a movie's usual plot mechanics. The original Downton Abbey film largely succeeded because it structured itself as an extended version of the show, allowing most of the characters to essentially perform as they might on an episode of the series, particularly its annual Christmas specials.
As its title suggests, Downton Abbey: A New Era charts a bit of a different course. The narrative mostly splits itself in half, with Lady Mary (Michelle Dockery) opening the great house to a film crew led by Jack Barber (Hugh Dancy), and Lord Grantham (Hugh Bonneville) leading most of the family on an expedition to the south of France to examine a villa gifted in mystery to the Dowager Countess (Maggie Smith), herself too ill to travel. Lady Mary and company have their fun with the crew, the lead actors Guy Dexter (Dominic West) and Myrna (Laura Haddock) making quite the impression on the servants, most of whom are looking to lives beyond service.
Series creator and writer Julian Fellowes bit off far more than he could chew with the screenplay. The film's pacing is perpetually rushed, scenes awkwardly written to accommodate characters with nothing else to do, the supporting bench overstuffed with far too many returnees. It makes obvious sense that characters introduced in the first film such as Lucy Smith (Tuppence Middleton), now married to Tom Branson (Allen Leech), and Lady Bagshaw (Imelda Staunton) would come back for the sequel, but Fellowes also makes time for a few recurring characters from the show that missed the previous feature.
It's unclear how many fans were desperate for the return of Lady Rosamund (Samantha Bond) or Mr. Mason (Paul Copley), two characters who have no business sucking up air in a film that's already far too bloated to accommodate the series regulars. Much time is also made for a character who isn't even in the film, Henry Talbot (Matthew Goode), whose consistent unavailability makes you wonder why he was selected to be Mary's second husband in the first place. One can't help but wonder if it might have been a good idea to write out several of the characters rather than let their awkward presences in the narrative distract from the fun.
Fellowes recycles a few tired plotlines from the show, namely the question of infidelity and mysterious poorly defined life-threatening maladies that appear out of nowhere. Director Simon Curtis is so awkward with the camera work that he transforms one of the film's more dramatic twists into unintended comedy. The film is far too preoccupied with subplots that don't receive enough attention to land with any sense of meaning.
The film's biggest crime lies with the third act's bizarre need to serve as a kind of second finale for the TV show. The first Downton Abbey film largely succeeded through its function as a light-hearted epilogue to the show, which already spent much of its fifth and sixth seasons tying loose ends together. For whatever reason, Fellowes decided to tie many of them up again.
The constant meandering, unfortunately, hinders the film's strong core, namely the production at Downton, a not-so-subtle nod at Highclere Castle's own history. The film's newcomers are an absolute joy, meshing wonderfully with the characters who aren't fooling around in France. Mr. Molesley (Kevin Doyle) predictably supplies much of the film's humor, easily the best character arc among the supporting cast. A New Era finds its best moments when it actually lives up to its title and focuses on the narratives present.
The strong showing of the fresh faces creates much frustration toward the film's preoccupation with the past. The narrative was never going to be everything to everyone, but Fellowes sure tried to set up that dynamic. Downton Abbey was a series about change. Old-guard characters were frequently reminded that change is supposed to be a good thing.
As a film, A New Era doesn't really believe in change. Instead, the narrative tries to function as a film season of television jam-packed into one feature. It's rather astonishing to see how much Fellowes messed up the screenplay after pulling together such a delightful film the first time around. With our current climate of remakes and reboots, it's hard to imagine this is the last we've seen of Downton. Lighthearted fun should have been so easily dragged down by an unnecessary attempt at closure that will make even less sense by the time the next film inevitably rolls around.