The Marvelous Mrs. Maisel's Season Two Is Content to Be Very Good
Written by Ian Thomas Malone, Posted in Blog, Movie Reviews, Pop Culture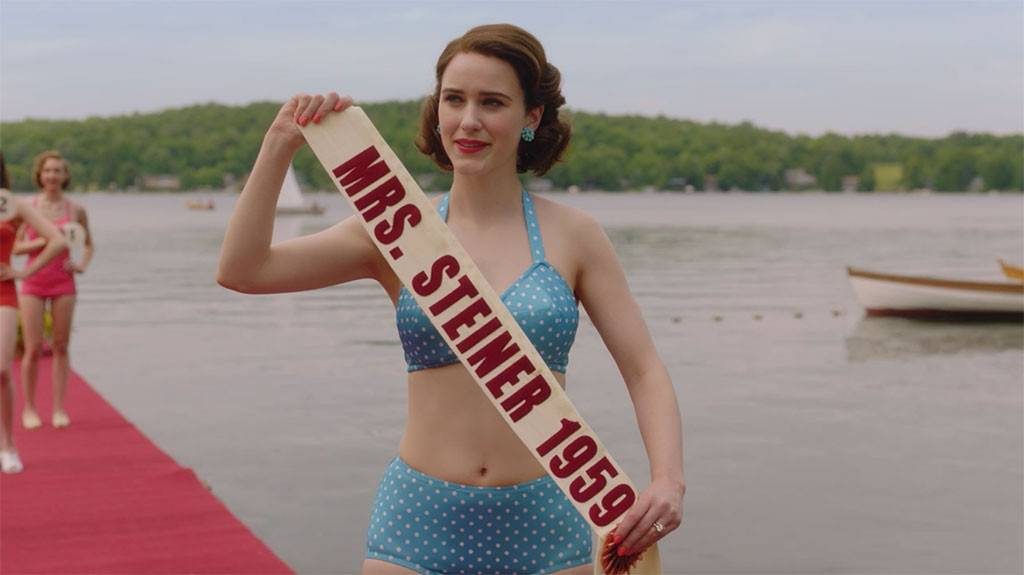 For those of us who have been Amy Sherman-Palladino fans since the early days of Stars Hollow, the overwhelming success of The Marvelous Mrs. Maisel's first season came as a victory lap of sorts for a creator who finally achieved the recognition she deserved. The fast-talking period piece showcased all of Sherman-Palladino and her husband Dan's best talents, a colorful zany world populated by strong women who persevere through their sheer force of will. With all the Emmys it earned, it's easy to forget that Maisel is not simply the culmination of a career, but the start of a whole new series.
Season two's early trip to Paris seems like a vacation of sorts for the narrative, taking a moment to bask in its own success. For a show that paints a beautiful portrait of 50s New York City, this season spends much of its time away from the Big Apple, adding a multi-episode trip to the Catskills into the mix. The cast proves charming no matter the location, delivering Sherman-Palladino's signature dialogue with such delight that it's hard not to smile while watching.
Fresh off an Emmy win for Best Actress, Rachel Brosnahan continues to shine in the title role, wearing the many narrative hats required of Midge Maisel with an uncanny sense of ease. Each scene featuring her standup is a delight. I found myself at the end of each episode only wishing there were more of them.
The Marvelous Mrs. Maisel is never particularly urgent with its narrative. Like other Sherman-Palladino shows, it is fully content to let its characters simply run around in the gonzo realities beautifully crafted by its creator. This strategy is hardly a bad one, but with only ten episodes, the show doesn't have the pacing luxuries of a network TV offering like Gilmore Girls.
Midge's ex Joel stands out as the weak part of the season. He's featured far too often for an unsympathetic character whose role in the narrative is of questionable importance after the first season. This problem is exacerbated by the heightened focus on Midge's parents, dedicating a sizable arc to their marital problems. While Marin Hinkle and Tony Shalhoub are always a treat to watch, there is the sense that their storylines came at the expense of an increased focus on Midge's career.
While season two is almost always fun to watch, the show constantly feels like it's content to be very good rather than great. I don't know how fair that is. Not all shows, particularly comedies, need a sense of urgency or even particularly high stakes. The Marvelous Mrs. Maisel should not be expected to be the fictional manifestation of America's current cultural re-evaluation of the depiction of women on screen, even if its debut seemed to perfectly answer the call of the moment. It can simply be, very good television.
The streaming era has changed the sense of what constitutes "event viewing," both for shows that air week to week on traditional networks and for those that are dropped once a year on the online-only platforms. It's easy to attach an added weight of obligation to a show like The Marvelous Mrs. Maisel, which set a high bar in its Emmy-winning debut. There's a natural desire to have something that only comes around once a year be special. For all the charms of season two, the show is unnecessarily hindered by poor screen time allotment and a meandering narrative.