The Red Sox Are In For An Interesting Offseason
Written by Ian Thomas Malone, Posted in Blog, sports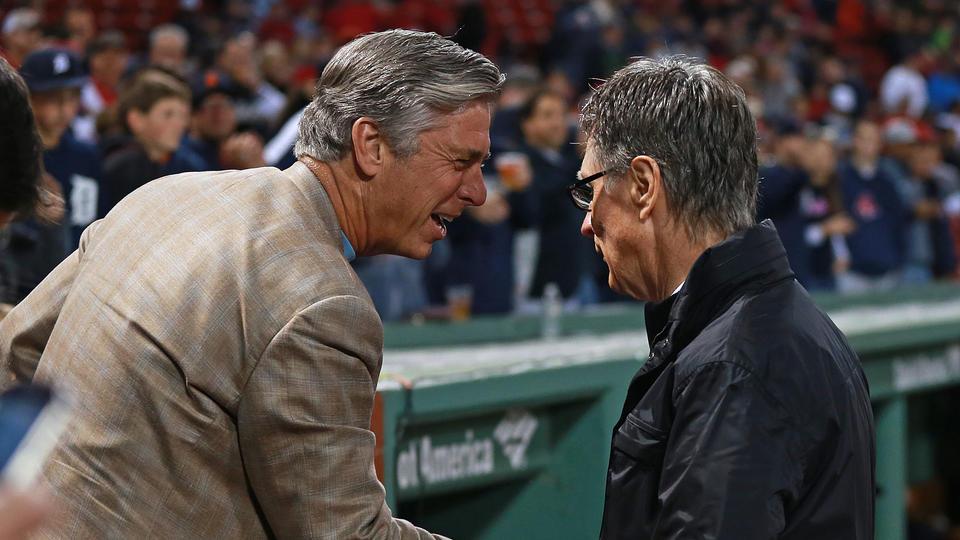 With the Red Sox currently battling the Rays for last place in the AL East, it's only natural that many fans have turned their attention to the offseason. Dave Dombrowski has vowed to acquire a number one starter, which tends to suggest that it will be an exciting offseason for the Red Sox. A look at their payroll obligations tends to paint a different picture.
The Sox already have 125 million tied up in ten players for 2015. Those players are Hanley Ramirez, Rick Porcello, Pablo Sandoval, David Ortiz, Dustin Pedroia, Wade Miley, Koji Uehara, Rusney Castillo, Ryan Hannigan, and … Allen Craig. Note this number does not include Clay Buchholz, whose 13 million dollar contract will likely be picked up. So essentially, we're looking at eleven players making 138 million.
Now, we shouldn't expect significant salaries for Mookie Betts, Xander Bogaerts, Jackie Bradley Jr., Blake Swihart, Brock Holt, Joe Kelly, or Eduardo Rodriguez, who aren't likely to make more than ten million combined. Junichi Tazawa should make somewhere around five if he's tendered a contract. With pretty much all the key positions covered, the question becomes, where does that leave us?
There are a couple names who come up as trade possibilities. We hear Sandoval commonly named as a candidate for a "bad contract swap," but Hannigan is a guy who could be traded to save a bit of cash. 3.7 million is a bit steep for a backup catcher, but the team may want to have a veteran around for Swihart and/or Christian Vasquez. The team would presumably wish to get rid of Porcello, Craig, and Hanley, but that seems highly unrealistic. We're looking at maybe 25-35 million in potentially available resources if they don't want to go past the 180 million mark.
Free agent pitchers such as David Price, Johnny Cueto, Jordan Zimmerman, and likely Zach Grienke will all be seeking mega deals that would eat up most of those available resources. Some of that money should be spent on re-enforcing the bullpen and the cost of decent relievers has gone up quite a bit. A pitcher with a 20+ million AAV seems like a very poor investment, even if the deal is back loaded, which would ease the burden for 2016.
So what to do? The two most obvious options are to either increase payroll or acquire a player via trade. Trade would likely be the preferable route, but then the question becomes, who's available?
The introduction of the second Wild Card has made it far more difficult to get talent via trade, especially in the offseason. Fewer teams are willing to enter the season prepared to lose. The Sox do have one of the best farm systems in the Majors. Top tier talent can be acquired, but it's not going to come cheap. Tyson Ross and James Shields of the Padres and Indians' starters Corey Kluber and Carlos Carrasco seem like achievable, albeit costly targets. Oakland could be enticed to trade some pitching as well.
A potential Shields/Sandoval swap has been mentioned a few times and is likely bound to be brought up again from time to time over the next few months. I'm sure some Sox fans wish that he'd come to Fenway and the lack of any substantial rumors regarding him last offseason is at least mildly puzzling given the contract he eventually settled for. I wouldn't expect to see a trade for him.
For starters, it'd take more than Sandoval to make a trade even, which is problematic. Shields' Fenway numbers are likely why the Sox avoided him last offseason and trading Panda along with one or two decent prospects and maybe some salary relief isn't going to bring them a surefire ace. Shields is having a good year, but advanced metrics are less than kind and his deal is also pretty back loaded. Unless the Sox can get him for Sandoval/magic beans, it doesn't seem to be a very good idea.
Cashing in on prospects might be Dombrowski's best move. Prospects are after all, prospects. The Sox were wise to hold on to Betts and Swihart in their failed pursuit of Cole Hamels, but that doesn't mean that they don't have plenty of highly ranked minor leaguers who likely won't become every day major leaguers.
The Sox have $68 million in horribly spent money (Ramirez, Sandoval, Porcello, and Craig) headed into 2016. We could say that no team would go out and sign both Price and Grienke, but that's pretty much the same amount that the Sox spent on three albatross and quite frankly silly contracts this offseason. Yes, hindsight is 20/20 A sane GM would've only signed one of Ramirez/Sandoval and wouldn't have signed Porcello to that ridiculous extension. Craig is a whole different blunder and he's just simply depressing. You could say hindsight is 20/20, but it really wasn't in this case. The Craig trade, signing both Panda/Hanley, and the Porcello extension were all panned at the time. This was all avoidable.
Bottom line is that the Sox have lots of money tied up in lots of crappy players. Dombrowski will need to be smart with his resources to avoid adding more disastrous deals. Seeing as he's the guy who signed the horrible Justin Verlander extension and the inevitably disastrous one for Miguel Cabrera, I'm not too confident.
I'd like to say I'd wish Henry would open the purse strings a bit more and let the Sox blow past the luxury tax, even if it's only for a year, but the FA market looks pretty dicey. Price/Grienke will command ridiculously high salaries and Cueto has looked awful since arriving in Kansas City. Zimmerman could be a fit, but he'll have plenty of teams vying for his services.
Then there's the mid tier market, which has plenty of options. After the Red Sox tried to compile a rotation filled with #2-3 type starters, I'm not sure how much DD is going to want to spend on guys like Mike Leake or Brett Anderson, but one thing's for sure. This offseason will be a hell of a lot different than last year's.