Five College Dialogues is Available
Written by Ian Thomas Malone, Posted in Blog
The moment we've all be waiting for is finally here. Five College Dialogues is available from Amazon and Touchpoint Press' online bookstore in paperback and e-book. I found the release date to be quite fitting as most colleges are getting back into the swing of things right about now. It's the perfect time of the year to explore the ins and outs of college life.
I'm also happy to announce that two sequels have been commissioned. Five More College Dialogues and Five High School Dialogues will continue The Chief's mission to encourage students to critically examine both their decisions and their environments in a comedic yet sincere fashion. Work on FMCD is going well and I'm on schedule to have it ready to send to TPP by October.
I wanted to thank you the reader. Whether you've been with me since my TV Hell days (or even before that), or if this is the first you've read of me, I've always appreciated every bit of feedback I've received over the years. Today is a day I'll always remember.
I'll periodically include updates for promotional appearances/events on the main page of the site as well as on FCD's page. I hope you enjoy the book and thank you for reading. Namaste.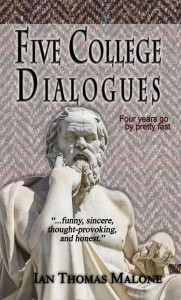 [amazon template=add to cart&asin=http://www.amazon.com/Five-College-Dialogues-Thomas-Malone/dp/0692281452/ref=sr_1_1?ie=UTF8%26qid=1408990347%26sr=8-1%26keywords=ian+thomas+malone]