Netflix' Derek Continues to Be TV's Oddest Offering
Written by Ian Thomas Malone, Posted in Blog, Pop Culture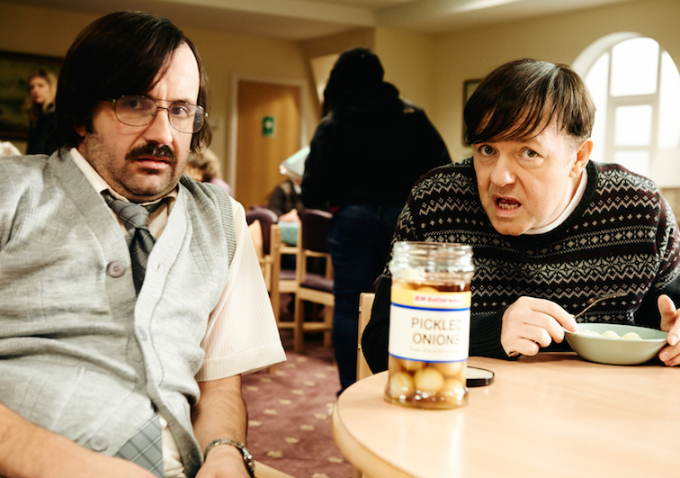 The first season of Netflix' Derek was a peculiar one. Largely marketed as a comedy, the new offering from Ricky Gervais largely steered away from the material commonly found in all of his other series. Derek's tone was much darker than anyone could've expected from the co-creator of The Office, Extras, An Idiot Abroad, and Life's Too Short. While the results were mixed, a strong season finale had me excited about the prospect of another season.
The biggest problem with Derek is that it doesn't appear to have much of an idea of what it wants to be. Season one had a few funny moments, but this was a drama that also wanted to explore the meaning of life. The fact that Gervais was channeling existentialism while portraying a seemingly mentally handicapped character oddly reminiscent of Father Dougal from Father Ted made matters complicated. Season two does a good job of fleshing out Derek's character to a point where he finally makes some sense, but it doesn't do a great job of following up on his growth from the season one finale.
Season two doesn't really go anywhere. The six episodes are largely dedicated to exploring the main cast with minimal involvement from the actual residents of the old age home. Karl Pilkington, who plays the handyman/bus driver Dougie, departs after the first episode and the show suffers without his wit, but the rest of the cast steps up in his absence. The acting is elevated drastically in season two and the strong performances provide perhaps the best reason to watch the show.
There's too much of the same in season two. This season dedicates more time to character than plot, but the destination is exactly the same. Each character is a flawed mess trying to make it through the hard road called life, but we knew that already. Life season one, there's an episode that stands above the rest, but the majority of the season is largely forgettable. Familiar themes repeat themselves and the characters are mostly restricted to one notable event a season. With a collective run time of a little more than two hours, that's not exactly surprising. Derek has more of an ensemble cast than any of Gervais' other shows, which leads to an elevated feeling of inconclusiveness when the season abruptly ends. Though it's hard to call brevity a deterrent, as I don't think I could put up with a full season of the show.
It's hard to imagine where Derek will fit in when it comes time to evaluate Gervais' career as a whole. As of now, it makes more sense to compare it to Stephen Merchant's first solo effort, Hello Ladies, which was a far more disappointing effort that received the boot from HBO after eight episodes. Derek represents a transitional series for Gervais, where he steps away from the pitiable narcissists roles in favor of more developed, if not equally flawed, characters.
Does that make it worth watching? Yes and no. If you're a fan of Gervais' other work or British television, then the simple answer is yes. Derek is the kind of show that needs its viewers to drop all preconceived notions of what it's supposed to be. It doesn't know and in small doses, that's okay. But it's a show with quality acting and enough tearjerker moments to merit its brief run time.
Season two struggles to deliver on the good will garnered from the season one finale. There's a few new things to say, but the season as a whole feels like it didn't need to happen. There's been no news on the future of Derek, but it's hard to imagine that there won't be at least a wrap up special. Whether or not that's a good thing remains to be seen.
Derek is a drama that people want to think is a comedy that's also largely a meandering mess with a few heartfelt flashes of brilliance. That's hardly a glowing recommendation, but I think it's certainly worth watching. Ricky Gervais used Derek to grow as a performer and I had fun watching him work