Five College Dialogues
A Graduate Student Mentors Freshman On College Life Through Socratic Dialogue
Five College Dialogues is a philosophic comedic treatise on college life told through the eyes of George Tecce, a graduate student working as a teaching assistant in the English Department. Acting as a mentor to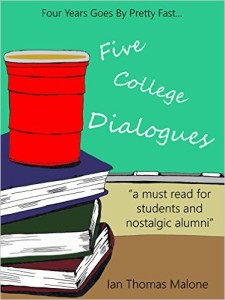 several freshman struggling with the many choices college presents, George guides them through subjects such as the social adjustment, the academic workload, and the hookup culture.
The Dialogues also deal with the problems that George himself faces in his postgraduate life. As the story progresses, we learn that there are plenty of answers George is still hoping to find as he discusses the pursuit of happiness with his mentor, Professor Mycroft, who has a different view on George's generation's outlook on the future.
Five College Dialogues is a perfect resource for students as well as anyone who wants to relive their four years in an entertaining fashion.