The Unbearable Weight of Massive Talent is a charming, formulaic celebration of Nicholas Cage
Written by Ian Thomas Malone, Posted in Blog, Movie Reviews, Pop Culture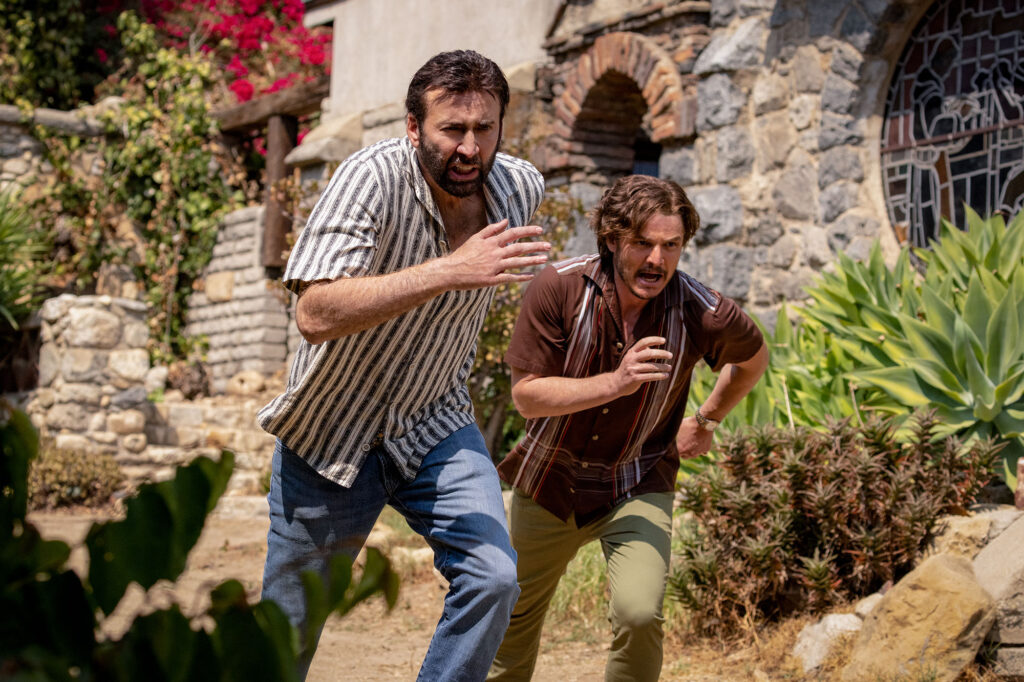 Few actors truly understand the trajectory of American culture quite like Nicholas Cage. The freaks and outcasts vilified through the 90s and 00s have taken over the mainstream. The MCU reigns supreme at the box office, and San Diego Comic-Con rivals Coachella as one of the hottest events of the season. Somewhere along the way, it became cool to give a shit, to be weird, and most important of all, to be yourself.
For all the criticism Nicholas Cage has received for his often-bizarre performances, or his financial troubles, the man has not let anything alter his fundamental approach to his craft. The modern box office does not have a ton of room for the brand of action blockbusters such as The Rock, Con Air, and Face/Off that turned Cage into a A-list movie star. Cinemas are now largely powered by franchises, with a diminished need for star power to fill the theatre seats.
While Hollywood has changed quite a bit over the past thirty years, Cage has remained remarkably consistent. Years removed from his own franchise vehicles, such as Ghost Rider (no pun intended) or National Treasure, Cage has kept busy on smaller films such as Joe, Pig, and Prisoners of the Ghostland. The new movie The Unbearable Weight of Massive Talent aims to wield the old-fashioned action hero Cage energy for a modern audience that missed seeing his face up on giant billboards.
Cage plays a heavily fictionalized version of himself, struggling in a Hollywood that's mostly moved on from his antics. His ex-wife and daughter are also tired of his bloviated ego, heavy drinking, and poor financial restraint. After an emotional "retirement" Cage takes an offer from his agent (Neil Patrick Harris) of one million dollars to attend a birthday party of a diehard fan, Javi (Pedro Pascal), a billionaire with too much money burning a hole in his pocket.
Director Tom Gormican's film essentially follows two separate tracks at the same time. Much of the film is an homage to Cage's colorful career, full of nods to his more eccentric roles, and his bizarre behavior. Cage also plays a younger version of himself, "Nicky," to play devil's advocate on occasion. The rest of the film aims to be a by-the-books action-comedy, relying heavily on the chemistry between Cage and Pascal.
The film's first half is remarkably strong, tightly-paced with more than enough time for Cage antics while Gormican lays out the actual plot, centered around arms dealers who kidnapped a politician's daughter. Cage is more than willing to poke fun at his career and cult status, frequently noting his decline in star power even as his workload increased. Gormican pulls off the impressive feat of blending the various stages of Cage's career together, albeit through remarkably tame execution that's beneath the absurdity of his star.
The meta-humor overstays its welcome around the halfway point. The script gets way too defensive when it essentially tries to justify its pivot toward mundane, practicable action. Gormican is way too self-conscious in his mainstream work. It wouldn't be much of a problem if he didn't let his narrative drag in the process, a few sequences that essentially regurgitate the same point.
The Unbearable Weight of Massive Talent is an immensely entertaining film, the kind that deserves to be enjoyed on the big screen. Everyone involved seems to understand the sheer value of bringing Cage back to the blockbuster format he enjoys so much. Pascal is the perfect companion to help anchor the whole experience.
As part of Cage's overall portfolio, Gormican's work leaves a bit to be desired. This film could have been a perfect encapsulation of Cage's career, a mainstream triumph of the man's eccentricities. The third act plays things far too safe. The film is well-worth the price of admission, Cage superfans deserve better than the end result.