South Park: Post COVID is an imperfect step in the right direction
Written by Ian Thomas Malone, Posted in Blog, Pop Culture, TV Reviews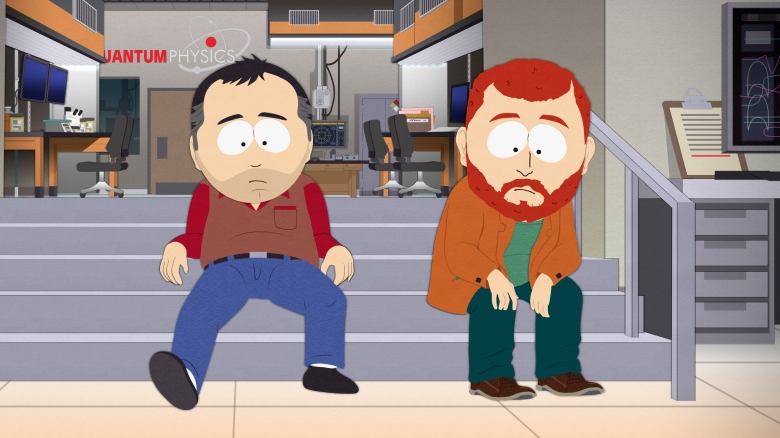 There's a certain irony in the accusations of declining quality that have been levied against The Simpsons right around season twelve, which aired more than twenty years ago, as fellow stalwarts of the adult animation genre such as Family Guy, American Dad!, and Bob's Burgers have all hit that number. Old age is no longer an outlier. With 23 seasons under its belt, South Park has managed to stay culturally relevant in a way that sets it apart from its contemporaries, largely due to the show's narrative emphasis on current events.
It's been over two years since South Park released a full season's worth of material. South Park: Post COVID is the first of 14 planned hour-long features for Paramount+, following the two pandemic-themed specials produced for Comedy Central in 2020 & 2021. One can certainly understand Trey Parker and Matt Stone's reluctance to try and return to normalcy in a world that is anything but normal. Both Comedy Central specials demonstrated the challenges of operating under the cloud of COVID, neither producing enough humor to carry their elongated runtimes.
Post COVID is set forty years in the future, a world that finally managed to conquer the virus. The time jump provided a much-needed breath of fresh air, giving a glimpse of an America fully reliant on plant-based foods, advanced AI, and far too many streaming services. For a show that's been desperate to get away from the news of the day, centering its narrative on the murder of the now-adult Kenny McCormick offered the show a chance to ground itself in one of its oldest gags.
While Parker & Stone rarely speak fondly of the increasingly serialized seasons, Post COVID demonstrates some of the sharper takeaways from that era. South Park plays the long game well, possessing a deep bench of endearing characters constructed over the past few decades. The chance to see them all grown up after all this time in fourth grade hit the right balance of touching, sad, and amusing, an accurate reflection of the challenges of crafting comedy against reality's hellish backdrop.
The hour-long runtime also gave the show a chance to stretch its narrative legs without needing to deliver as many jokes. The characters mostly steer clear of spending the episodes on nostalgia, avoiding their own "member-berries," while laying down the groundwork for over a dozen subsequent Paramount+ specials. It's not the South Park we're used to, but it's admirable to see Parker & Stone shoot for a higher sense of purpose than mere reactionary comedy. The show's pacing was quite strong, building up a new status quo that's quite easy to get behind.
Post COVID's biggest problem lies with its inability to move on from repetitive humor. The characters frequently openly remark that they're in the future, a gag that quickly grows old. Another overused bit centers on Jimmy's comedy career, ostensibly designed to poke fun at overly-PC comedy that starts to serve instead as a sign of the writers' inability to craft new material. The character-based jokes fair far better.
Parker & Stone have often expressed a desire to move away from the show's heavy emphasis on ripped-from-the-headlines storytelling toward the broader silliness that encapsulated its early years. Recent seasons haven't shown much desire to follow through on those intentions, as the past few seasons retained a strong preference for reactionary-based narratives. Perhaps the show doesn't really want to acknowledge that its contemporary relevance is almost completely owed to its inane ability to respond to modern culture in seemingly real-time. Even if it would rather not, South Park is far-better suited to speak on the state of the world than The Simpsons or Family Guy.
Though far from perfect, Post COVID is a decent start to the Paramount+ era and the strongest effort from the show in a few years. The pandemic isn't going away any time soon, but South Park demonstrated that the awful state of the world can coexist alongside its broader narrative intentions. It's not necessarily the show that we all wanted, but there's still life in that quiet mountain town.