Muppets Haunted Mansion is a solid, unspectacular holiday special
Written by Ian Thomas Malone, Posted in Blog, Movie Reviews, Pop Culture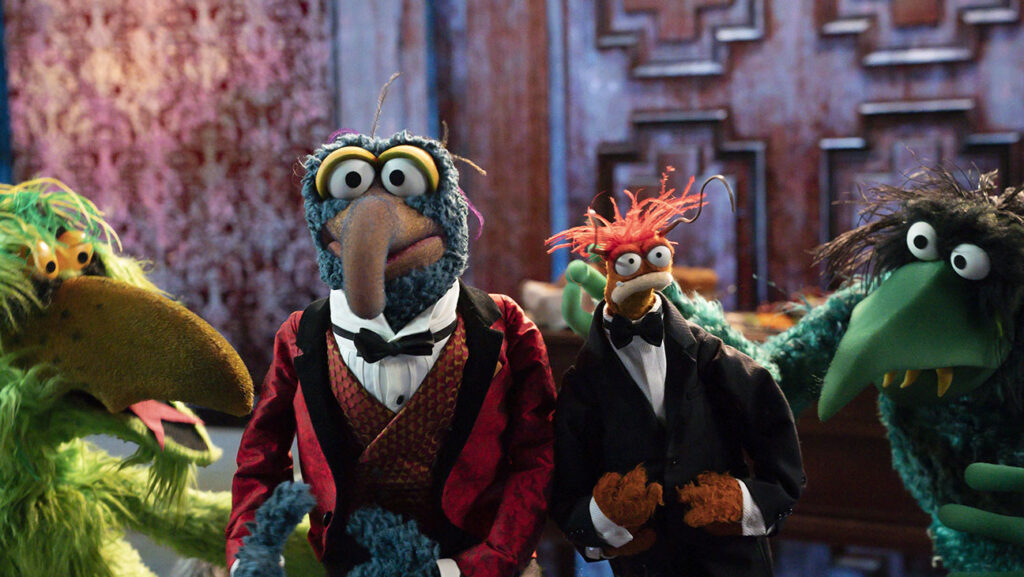 The Muppets have a pretty strong track record when it comes to holiday specials. A Muppet Family Christmas (1987) served as a rare convergence of the Muppet/Fraggle Rock/Sesame Street orbit, giving it far more staying power than your average made-for-tv effort. A Muppet Christmas: Letters to Santa (2008) demonstrated a strong balance between comedy and celebrity cameos, the latter of which pose the greatest risk to any special's longevity. It's hard to watch A Very Muppet Christmas Movie (2002) without cringing at the ample product placement by NBC Universal, including cameos from the cast of Scrubs. Remember Scrubs?
There is an obvious sense of horizontal integration at play for Muppets Haunted Mansion in the pairing of the iconic troupe and one of Disneyland's most popular attractions. The Muppets are no strangers to being used in Disney theme park infomercials, starring in The Muppets at Walt Disney World (1990), best remembered as the last Muppets production Jim Henson worked on before his death. Capitalism dictates that no one is immune from shilling for their corporate overlords, including Kermit the Frog.
The special follows The Great Gonzo (Dave Goelz, Gonzo's original performer dating back to the 70s) and Pepe the King Prawn (Bill Barretta) as they ditch the Muppets' Halloween party to venture to The Haunted Mansion for a chilling challenge. The plot is ostensibly for Gonzo and Pepe to survive the night, a narrative the 49-minute runtime doesn't spend too much time establishing. The story mostly serves as a pretense for some songs, celebrity cameos, and the assurance that every child watching would want to visit a Disney park.
The human cast, including Will Arnett, Yvette Nicole Brown, Darren Criss, and Taraji P. Henson, all do fine work in supporting roles. A brief cameo from the late Ed Asner, to whose memory the film is dedicated, is bound to bring a smile to any adult's face watching. As always, The Muppets supply ample humor both for kids watching and for the young at heart.
The decision to pair Gonzo and Pepe is a peculiar one. Gonzo is perhaps the Muppets' most versatile, taking the lead in many of their most popular 90s works including The Muppet Christmas Carol and Muppet Treasure Island. Somewhere along the way, Gonzo's seminal sidekick Rizzo the Rat was unceremoniously kicked to the curb, a reality parodied by The Muppets in Muppets Most Wanted (2014).
Pepe, the most memorable creation from the decidedly unmemorable 90s series Muppets Tonight, is best enjoyed in small doses. He's a bit tedious in such a lead role, especially one without most of the principal Muppets. Several character cameos reference their meager screen time, making Rizzo's absence even odder in an era with ample love for his prior leading work.
A dismaying observation is that the special leans a bit too heavily on Haunted Mansion references that would be lost on anyone who hadn't experienced the ride. Disney also passed on any references to the abomination that was the 2003 Haunted Mansion film adaptation starring Eddie Murphy. Specials don't hinge on single jokes, but it's weird to see so many easy lay-ups passed over in an hour full of inside jokes.
Muppets Haunted Mansion is a passable effort that should have left more of an impression. The script feels like a rough draft in desperate need of editing. The Muppets are well-equipped for streaming, able to perform in any medium with any kind of runtime. In a world light on regular Muppet content, this hour of entertainment should have been more than a glorified infomercial.