Season Three of The Marvelous Mrs. Maisel Is Best Enjoyed with Low Expectations
Written by Ian Thomas Malone, Posted in Blog, Pop Culture, TV Reviews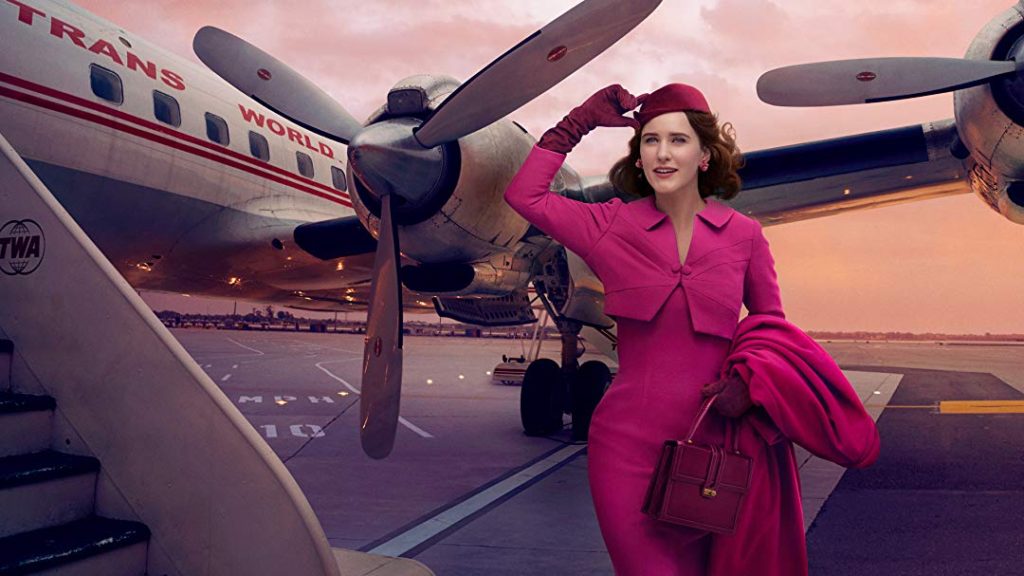 Seasons used to matter in television. That is, until the streaming era came along. Summer used to be a wasteland of reruns, making it fertile territory for offbeat shows like Six Feet Under to lay their roots. The idea of releasing prestige TV in the month of December was once unheard of, interfering with that holiday featuring Santa and the elves. Nowadays, plenty of shows, including The Marvelous Mrs. Maisel, have staked their territory in the days leading up to Christmas.
In many ways, Mrs. Maisel is still a show best enjoyed through the lens of holiday fluff. True to creator Amy Sherman-Palladino's form, the period piece struts the line between comedy and drama. Season three showcases this dynamic in a bit of different sense than many "dramedies."
Rather than presenting a blend of the two genre, episodes of Mrs. Maisel often squarely fit in one box. There's comedy one episode and drama the next, even if the more serious episodes contain their fair share of laughs. This formula mostly works, even if it does leave you feeling a bit underwhelmed by the end of the season. Hence where the fluff comes in.
The Marvelous Mrs. Maisel doesn't really have much to offer as it relates to feminism, equality, or the broader #MeToo movement. It's not entirely fair to say that Midge Maisel isn't empowering or a role model, but she is a thoroughly flawed character. There's a strain of revisionism as it relates to the past that can permeate through contemporary period works, such as Downton Abbey's strong progressive values, that reflects what we would like to have seen from that era versus what might have actually happened.
As was the case last season, The Marvelous Mrs. Maisel is hindered by the show's insistence with keeping Joel as part of the core cast. There's nothing wrong with Michael Zegen's performance, but he's simply not an interesting character. Time spent on him naturally comes at the expense of some other plotlines.
The show is anchored by the relationship between Midge and Susie. Rachel Brosnahan and Alex Bornstein are comedy gold together. Jane Lynch puts forth a solid effort as Sophie Lemon, Midge's rival who takes up much of Susie's managerial attention.
This season features Midge on the road for much of the narrative, traveling around opening for Shy Baldwin. The change of pace works well for the show's entertainment value, but sputters a bit as a cohesive body of work. The road episodes function like a fun vacation, though the season stumbles when it comes time to try and make something of its broader narrative. Eight episodes aren't enough to tell this story.
That doesn't necessarily need to be a problem, especially when you take the time of the year into consideration. Season three is fun television. The sets are beautiful, the acting is top-notch, and the scripts are full of Sherman-Palladino's signature humor. Some might say that's the perfect recipe for this time of the year.
If you are someone who wants something more out of this story, you might feel a little underwhelmed. Of the principle characters, only Midge's parents Abe and Rose feel like they're actually trying to move forward instead of maintaining the status quo. This narrative rarely cares about the destination, leaving talk of Midge's career destined to fall flat since it's given such little attention.
Season three offers plenty of laughs, albeit with a sense of diminishing returns. The Marvelous Mrs. Maisel used to be one of the best shows on TV. That's not really the case anymore. The show is still fun to watch, especially this time of the year when comfort food is in abundance. Many of us may wish that Mrs. Maisel was a better show, but that shouldn't get too much in the way of a mostly good experience.