Call Me By Your Name is an Unapologetic Celebration of Emotion
Written by Ian Thomas Malone, Posted in Blog, Pop Culture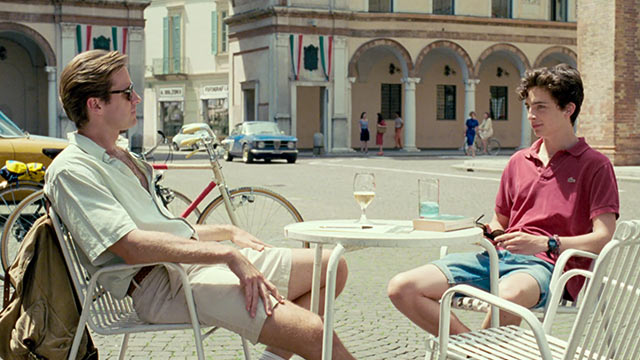 Call Me By Your Name is a difficult movie to summarize. It's a love story that is more about the idea of love than actual romance. It's an LGBT movie set in the early 80s that eschews many of the hardships that gay people still face to this very day. Despite the age difference between the seventeen-year-old protagonist and the graduate student staying with his family at their cozy villa in Italy, the problematic power dynamic between the two never presents itself in a way that today's current climate might otherwise call for.
In other words, Call Me By Your Name belongs entirely to itself.
Elio is a closed off teenager. He's brilliant, but he's a loner who doesn't look entirely comfortable in that role. Books, piano, and a stable girlfriend are not enough. Something isn't quite right.
Oliver is living the dream. A graduate student spending his summer holiday working with a professor in a quiet Italian town where everyone travels by bicycle and dances to the Psychedelic Furs at night, he's got no complaints. Everything is quite right.
Summer love possesses a peculiar power to intensify emotions and make each day seem like an eternity on the brink of collapse. A time of the year where one can seize each moment because there is nothing standing in the way, except time. There's a reason people hate September. It brings an end to the world where one can stay up all night and sleep all day, forcing one to reconcile with the loss of that magic, stripped with no regard for the relationships it brings crashing to a halt.
Call Me By Your Name takes all the emotions of summer love, and tosses in both first love and forbidden love, where its time period makes its biggest impact. The movie builds up this pressure cooker of emotions, giving its audience a first-hand glimpse as to what it really means to feel for the first time. The particulars are not as important as one might think. It doesn't matter if summer love or first love may not be "real love" in the sense that love of that sort doesn't come with a happily ever after ending, unless it's guided into a fresh peach. Summer love is still a powerful emotion and deserves to be experienced as such.
There's one scene in the film where the characters discuss the nature of being closeted that particularly resonated with me as a transgender woman. When you hide who you really are from the world, it takes a natural, if not always visible, toll on your relationships. You can't fully love someone unless you love yourself. Call Me By Your Name fully stakes out this territory as its own. Love is messy. Best to enjoy it with a strong helping of Sufjan Stevens, whose music is absolutely perfect for the film.
This Oscar season has more than a few legitimate contenders for Best Picture. The Shape of Water, Ladybird, and Three Billboards Outside Ebbing, Missouri are all deserving films which will make it challenging for Call Me By Your Name to win the top prize. As someone who's still annoyed that Brokeback Mountain was denied its rightful win over the far inferior Crash, I'd especially like to see a truly great LGBT romance recognized as the masterful piece of art that it is. Regardless, the movie is a triumph for being unafraid to feel. Emotion isn't always great and it isn't always rational, but it's better to allow yourself to experience it rather than to fight a losing battle of repression. History is full of people who lived their full lives hiding from who they are. Call Me By Your Name often shows the messy side of authenticity, reminding us that there's beauty in joy as well as tears. Love wins.