Luke Skywalker Never Changed
Written by Ian Thomas Malone, Posted in Blog, Star Wars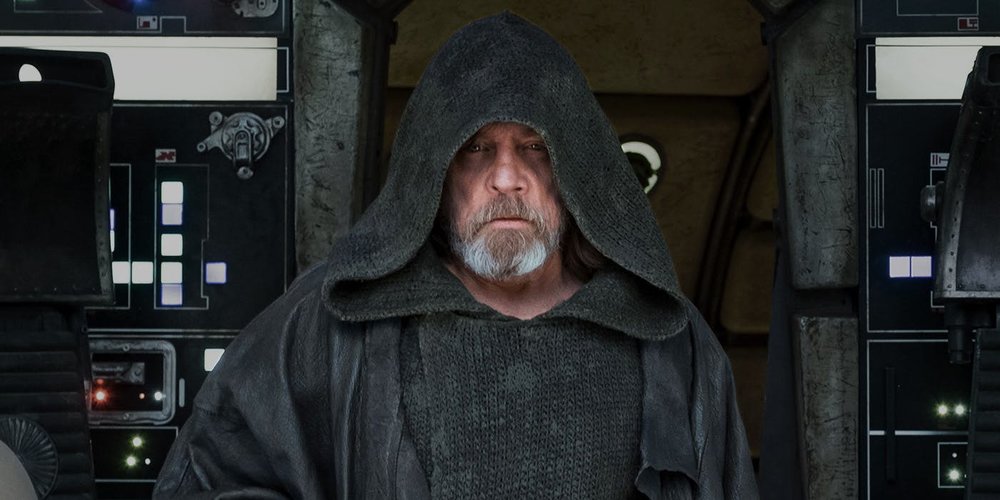 Note: This article contains spoilers for The Last Jedi.
Luke Skywalker is not a great character. He whines all the time, whether it's at his uncle for making him do chores, his teacher for making him do swamp cardio, or at his father for not being around when he was little. He is almost always the worst person on screen in Star Wars, constantly upstaged by Han, Leia, R2-D2, Vader, Yoda, Chewbacca, Bib Fortuna, and the Jawas. He is by far the lamest major character in the original trilogy, beating runner-up C-3PO by a wide margin.
People are mad about the characterization of Luke Skywalker in The Last Jedi, suggesting that his behavior was inconsistent with the earlier films. I don't think so. Luke was a whiny little boy who grew up to be a crabby old man. What's inconsistent with that?
Luke is a coward. He waited until everyone else had died before attempting a trench run on the first Death Star. He escaped Hoth through the back door, avoiding all the Star Destroyers that everyone else had to face. He ran away to his daddy instead of attacking the shield generator with Han and the Ewoks. It is no surprise that he refused to leave his Porg island to face Kylo Ren and decided to die rather than help his sister rebuild the Resistance, which had dwindled to a size that could fit comfortably on the Millenium Falcon. When disaster strikes, Luke has never wanted to be around.
The distinctions between Luke's exile and those of Yoda and Obi-Wan further reveal Master Skywalker's cowardly nature. The latter two Jedi exited stage left after becoming hopelessly outmatched against Palpatine, serving only as liabilities to those who would offer them sanctuary. Luke got upset after getting caught being paranoid about Kylo Ren and left, though presumably, the New Republic had enough firepower to deal with the budding Snoke situation, especially considering how weak a villain the Supreme Leader turned out to be. Obi-Wan returned to the fight when Leia called for him. Luke shrugged and went looking for nipple milk.
The entire plot of The Force Awakens is driven by a map to Skywalker, a man who doesn't even want to help. What was the point of that movie? What does it really say about Luke's character that he would allow people in the Resistance to die to protect a map all because he was too selfish to leave a forwarding address?
There is something to be said for the idea that Luke disconnected from the Force because he thought it had caused nothing but problems. He is essentially correct, though in this case abstinence would hardly be the best prevention as the Sith would still exist to reek havoc. Humanity has a lot of bad apples. We as a collective body keep going. The Force keeps going, even if Luke was too lazy to put in the effort to bring about real change. The Force cannot be bad simply because Luke does not care to be good.
The Last Jedi has its problems. The fuel shortage/slow speed chase plot is incredibly weak. Snoke is pathetic. The casino subplot was boring and unnecessary. None of these complaints have much to do with Luke Skywalker. His part was fine.
Luke had one job in The Last Jedi: to pass the baton. Luke is not the hero of Star Wars anymore. The idea of his character sticking around as a kind of mentor to Rey conflicts with his status in the franchise. As the "chosen one," he can't retire, not when Leia, Chewbacca, Nien Numb, and company are still in the fight. He shouldn't be the center of attention, but it's hard to successfully marginalize a character with abilities as strong as Luke's in a narrative. He'd be a major whiny distraction in a franchise with no shortage of interesting new characters, even as the death of Carrie Fisher brings an unfortunate end to Leia's arc.
Luke had a good send-off. He got to phone in a pretend battle and quietly fade away. Sure there are plenty of old fans who wished Luke could do backflips and hang upside down from ice shackles in a Wampa cave, but those days are over. There will be new adventures with new characters who don't whine as much and certainly don't need to go to Tosche Station to pick up power converters.
Star Wars is not about Luke Skywalker. It's about the various predicaments that prevent C-3PO and R2-D2 from hanging out. Luke stayed consistent from his first appearance on Tatooine to his final pretend battle with Kylo Ren. His arc in The Last Jedi should be celebrated for bringing an end to a character whose immaturity has always been a detriment to the franchise. Yoda's skepticism was well founded. Finally, we have cut our losses.