Game of Thrones Season 7 Recap: Episode 6
Written by Ian Thomas Malone, Posted in Blog, Game of Thrones, Pop Culture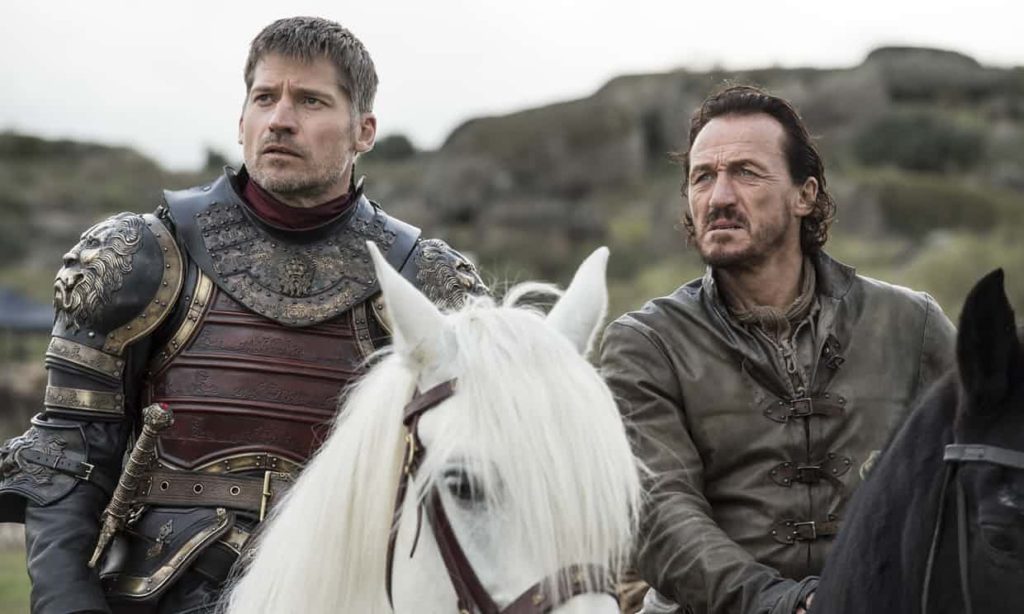 I want to first address the sheer stupidity of the magnificent seven's journey beyond the Wall and the extreme, because I don't want to focus on it for the entire recap. The idea that the sole purpose for this adventure was to convince Cersei that the White Walkers were real is beyond the pale preposterous. Jon even admitted as much on the boat, after the fact. Everyone should have known before. Absolutely everyone, except maybe Jorah.
Going beyond the wall in general is a very bad idea. We learned that in the opening few moments of the show and then again in the first season when Benjen Stark went missing. If that wasn't enough, we had Joer Mormont's "great ranging" in season two that completely decimated the already severely depleted forces of the Night's Watch. Not smart! Not worth a dragon and poor Thoros of Myr, who everyone knew was a goner the second Jorah brought up the Siege at Pyke.
This show has been making ridiculous decisions all season just to protect Cersei as a major player. She is a great character, one of the show's best. That doesn't really explain why she's queen or why Dany's significantly larger forces have to suffer strange and unrealistic losses. The show offered very weak excuses for why the entire armies for both the Reach and Dorne are all gone due to losing single battles against weaker foes, especially when this very episode made a big deal out of the 20,000 Vale soldiers (the Tyrell should have had at least double that, even without the Tarly's). An easier solution would have been to have Dany sail into Westeros with a fleet that didn't outnumber everyone else by a 3 to 1 margin. The show likes its big moments. It just often doesn't care how it gets them.
This episode was probably the best of the season. The narratives were expertly paced, benefitting from a narrower focus. The trouble with a seven episode season is that sidelining major characters for even an episode matters, but Game of Thrones is usually at its best when it isn't trying to juggle the entire cast.
The trouble with even saying it was probably the best is that it forces us to put aside the utter stupidity of the events that put all these fun characters beyond the wall, as well as the equally absurd notion that Dany would be in any position to save them all the way in Dragonstone. I'd prefer if we didn't have to do that. Part of the reason I'm such a big book fan is that George R.R. Martin respects the intelligence of his audience. His writing is some of the richest and most complex I've ever read. This show does win a lot of Emmys including for its writing, so I could just be full of hot wind. Suspension of disbelief allows us to accept that there are dragons and ice zombies in the show. It isn't meant to explain how Jon could have Gendry run back to the Wall to have Davos send a raven to Dragonstone that somehow gets to Dany in enough time for her to climb aboard her dragons and journey up beyond the Wall.
Jorah's conversation with Jon has me thinking he'll take the black again, following through on his father's dying (book only) wish to Sam. I'd care more about this if it didn't mean that he'd have to depart from Dany yet again. Why couldn't he have died instead of Thoros?
Why would Jon wait until they were beyond the Wall to try and give Longclaw to Jorah? Was he planning to throw snowballs at the wildlings?
Were they using obsidian? Kind of just looked like normal weapons. So much for all that mining!
Thoros of Myr and Beric Dondarrion have the odd distinction among tertiary characters of having been treated both better and worse by the show than their book counterparts. Their show reputation suffered in season three when they sold Gendry to Melisandre, which didn't happen in the books. Show Gendry is essentially a composite of two of Robert's bastards. Book Gendry stayed with the Brotherhood Without Banners, while Edric Storm was Robert's bastard who Davos saved from Melisandre. Beric and Thoros did try to ransom Arya for profit, but they intended to bring her to her mother at Riverrun. Not quite the same thing.
Why did they only bring major characters on the journey? The overhead shots all show additional characters that aren't seen in the closeups. Don't they know redshirt characters are always the ones who die? Poor Thoros.
Beric is also the one who dies in the books, though he sacrifices himself to allow Thoros to resurrect Catelyn Stark in the form of Lady Stoneheart. Thoros eventually regrets this decision as Lady Stoneheart spends most of her time in command hunting down Freys, which wasn't really the purpose of the BWB. Between their fun times with The Hound and Beric's scenes with Jon, the two have certainly been more fun in the show.
Does The Hound also have a crush on Brienne? I'd normally approve of a love triangles, but Tormund and Brienne need to get married ASAP. The show is almost over!
How does Eastwatch have a maester but Castle Black does not? Did one of the wildlings go to the citadel? Were those brothers of the Night's Watch with Davos? Who is in charge of things!?!
Tyrion's scene with Dany regarding succession demonstrated the messy nature of war and politics. He's right to note that a clear line of succession is important and that Dany can't have kids. Dany is right to note that Tyrion is the brother of her sworn enemies and doesn't have the best track record as of late. Tyrion probably shouldn't have brought up that topic when they were alone either. His position is a rational one, but that was not the best time to discuss it.
The separate mentions of children in conversations involving Jon and Dany suggests they'll almost certainly have kids. Biological ones, not dragons. I don't think the final season of Game of Thrones would be complete without more incest!
Sansa and Arya's fight also demonstrates the complexity of the mess. We can say that Arya was being irrational and shouldn't have been so suspicious of her sister, but how rational should we really expect Arya to be? Playing the game of "who's suffered most" is a risky proposition, but Arya was all by herself for a lot longer than the rest of the characters and only recently returned. She's also killed a lot of people. It is completely normal that she's actually completely irrational and paranoid.
Sansa's forced letter to Robb was inaccurate. Ned only conspired with Renly, not Stannis. If you're going to be coerced into writing something, at least get the facts straight!
It'd be nice if Bran could step in and stop the fight. He doesn't have to know everything to know when to be a good brother.
Littlefinger lives to die another episode. This season has played up his creepiness, but it hasn't really addressed his love of Sansa. Some might say he's not actually in love with her given what happened with Ramsey, but Book Littlefinger does show "true" affection for Catelyn/Sansa. I put true in quotation marks because it's pretty impossible to know what Littlefinger really feels.
Why hasn't Jon sent Sansa any letters? He seemed to be able to communicate with Dany quite easily. Is Littlefinger hiding the letters? Or is Jon just only interested in sending ravens to his aunt/future wife?
Poor Viserion. If only he could have traveled a little slower. The timeframe of the battle is quite a mystery. Jon sent Gendry to get help when they were in trouble, but managed to hold out for the weeks it would have taken the raven to get to Dragonstone. The show's CGI budget is probably more important than logic.
Obligatory Coldhands/Benjen mention. Did Bran send him? Does the show care enough about logic to specify? I doubt it.
This episode sure felt like a typical penultimate one in the vein of "Blackwater," "The Watchers on the Wall," "Hardhome" and "Battle of the Bastards," but this season is three episodes shorter than usual. GOT finales tend to either wrap up old plotlines or table set for the following season. I imagine next episode with focus more on the latter, though a former Master of Coin might find his time in Winterfell coming to an end at the hands of a familiar dagger. Maybe Jorah will depart again too! One can only hope. See you next week.