Written by Ian Thomas Malone, Posted in Blog, Pop Culture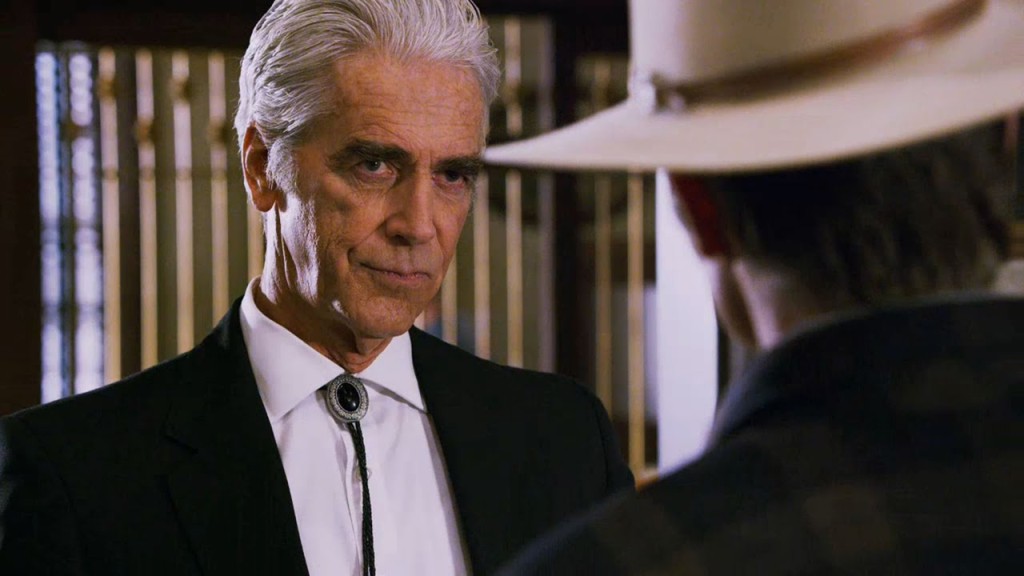 Final seasons are tricky. Most shows avoid ending until ratings have slipped, major cast members have left, or until the quality has sharply declined. Justified doesn't really fit into any of these categories, though season five was clearly not as good as previous seasons. Timothy Olyphant and the producers decided that six was enough and they're probably not wrong.
I don't think anyone could've predicted just how perfect season six would turn out to be. Many shows get a boost in their final seasons as they're afforded the opportunity to wrap things up versus prolonging the status quo. Rarely do you get a show that has the chance to pay homage to the qualities that made it a success in the first place and completely raise the bar. Justified did just that.
Much of this credit belongs to Sam Elliott, who just might be the perfect person to cast in an Elmore Leonard adaptation. Elliott's Avery Markham dominates every scene he's in, which is rare for a new villain in a show that's about to call it a day. This is even more surprising when you consider Justified's crowded pool of bad guys for Raylan Givens and Co to deal with in just thirteen episodes.
You could certainly have made the case that Justified's final season didn't need a new arch villain with Boyd Crowder, Katherine Hale, and fan favorite Wynn Duffy in the mix, especially when you consider that the Raylan/Boyd/Ava relationship has been a defining element of the show for its whole run. A Raylan/Boyd feud could've likely carried the whole season, but that would have been the predictable move. If there's one thing Justified has never been, it's predictable.
This season has been a perfect mix of new drama that also manages to revisit almost every member of Justified's deep roster of recurring characters. The returns of Ellstin Limehouse, Loretta McCready, Dickie Bennett, Arlo Givens, Winona Hawkins, and Constable Bob Sweeney could've worked fine as victory laps. For the most part, the show managed to involve them all directly into the main plot.
While Justified has always been a critically and commercially popular show, its often overlooked both at awards shows and even on its own network. Being on TV in the same era as Mad Men, Homeland, Game of Thrones and Breaking Bad and on the same network as Sons of Anarchy and American Horror Story certainly explains this. Justified did tie The Wire for number of Emmy noms for Outstanding Drama Series with zero apiece, which goes to show how pointless awards are.
You could make the case that Justified is currently the best show on TV. I can't name a show that had a better year this season. Homeland came close, but suffers from not having Sam Eliott as a member of the cast and for having a truly horrible finale. Going out literally on top of the TV world would be nice, but it doesn't really change Justified's legacy at all.
For six seasons, Justified has consistently been one of the best shows on television. Get Shorty is its only true completion for most faithful adaptation of Elmore Leonard's work (Jackie Brown is one of my favorite films, but it deviates significantly from Rum Punch). As far as legacies go, Justified couldn't have done much better. I'll miss Raylan and Co, but I'm thankful that they're going out on top. I doubt a seventh season would have been terrible, but it's hard to believe it would have been better.