Written by Ian Thomas Malone, Posted in Blog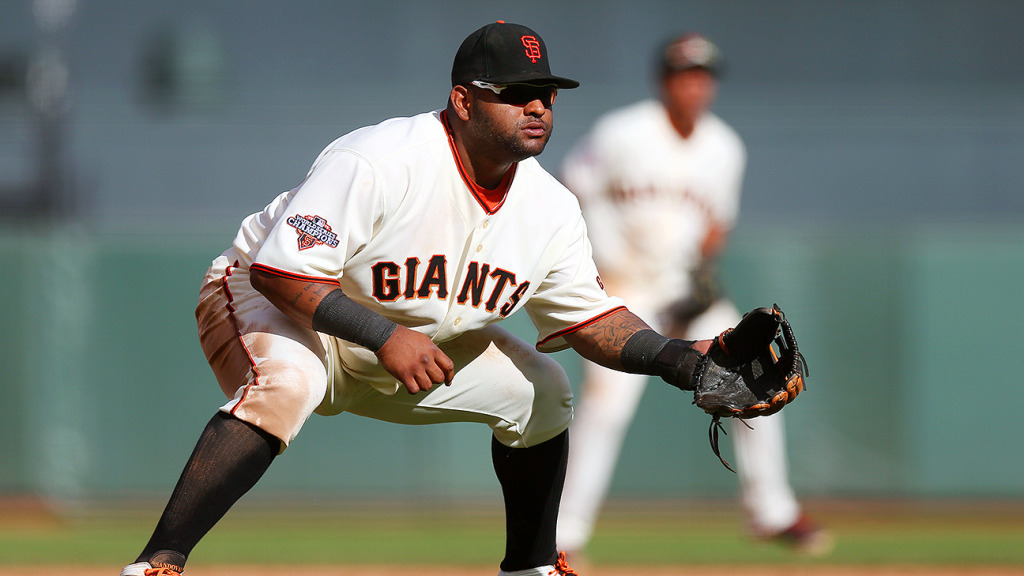 As MLB's Hot Stove got turned up a bit with the rather unexpected five year, $82 million dollar contract handed out to Russell Martin by the Blue Jays, I thought I'd look at the Qualifying Offer. The QO is in its third year of existence and saw another offseason go by without a single player accepting the one year $15.3 million dollar contract required for teams to receive draft pick compensation. This is sharp contrast to the old compensation system, which usually had a couple of players accept each year.
Which brings the question of the effectiveness of such an offer if no player is interested in accepting the offer. This was a major bone of contention for last years crop as the agents for Kendrys Morales, Ervin Santana, Ubaldo Jiminez, Stephen Drew, and a Nelson Cruz all complained ad nauseam about the negative effect the offer had on their clients. Before we examine the legitimacy of their complaints, I wanted to first explain the old system a little bit to see the differences.
Under the old Type A/B system, players were categorized by the Elias Sports Bureau into tiers that determined draft pick compensation. Type A's netted the former team either a first or second round pick depending on the ranking of the signing team plus a sandwich pick. Type B's did not require a loss of draft pick for the signing team, but earned the former team a sandwich pick and type C's didn't really factor into the equation. If a player accepted, unlike the QO which is determined by the average earnings of the top 125 players, the old system forced players to negotiate with teams as they would under salary arbitration. This model seems a bit archaic especially considering the rise in pre-arbitration extensions and it makes sense that teams and players alike would wish to gravitate away from this often hostile practice. The one advantage for players was that their salary could not be less than 80% of their current deal, making a pillow contract style situation at least somewhat appealing.
The problem with the old system was that it was unfair to players who were typically undervalued by free agency. Career middle relievers like Jason Frasor could be ranked at Type As alongside closers as the rankings failed to differentiate between types of relievers and as such, these sorts of players were practically forced into accepting these deals. Bench/utility players were sometimes victims of this as well, creating somewhat of a double-edged sword. More playing time would likely mean a greater salary, but becoming a type A free agent would negate those benefits fairly quickly. It's really no surprise that this was done away with.
The QO lets teams determine the value of their players. A career middle reliever like Frasor could in theory be offered one, but compensation no longer acts as a hindrance to players like him. Players traded midseason can no longer be tied to compensation, increasing the risk in making such acquisitions.
So why do players hate it so much? Why does no one want a $15.3 million dollar payday?
We've seen a drastic shift in mentality with regards to dollars vs. years. Young players frequently take below market value extensions to get the guaranteed money, which has radically changed free agency as a whole. Fifteen million is a bigger, one year payday than many of these players would get, but it's still only a year. An injury or a down season would have a big impact on the future. Jimenez' four year deal with the Orioles pays him an AAV less than the $14.1 QO he was offered last year, but his poor performance this season would've taken a big contract off the table.
Of last year's crop, it's hard to really say really say that any of them made a mistake turning their QO's down. All the players mentioned are guilty of drastically overvaluing their markets, which served as more of a deterrent than the draft pick. Santana wasn't a $100 million dollar pitcher and Cruz was never going to get close to $75 million regardless of the draft pick. Drew and Morales probably should have considering Scott Boras' insistence that both deserved elite salaries despite the numerous question marks surrounding both players. Pillow contracts would've gone a long way and now both players find themselves in unenviable positions.
To put it simply, there hasn't been a straight case of "you have no market because you're tied to a draft pick." Sure it makes certain teams less interested, like the case of Michael Bourn and the Mets two years ago. But that's also another case of a player who was hurt because he waited too long for his market to develop.
Perhaps the best example of this was seen last year with Ricky Nolasco and Matt Garza. Nolasco was viewed as a tier below Garza, Jimenez, and Santana, but wound up with a four year $49 million dollar deal that was a lot closer to Garza and Jimenez' 4/50 deals. All three have vesting options with performance bonuses that could make any of the three the highest paid overall, though we won't know that for a couple years. Oddly enough, Nolasco and Garza were not tied to compensation.
The big difference between these pitchers was that timing. Nolasco signed at the end of November. Garza waited until the end of January and Jimenez waited almost another month before inking his deal. Teams had spent most their available money by that point. It's hard to really blame the draft pick when players want drastically more money than anyone is realistically willing to pay them.
Michael Cuddyer's recent deal with the Mets prevented him from likely becoming the first player to accept the QO. The Rockies were criticized for extending what looked like a gross overpay to a player who spent much of the season on the DL, but the Mets quickly made that look like a great decision. A one year overpay of a few million wouldn't hurt most teams, but the cash strapped Rockies might have been in trouble. But they valued both the draft pick and Cuddyer and now have something to show for it.
It's hard to argue that the QO benefits larger market teams over smaller ones either to an extreme extent either. This year the Pirates handed out the same amount of QOs as the Yankees, Dodgers, and Red Sox combined. There's plenty of parity in the QO and that doesn't look like it's going to change anytime soon.
The QO is not perfect, but it's also not really the drastic hindrance that it's made out to be either. Players are offered a sweet one-year deal and if they don't like it, they can test the market. But testing the market has its risks and when the waiting game doesn't work out, it's easy to blame the QO. That doesn't mean that it's at fault or that it should be changed.