Written by Ian Thomas Malone, Posted in Blog, TV Reviews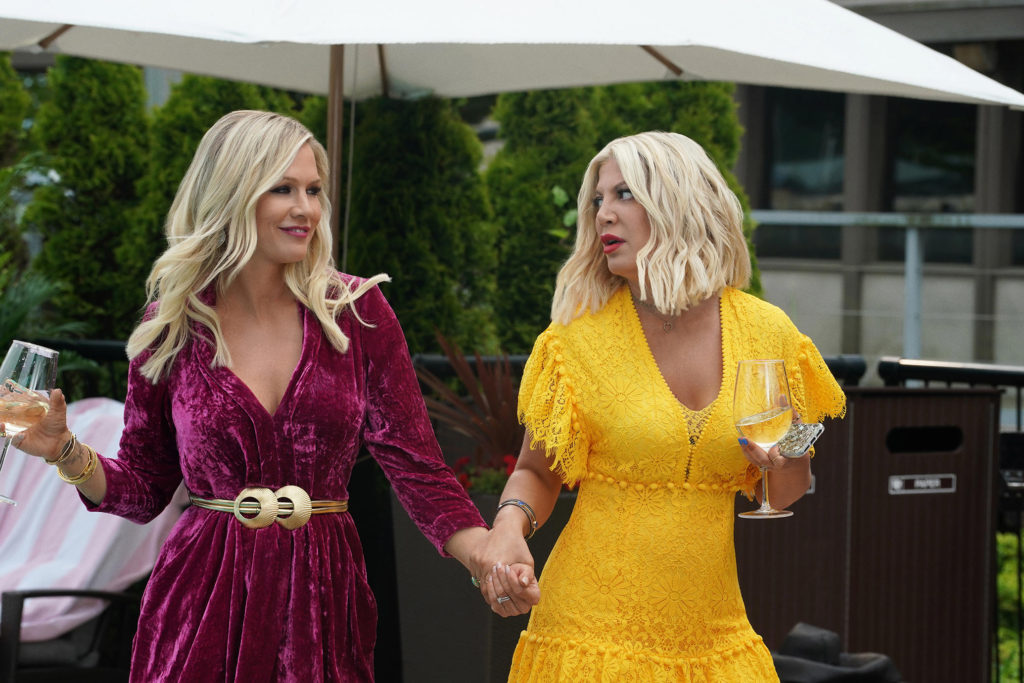 The question of whether there are too many reboots can be a bit misleading in the streaming era. The notion that there are more television revivals than any one of us could possibly care about certainly exists, but the same holds true for the broader landscape as a whole. Considering the lack of restraints that traditional broadcast primetime once presented, as was the case when Beverly Hills, 90210 first debuted, the only pressing question for reboots is whether or not they have anything interesting to say.
BH90210 aims to be a different kind of reboot, a scripted series that focuses not on the characters, but the actors who played them. Instead of checking in on Brenda Walsh and Kelly Taylor, we see what's up with Shannen Doherty and Jennie Garth. Such an approach carries some novelty appeal, but the concept finds itself in a tricky position, needing the execution to be more interesting than a conventional reboot. Unfortunately, it isn't.
The show utilizes a "reboot within a reboot" approach, using Garth and Tori Spelling to reunite the cast for a 90210 revival. The writing isn't very good, but the bigger issue is the fact that the audience is expected to believe there is a world where these actors would have expressed even an iota of reluctance to come back. Time hasn't been too horrible to Jason Priestly, Ian Ziering, or any of the others, but it's not as if any of them went on to any fame greater than what they enjoyed during the show's original run.
Even assuming that there's an audience that would rather see the actors playing themselves instead of their characters, BH90210 is too short on substance. The show wastes an easy opportunity to provide some semblance of commentary on reboot culture, or why audiences long to return to the past. It's predictable at every turn, full of clichés and jokes that fall flat.
The actors themselves often look shielded, unable to allow themselves enough vulnerability to create compelling storylines. There are strands of plot here and there, including financial difficulties, infidelity, and queer experimentation, but it's all layered underneath a bland surface of success. The show rarely allows its stars to be viewed as the has-beens they appear to be, protecting their sense of fame at the cost of the narrative.
The acting itself is decent enough. There's some entertainment value in watching the cast enjoy each other's company. Trouble is, it's hard not to view the whole exercise as a wasted opportunity, a product of security rather than necessity.
Beverly Hills, 90210 was a genre-defining hit. Every teen soap that follows owes it a debt of gratitude. With ten seasons and several spin-offs in the books, BH90210 struggles to justify itself as a worthy alternative to those seeking to relive the past. The actors themselves constantly feel too rooted in nostalgia to bring anything new to the table. For an audience craving more of the old gang, simply watching the old episodes remains a more satisfying experience.