Classic Film: Le Bonheur
Written by Ian Thomas Malone, Posted in Blog, Movie Reviews, Pop Culture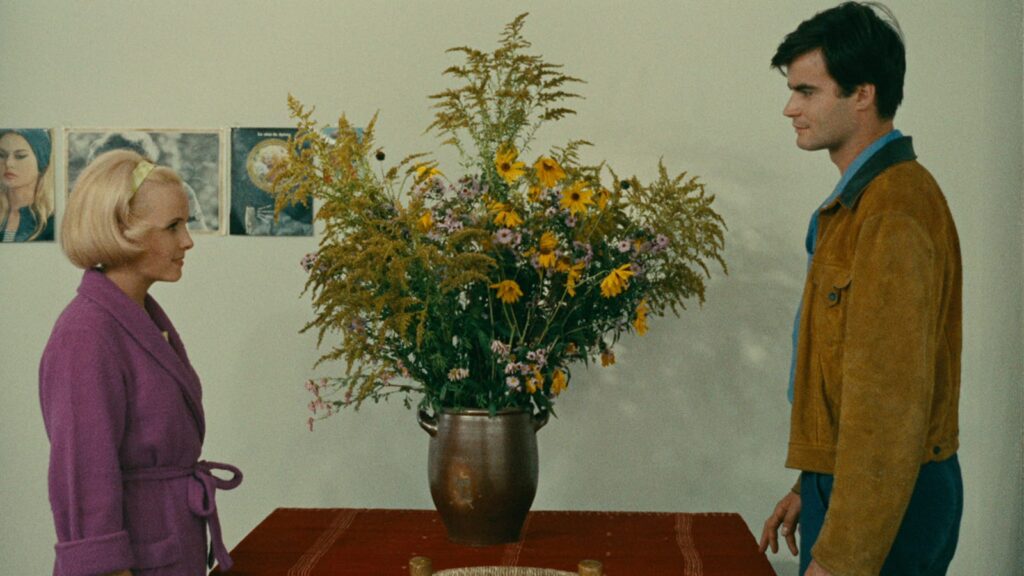 The unwritten rules of the social contract that governs humanity have long frowned upon the idea of polyamory, ignoring a key tenant that defines love in its infinite mystique. All the sonnets in the world that hoist up the potential of love to exist forever as undying, eternal flame forget that the beauty of love draws its power from the same impermanence that defines a flower or a poem. Marriage is a union entered into by two people, but it only takes one to alter the basic framework one might hope could govern their idea of a perfect life.
The 1965 French film Le Bonheur captures love on its idealistic precipice, a magnificent house of cards basking in its perfection right up to the moment when it all comes crashing down. François (Jean-Claude Drouot) enjoys a comfortable life working construction at his uncle's company and a beautiful family. François loves his wife Thérèse (Claire Drouot) and their children dearly but starts to develop feelings for Émilie (Marie-France Boyer), an attractive young woman working at the local post office. François quickly begins a relationship with Émilie, never trying to hide the happiness he feels with his wife and family.
Director Agnès Varda takes great care with each frame of her lusciously shot film while presenting a nuanced perspective on polyamory that eschews the pearl-clutching ethics of non-monogamy that consumes far too many narratives on the subject. Varda isn't particularly interested in explaining why François, with his wonderful life and wonderful wife, would pursue a course outside his marriage that could put of all that in jeopardy. Plenty of people struggle with the idea that some hearts long for more love than one partner could provide, but Le Bonheur accepts that basic reality while acknowledging that not everyone is built that way.
Working opposite his real-life wife, Jean-Claude Drouot portrays François in a relentlessly upbeat manner, practically challenging the audience to feel anything other than joy at his good fortune. Even as the film takes a more tragic turn, Varda insulates her protagonist from undue accusations of treachery. Le Bonheur never pits Thérèse or Émilie against each other, dispensing with the tired love-triangle trope in favor of a more potent reality. Every adult in the film possesses full agency over their own actions. There are no heroes and villains in the game of love. The Mozart-heavy score underlies this point quite well through its melodic depth that delivers emotions that are hard to put in a box.
Society has often scoffed at love that exists outside the normal parameters of convention, whether homosexual, interracial or ethically non-monogamous. It's easy to judge people who make decisions outside of their own wants or desires. Varda is solely interested in crafting a narrative that dares its viewers not to shake their fists at her characters. One person's utopia could be another person's nightmare. Our hearts all have their own individual needs that others may not understand.
Varda throws shade at the idea of a perfect life. Love is not a programmable equation. The heart wants what it wants, even when that doesn't make any sense to anyone around us. Le Bonheur dazzles with its gorgeous cinematography, but its narrative packs a quiet punch that doesn't quite hit you until you start to try and unpack all the themes that Varda stuffed into her brisk 80-minute runtime. Sometimes people do bad things for reasons that are neither good nor bad. Life is messy.