Interviews of Ice and Fire: Jeff Hartline aka BryndenBFish
Written by Ian Thomas Malone, Posted in Blog, Game of Thrones, IOIAF, Pop Culture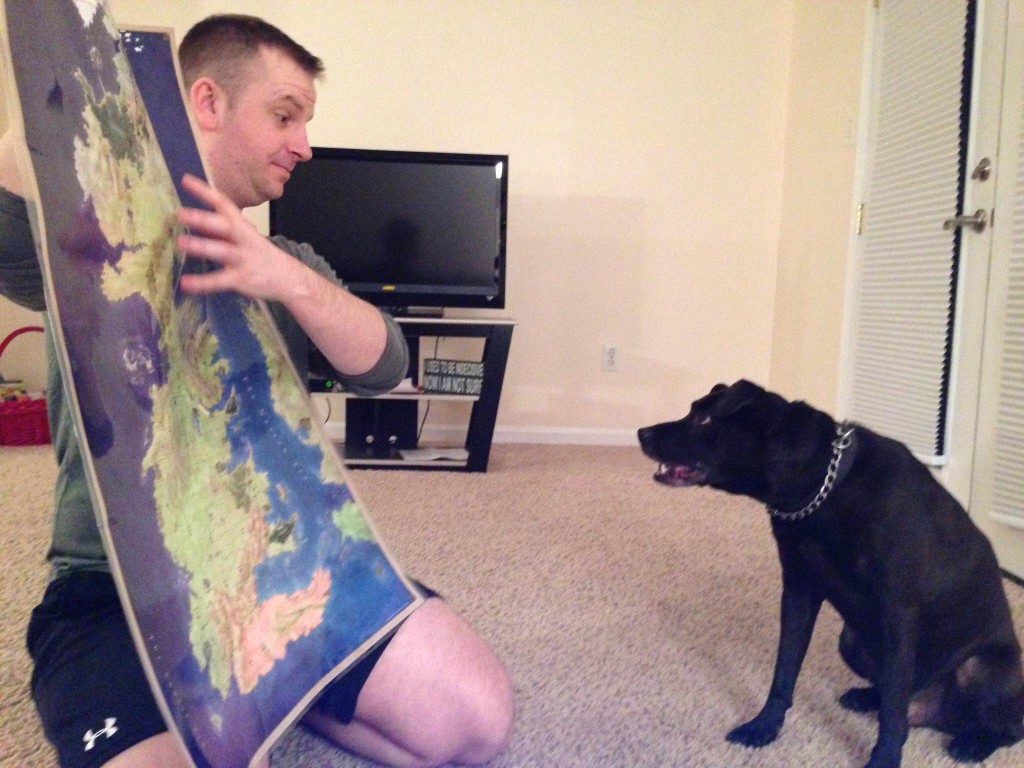 I am honored to welcome Jeff Hartline, known throughout the A Song of Ice and Fire community as BryndenBFish, to the site. Jeff is one of the most decorated ASOIAF commentators who serves as a moderator for the asoiaf subreddit and is one of the masterminds behind the Wars and Politics of Ice and Fire blog. Jeff is also one of the contributors for the recently released Tower of the Hand anthology A Hymn for Spring.
When did you first start reading the ASOIAF books?
I first started reading the books in June 2012. I just finished Season 2 of Game of Thrones, and I had to know what was going to happen to Samwell. They wouldn't kill Sam, right? I finished reading in October 2012, and I think embarked on an immediate re-read.
How did you get involved with the ASOIAF community?
Well, once I finished reading, I had dinner with my brother (another bookreader), and he told me about this great community on reddit called /r/asoiaf to discuss everything about the books. I immediately got an account on reddit and joined the community. The 1st post I remember reading on reddit was a fan-recount from The World of Ice and Fire on Aegon's Conquest. I was hooked!
What was the first theory/in depth essay you ever worked on?
The 1st one was an essay series called The Complete Analysis of Robb Stark as a Military Commander on reddit. In a series that had war as a prominent feature in many character and plot arcs, there was a disproportionate lack of analysis and exploration of the topic.
So, I wrote an analytical evaluation of Robb Stark as a military commander exploring each of the battles and phases of the War of the Five Kings. Ended up coming to the conclusion that Robb Stark was an excellent tactical commander, but a failure at the strategic level. Since then, I've revised my original thesis some, but I still look back on those essays with a lot of fondness.
Looking back, I think the most important thing about writing on the military side of the series was its comfort level for me. Sometimes, people think they have to write about certain topics, because it's what people are interested in. But in reality, writing about something you're interested in will make for more compelling writing.
So, advice to folks writing/analyzing ASOIAF, start in your comfort-zone and move your way out.
Though the show, The World of Ice and Fire, and the novellas offer new ideas, there hasn't been a new book in four years, yet the community seems as vibrant as ever. What do you think keeps people engaged with the series?
A Song of Ice and Fire is a fun read by itself, but it becomes an incredibly engaging and engrossing read when you get past the easy plotlines and start looking into the individual character arcs and deeper meanings of the story. When you embrace the meta, you start feeling rewarded for reading. It becomes a fun experience to discover deeper meanings, hidden truths and Lord knows that every ASOIAF fan loves the foreshadowing (but only on re-read)
As one of the moderators on the ASOIAF subreddit, what's the craziest thing you've seen happen during a heated discussion?
To be honest, nothing really crazy. I've seen plenty of essay length responses to things, and I… may have done that once or twice.
Your bio mentions that you are a veteran. Has serving in the Army impacted your approach to ASOIAF?
It certainly helps with understanding the military campaigns and some of the battle tactics used. But there's something more. Though my experiences with war are nowhere near the experiences of many fellow veterans, I also don't have to imagine what the carnage of a battlefield looks like.
It's funny to me – when I first read ASOIAF, I thought that GRRM had to have a military background in order to write his military/battle scenes the way he did. When I found out that he was a conscientious objector to the Vietnam War, it made me re-evaluate the story as having a strong anti-war component to an already gritty low fantasy epic.
In the ASOIAF community, particularly asinine theories are commonly referred to as "tinfoil." What's the craziest theory that you think might actually be true?
There's plenty of crazy theories out there. Of all the theories out there, I think there are probably 3 theories that I hold to that could be construed as tinfoil. They are:
I think that Brienne of Tarth was raised from the dead by Lady Stoneheart at the end of A Feast for Crows
I think that Varys is a secret Targaryen
I believe that Euron Greyjoy is following the Iron Fleet to Meereen and will seize a dragon out from under Victarion in The Winds of Winter.
 I assume you've read the books more than once. Which book do you think benefits the most from a second read?
A Dance with Dragons for a surety. When I first read A Dance with Dragons, I was disappointed. Sure, we got our Big 3 characters (Tyrion, Daenerys, Jon Snow), but the plot was disappointing. Where were the battles? Where were the kickass moments from A Storm of Swords?
But after several re-reads, I came to realize what Martin was doing with A Dance with Dragons. He was showing the consequences of the wars and the badassery. And that puts a pretty amazing spin on the book. Instead of chafing against Dany's quest for peace in Meereen, I began to understand what was going on. Daenerys was walking the hard road of peace just as Jon was.
Unfortunately for them (but fortunately for those who want ASOIAF to move back to the bloodletting of the 1st 3 books), both Daenerys and Jon turn against peace at the end of their arcs in A Dance with Dragons. So, we'll see a return to bloody form come The Winds of Winter.
Much has been written about the (pun intended) stark deviations from the books this season. Have you been pleased with season five thus far?
Season 5 has been a disappointment so far. In an attempt to move the plot along, they've taken 2 books and tried to adapt it into 1 season. This has major consequences. Major storylines and characters have hit the cutting room floor. And other major storylines have been dramatically shortened. In contrast, the show spent 2 seasons going through A Storm of Swords (and early scenes from A Feast for Crows & A Dance with Dragons).
Jon's election as Lord Commander suffered the most from this. In the books, the plot tension ratchets up with Jon considering Stannis' offer to become Jon Stark and the Lord of Winterfell. Meanwhile, Samwell conspires to get Jon elected as Lord Commander. These two plotlines work in parallel until the very end when Jon is elected as the Lord Commander of the Night's Watch. It's great writing and keeps your gaze fixed to the page.
In the show, it was over and done with in 15 minutes. It was a disappointment. But I have hope that Season 5 will improve as the season progresses.
Generic question, but who is your favorite character(s) in the books? Is the same true for the show?
In the books: Jaime Lannister by a country mile. I love the ambiguity, and I think GRRM accomplished something akin to a literary triumph with Jaime Lannister. We think he's an asshole and a murderer in the 1st 2 books. And like many of you, I groaned when I saw that the 1st chapter of A Storm of Swords after the Prologue was JAIME. But as I read, I became more and more engrossed. I loved Jaime's fall, the ironic loss of his sword hand and the revelations about the Mad King. I saw a superhuman humanized. By the time of A Feast for Crows, Jaime was firmly my favorite character in the series. I loved his turn against Cersei, and I loved his alternating guilt and desire to become Goldenhands the Just.
I won't lie though. I'm fearful of what will happen to Jaime in The Winds of Winter.
In the show: Eddard Stark: Sean Bean did a wonderful job portraying Ned. I can't picture Ned when I re-read the books without seeing Boromir's visage giving grim looks.
Which character from the books would you like to see in the show that isn't already?
I miss Jon Connington. I don't think that we'll see JonCon, but in A Dance with Dragons, he's an amazing and tragic character. (I won't spoil it for your non-book reader fans). I also miss Arianne & Quentyn too.
In terms of who might show up… I suppose I'd like to see Lady Stoneheart or Randyll Tarly in future seasons.
Tell us a little about A Hymn For Spring. What can we expect to see out of your contribution and the anthology as a whole.
A Hymn for Spring is an anthology book of A Song of Ice and Fire essays from various luminaries from the Tower of the Hand website. The essays in there range from character analysis on characters like Barristan, location analysis on Harrenhal, military analysis on Robert's Rebellion, economic analysis on the schemes of Littlefinger and various other interests in the series. It comes in at over 200 pages. So, if you're looking for some fascinating analysis on A Song of Ice and Fire, this is your ticket.
My contribution was an essay on Stannis Baratheon entitled Iron Bends. In the essay, I take a contrarian view to the common perspective of Stannis Baratheon as an inflexible justice robot. As I read through A Song of Ice and Fire, I came to find that Stannis bends all the damn time. (Though no one recognizes it as such). So, I invite your readers to read my essay with an open mind and if you disagree, let me know. I love a good discussion as Ian will tell you!
Thanks so much for having me!
A Hymn for Spring can be purchased here