Classic Film: The Revolt of Mamie Stover
Written by Ian Thomas Malone, Posted in Blog, Movie Reviews, Pop Culture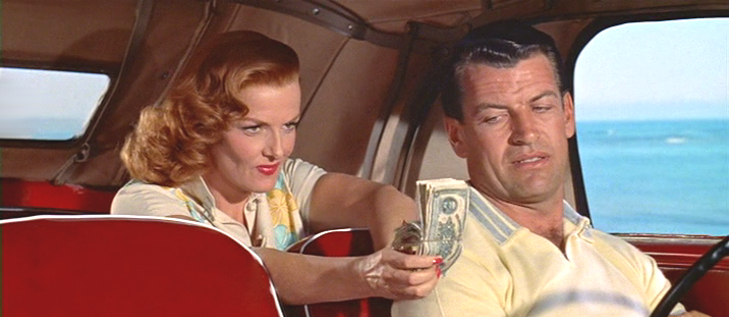 Part of the beauty of 1956's The Revolt of Mamie Stover is the way the film's core themes have evolved in the nearly seven decades since its initial release. The original 1951 novel of the same name served to illustrate the decline of American society, a criticism that every subsequent generation has heard a billion times before adulthood. No matter if its 1956 or 2021, the kids are always blamed for ruining everything.
Jane Russell leads the show in the title role, playing a twenty-six-year-old woman on a ship to Honolulu, looking for work at a local dance hall that caters to off-duty servicemen. Set in 1941 against the backdrop of the attack on Pearl Harbor, Honolulu is the place to be for people looking to make a quick buck off all the chaos. While never explicitly stated in the film, it is heavily implied that the shady dance hall, which serves watered-down liquor to soldiers looking to book private sessions with its employees, makes its fortunes through prostitution.
Mamie quickly bonds with fellow passenger Jim Blair (Richard Egan), a writer and reserve officer with a house in Honolulu. Due to the dance hall's strict rules against its employees having bank accounts, Mamie enlists Jim to help her protect her savings, which quickly accumulate as a result of her prowess in the field of seduction.
Russell delivers a powerful critique of capitalism's inherently sexist applications, thoroughly debunking any nobility within the military-industrial complex. Mamie spends her money buying up local real estate, whose owners are eager to sell in the face of imminent war. Derided as a war profiteer and a trollop, Mamie thrives in an environment that doesn't want to have a place for women.
Public opinion on America's unending wars has certainly changed drastically in the decades since The Revolt of Mamie Stover. Mamie's modest success is mere peanuts compared to the billions made by corporations and their private armies intent on eternal combat in the Middle East. When combined with capitalism's decades-long efforts to terraform Hawaii on behalf of the tourism industry, one can't help but root for Mamie's quieter sense of protest.
Which isn't to say that The Revolt of Mamie Stover is a perfect narrative. The 92-minute runtime is spread a bit thin between Mamie's romance with Jim and her gradual domination of the dance hall. Dance hall owner Bertha Parchman (Agnes Moorehead) largely takes over for Jim as Mamie's primary foil in the third act, shortchanging much of Russell and Egan's natural sense of chemistry. As Bertha's primary enforcer Harry Adkins, Michael Pate puts in a strong supporting performance as a scummy businessman intent on preserving the status quo.
The show mostly belongs to Russell, whose charisma is more than enough to carry the film through its minor shortcomings. The title role was originally intended for Marilyn Monroe, its subject matter is a bit of an odd fit for the staunchly conservative Russell. While The Revolt of Mamie Stover's themes will undoubtedly resonate differently with modern audiences, the film is a valuable case study as to the ways that previous generations applied varying standards of morality to unfettered greed, depending on which sex was benefitting from the fruits of capitalism's rot.